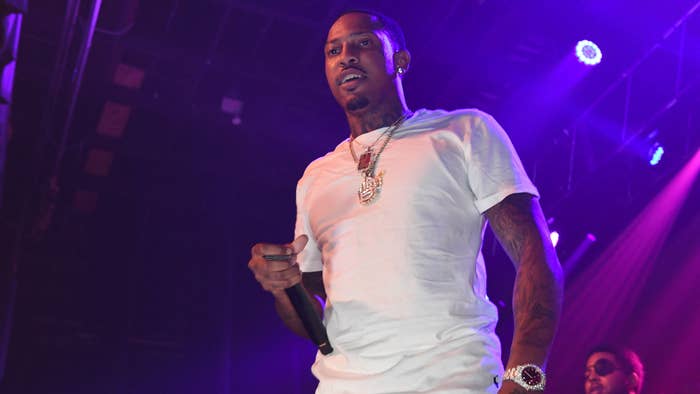 UPDATED 6/7, 10:20 a.m. ET: Jamichael Jones turned himself into police, WSB-TV reports. The man accused of killing Trouble  was arrested "without incident," per NBC News.

Jones has been charged with felony murder, aggravated assault, home invasion and battery.

See original story below.
Trouble has died at the age of 34.
News of his death was circulating on social media Sunday morning, with Def Jam confirming the Atlanta native's death in the afternoon. "Our thoughts and prayers are with the children, loved ones, and fans of Trouble. A true voice for his city and an inspiration to the community he proudly represented. RIP Skoob," the label's Instagram post reads.
According to CBS 46, Rockdale police have their eye on a suspect, 33-year-old Jamichael Jones, and have issued an arrest warrant for him in connection to Trouble's murder. Skoob was reportedly fatally shot outside an apartment complex in Conyers; police arrived at the scene after a shooting was called in at around 3:20 a.m. on Sunday morning. He was transported to a hospital after he was found lying on the ground from being shot. He was later pronounced dead.
Atlanta, Rockdale County Sheriff's spokesperson Jedidia Canty said Jones was involved in a "domestic situation" with a woman Trouble was visiting at the apartment complex, per NBC News. Canty added that the two men did not know each other when Jones entered the woman's apartment and shot Trouble in the chest. 
Anyone with information that could assist investigators or lead them to Jones should contact the authorities at 770-278-8188.
His ex-girlfriend, Alexis Skyy, also shared news of the rapper's death, tweeting, "Rip @TroubleDTE I'm so sorry this happen to you Skoob you didn't deserve this I'm praying for your kids and family."
Born Mariel Semonte Orr, Trouble released his first mixtape December 17th in 2011, which included the song "Bussin." He later signed to Mike Will Made-It's record label Ear Drummer Records through Interscope Records in 2017 and released Edgewood in 2018 and Thug Luv in 2020. Trouble had also collaborated with Drake, The Weeknd, Lupe Fiasco, Quavo, City Girls, 2 Chainz, Jeezy, and more.
On Mike Will's impact on his career, Trouble was grateful for helping him get heard.
"It's a few dudes in the game that are cool or whatever, but when it comes to a n***a like Mike Will and Zaytoven, it's just a whole another level [of respect] as far as personally," Trouble said during a 2018 interview with Hypebeast. "'Cause they was always on my line and always on me."
"The game was just so discouraging for a minute," he continues. "I was like, 'fuck that shit.' For everybody in the A, they know what I'm talking about is facts. Like my real life. They know that I'm the one who going through it. I'm the one putting in the work. The one whose been out here, for real, for real. And the one whose really talking for them folks. That's why everybody in the city, they begging for it. When I say 'in the city,' I'm talking about the streets."
"I ain't talking about the rap artists who come out of the hood and making it and whatnot cause a lot of them guys, that shit be the fu-fu. They just been had the sweeter way in real quick or they done took something real quick just to get on the platform. But they'll never turn back around. I just never had that hand or whatnot to bring me across that bridge. I feel like Mike kind of helped me on, reaching and extending his hand out to me and being like, 'Fuck that, we gonna boss on up and let everybody hear you and see you.'"
See more condolences from the hip-hop community and fans below.