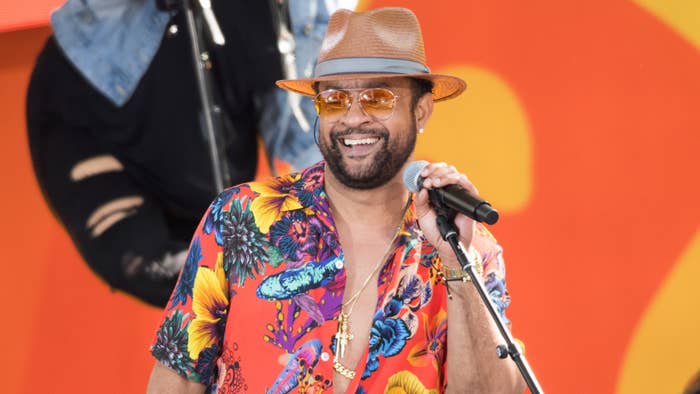 Shaggy isn't encouraging you to not be accountable if you're unfaithful to your partner.
For years, listeners have believed that his hit song, 2000's "It Wasn't Me," is about cheating. However, that doesn't seem to be the case. In a new interview with People, the Jamaican artist said that that is a "big misconception" about the track.
"That song is not a cheating song," Shaggy explained. "It's an anti-cheating song. It's just that nobody listened to the record to the end."
"There's a part in the record where it's a conversation between two people and you have one guy, which is me at that point, giving that bad advice, like, 'Yo, bro, how could you get caught? Just tell her, 'It wasn't me',' and then at the end, the guy says, 'I'm going to tell her that I'm sorry for the pain that I've caused. I've been listening to your reasoning, it makes no sense at all. Going to tell her that I'm sorry for the pain that I've caused. You might think that you're a player, but you're completely lost.'"
He continued, "​​Nobody hears that part! That's what the song says. But everybody's just caught up on that, 'It wasn't me, it wasn't me.' It's an anti-cheating song. No one ever really buys into that, and I keep explaining it to people. Then, they go listen to it back and be like, 'Oh dude, I totally missed that.'"
Shaggy admitted though that the confusion has "helped in the life of the song," calling it "relatable."
The 54-year-old has addressed this misconception before. Back in 2020, around the 20th anniversary of "It Wasn't Me," he again called the track an "anti-cheating song" in an interview with France 24.
"The problem with the song is that it's such a club banger that everybody plays the song but they never get to the apology at the end. They just mix into the next record," he added.