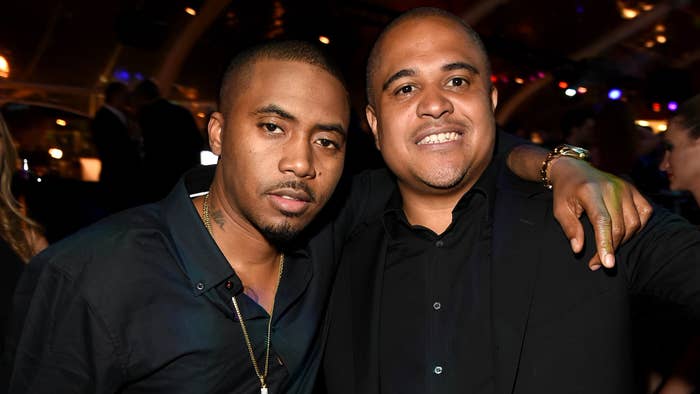 Nas wasn't impressed by Irv Gotti's antics back in the day.
The producer and music executive shared a story in a new episode of Drink Champs, explaining that he, Nas, Ja Rule, and Ashanti were in Baltimore for a show when Gotti came up with a crazy idea while under the influence of ecstasy.
"I'm telling Nas… we gonna get three tour buses. We gonna grab you, Ja, Ashanti. I said, 'We're gonna hitch a Rolls Royce, a Ferrari, a Bentley to the back of the tour bus. … We hit Baltimore … before we go to the show, we gonna hit the hood,'" Gotti explained.
"I said, 'We're gonna ride through.' 'Cause I was like, 'Yo, hood n***as is gonna go crazy.' Imagine me, Nas, Ja, fucking Ashanti, and we pulling up in Rolls Royces and eating fried chicken in the hood. That's a moment. Anyone who gets a glimpse of that is never forgetting that."
Gotti continued, "So Nas was like, 'Yo, I hear you but what if we get killed, being in the hood like that?' This is when I lost him. I said, 'If we get killed, then we're martyrs.'"
It seems becoming a martyr wasn't something Nas was particularly interested in.
Elsewhere in the interview, Gotti also touches on Jay-Z dissing the mother of Nas' child on the song "Super Ugly," Gotti's preference of 2Pac over DMX, Suge Knight's Music Artist Union idea, and Dame Dash's involvement with Roc-A-Fella Records.