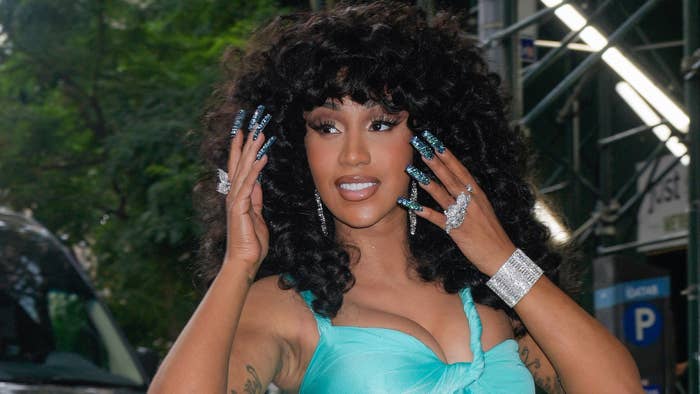 Cardi B isn't playing games.
The Bronx native took to Instagram Live this week to say that while she's been behaving for her fans, she's fed up.
"I been trying not to disappoint my fans because I've been trying to be Cardi B the professional," she said. "But Belcalis the Demon, it be really close to come out. And I don't want that because I don't want to disappoint my fans."
"I'ma just say this: people love Cinderella until Cinderella get a glass house," she explained. "To my haters and to y'all motherfuckers that want to see mess. Leave me the fuck alone because I come with receipts. … Years-old receipts. I got receipts on all you n***as and you bitches. I will bring this internet into fucking shambles."
"I won't even just say it out my mouth," Cardi added. "I literally got real receipts with dates. So leave me alone. 'Cause y'all not gonna be ready for that. Y'all not gonna be ready for nothing."
Cardi didn't direct her missive to anyone in particular, so it's unclear who or what prompted her threats. Her message might have something to do with a video that surfaced online earlier this week, which shows Kanye having a phone conversation about giving songs away, industry plants, the Illuminati, and more.
In one of the clips, Ye specifically names Cardi, saying she was "a plant by the Illuminati."
He continued, "She don't write her raps. She just there to sound as ignorant as possible and then make songs like, 'fuck them and get some money.' She has literally replaced Nicki Minaj, purposely that they put her there, and now she doesn't know what to do, and she has no idea what the fuck is going on. She thinks it's just a blessing from the universe. It ain't no blessing from the universe."
A few hours after the footage leaked, Cardi shared a clip from Ye and Jason Lee's 2022 interview where Yeezy praised Cardi, though her tweet has since been deleted. The two rappers previously worked together on the 2022 song "Hot Shit" with Lil Durk.