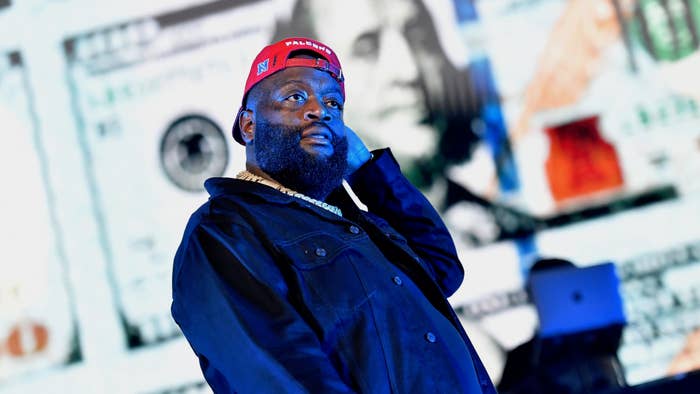 Rick Ross is going all out for his inaugural car show.
On Thursday, the 46-year-old hip-hop mogul took to Instagram to show off the latest—and perhaps biggest—addition to his already extensive fleet. Video taken at Ross' "Promise Land" estate shows a military tank being unloaded onto the rapper's driveway. The armored vehicle featured artillery, a custom camo paint job, and Louis Vuitton leather seat covers.
"MY TANK HAS BEEN DELIVERED!" Ross captioned the post. "THE TOYS BEGINNING TO ARRIVE!"
The tank will presumably appear at Ross' much-anticipated Car and Bike Show at the Promise Land in Fayetteville, Georgia. The event, will take place on May 21 and will include food and drink vendors; live musical performances; and, of course, a massive collection of bikes and cars owned by Rozay and his celebrity friends. 
The Maybach Music boss has been hyping the event over the last couple of months, showcasing some of the classic whips that will be featured at next month's event. 
You can learn more about Ross' car and bike show here.
Ahead of the event, Rozay filmed himself on the streets of New York looking for a potential business partner. The humorous clip shows Ross addressing a random stranger who clearly had no interest in the offer.
"You? You wanna be a business partner with the Boss," he tells a man. "He turned his back. That man right there. He don't know what that is … Billionaire Ricky Rozay. He don't even know. It's all good, though. There's a lot of people who turned their back on me, didn't believe in the vision. That's fine."