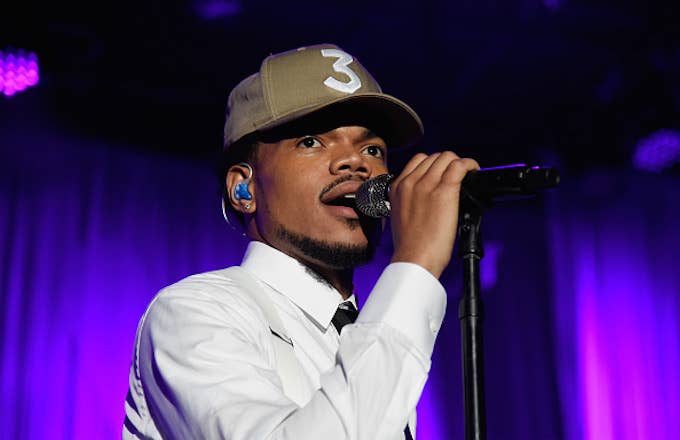 Chance the Rapper spent his 24th birthday doing what he does best: delivering a concert to remember and giving back to his community.
The Chicago native sent out an invite last week for "Chance the Birthday," an event that benefited his nonprofit organization SocialWorks. We reported ticket prices ranged from $100 to $2,500 for general admission and VIP seating, respectively. Though the costs were steep, Chance's fans came through and bought every single ticket, raising more than $100,000 for the organization, according to the NY Daily News.
The event went down at Chicago's Studio Paris, where attendees were treated to Ludacris and T-Pain performances, as well as an appearance by Sesame Street's Big Bird. Chance also rolled out a custom birthday cake designed to look like a Harold's Chicken Shack bucket next to a bottle of kiwi-strawberry Mistic.
Chance launched SocialWorks in 2016 with the intention "to empower youth through the arts, education, and civic engagement while fostering leadership, accessibility, and positivity within the youth throughout Chicago."
Just last month, the rapper announced the New Chance Arts & Literature Fund to reduce the funding gap for Chicago Public Schools. The announcement came weeks after he donated a whopping $1 million to CPS. Chance said he was moved to take more action following a disappointing meeting with Illinois Governor Bruce Rauner.
"Our kids should not be held hostage because of political positioning," Chance said during a press conference at Chicago's Westcott Elementary School. "If the governor does not act, CPS will be forced to end school 13 days early, which means over 380,000 kids will not have adult supervised activities in June and could possibly be put in harm's way."