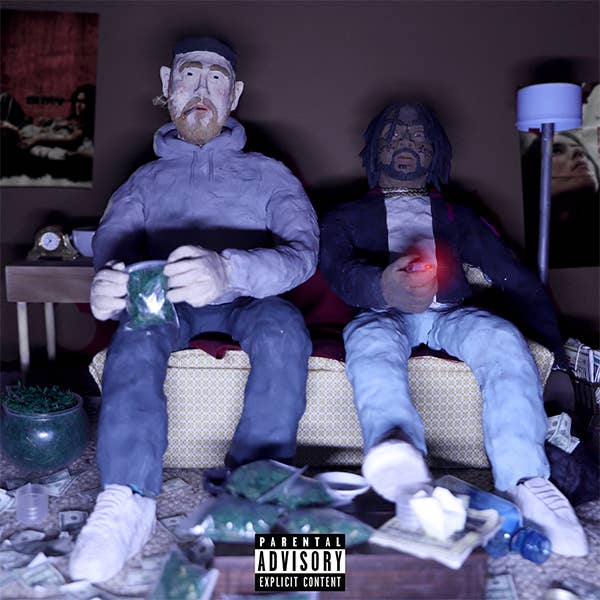 03 Greedo, the self-proclaimed movie buff, teamed up with Kenny Beats on a 13-track project inspired by his favorite films.
Titled Netflix and Deal, the collaborative effort includes the previously released cut "Maria" as well as titles like "Traffic," "Honey I Shrunk the Kids," "Brad Pitt," "Soulfood," and "Dead Presidents." In support of the Netflix and Deal, the rapper and producer dropped a 16-minute documentary about the creation of the record.
"Netflix and Deal is based on movies I watched in my traphouse when I was hustlin'," Greedo is heard saying in the film. "Ain't no shit to do but to watch Netflix and bootleg movies and shit ... I wanted to tie that shit into my life and just show that I feel like I was living a movie."
Netflix and Deal arrives as Greedo serves his 20-year prison sentence for weapons- and drug-related charges. Since his incarceration in June 2018, he has delivered Still Summer in the Projects and Meet the Drummers with Travis Barker.
In an interview with Complex, Kenny Beats talked about his appreciation for Greedo.
"He overall knows that I'm his biggest fan," he said. "As much as I can pretend to be his best friend, it started with me being his fan. I have such reverence for what he did and how important he is, and the fact that he let me be a part of it in any way, that I want to make sure that if me and my team have any access to the art that he left, we're going to do it the most justice we can."
Greedo's latest project features appearances by Freddie Gibbs, Vince Staples, Maxo, Buddy, Key!, and more. You can stream Netflix and Deal now on Apple Music and Spotify.