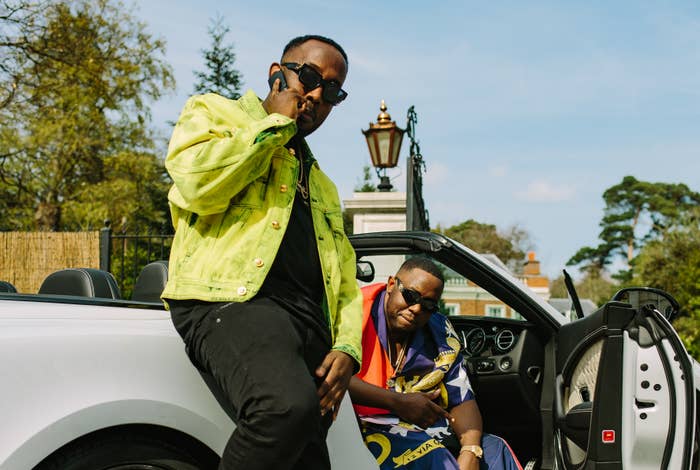 Da Beatfreakz, unbeknown to most, are two London-born brothers—Obi and Uche Ebele—that have been building a serious catalogue of music since the mid-noughties.
While they've recently stepped forward to deliver an artist project, currently riding high on the BBC Radio 1 playlist with their third single "Motorola" featuring Dappy, Swarmz and Deno, the pair's production credits boast Giggs, Usher, Sean Paul, Ellie Goulding, Jay Parks, N-Dubz, and many more. And while a new generation may be streaming the shit out of their largely hip-hop inspired bounty, it was way back in the MySpace era that American super-producers Cool & Dre were flying the South London teenage moguls-in-the-making Stateside.
On a warm day at Columbia Records HQ in London, Complex got to know Da Beatfreakz.
COMPLEX: Is there musical heritage in your family?
Obi: Our mum, being Nigerian, listened to a lot of African music in the house and dad was a music journalist. He worked for the BBC, The Guardian and the rest back in the 1980s. He interviewed some big African names—we've seen the cuttings—and he was really pushing the culture in a time when it wasn't really happening.
Uche: But we really began by playing instruments in church. It gives you a certain type of confidence and if you can't afford lessons, they're going to teach you, throw you right in at the deep end!
When did it switch from instruments to electronics?
Obi: We were rappers and MCs first. We're from the Charlton/Woolwich area and our MC group, YKM, was big in the ends. Uche was the one, like our Tinchy Stryder. This was before YouTube though, so it was hard to find producers and we were a bit stuck.
Uche: One day in school, I'd had detention and my dad was late. The only place open was the music room where some students were making beats on Logic. After twenty minutes, I had a beat and took it home on CD to my brother.
Obi: I couldn't believe it! We decided then and there that we needed to do this. This isn't to glamorise those times, but it's important to share your truth: we took the money we'd made hustling on the streets and through part-time jobs, and bought equipment. Soon we had a proper hub going; Tinie Tempah was one of the early artists who recorded there. 
"Thanks to the mentality our parents gave us, we always knew we had to run a business alongside music."—obi
Did your parents know how you were funding it?
Obi: Uche was 15 and I was 19. Don't get me wrong: I was doing McDonalds too, but our parents weren't stupid. We had a lot of money at times, and I was getting arrested a lot. But they were happy we were together and ultimately in the house, because things were going mad on the streets. One of our cousins got stabbed 14 times in the head. We saw another friends' intestines fall out—thankfully he survived. In our area, you had to be a certain way or you'd get bullied. 
Uche: Music definitely saved us. For two summers, we just stayed inside making music because there was nothing else to do. A lot of our friends are doing long stretches inside now. Without our family and that infrastructure, we wouldn't be sat here talking now.
Which track really kicked your careers off?
Obi: N-Dubz, "Secrets", from the Uncle B album. It went platinum, our first ever plaque.
Uche: I was 16! We were the only producers outside the camp to be on the album.
Obi: They asked if we wanted publishing or cash and we took the cash. They took care of us though; it was a lot of money to us and allowed us to take the next step.  
What was the next step then?
Obi: It was a mad sequence of events, really. We were doing our best with what we had, then sadly our cousin was murdered; it was quite high profile as it was horrific. She was stabbed multiple times. As a result, our family and people in the area encouraged us to get out.
Uche: We'd been sending out MySpace messages and we got a reply from Cool & Dre saying they liked our stuff. We didn't believe it was them. But it was. We spoke on the phone, they booked us a flight and we were off to Miami. We were going to clubs I still wasn't old enough to get into.
Obe: And this was the Terror Squad, big-chain era. It was mad! We ended up staying for a year.
Uche: We had a hostel room, shared bathroom, cockroaches… We didn't want to ask anyone for anything, so we just did what we had to do. Right before we left, we literally had $40, and I remember us trying to make a pizza last four days.
Obi: Then we got a call from The Trak Starz in St. Louis in 2009—we met them online as well. They were working the Chingy and Nelly projects.
So, the move to St. Louis came?
Obi: Literally like that. And we were back and forth from there for seven or eight years. Family is what brought us back home, along with the culture within UK music finally changing.
Uche: We were meeting big publishers who were asking how we were possibly achieving this—and the cuts—without management, but it's all we knew. That's why we want to show younger people, especially, that you can adjust that street mentality into a legitimate business.
You did things in reverse; most people do the UK thing first…
Obi: With us, we had an opportunity to get out and with our parents' blessing, we took it.
You've also got a good CV of work in Europe. How did that come about?
Obi: We've always been pretty plugged in; we've been working with French and Italian artists for years. We realised with production, there's no language—we'd just hit people up online at all hours and roll with it.
Uche: We lived in Paris for a while. "Mieux Que Nous" we did with French artist M Pokora, and it went double platinum. You just don't know where in the world the next hit or moment's going to come from and that's half the fun.​​​​​​​
Obi: But we've still had down periods too. Like in 2014, when we got back from America.
Uche: People could see us working down at Cheltenham FC selling programs, drinks and that. There are worse jobs you could have, but we knew the other path was long so we stuck together and went for it. Five years later, we've got to this now.
When did the tipping point come, if there was one?
Obi: It was a bunch of stuff. Because we were good at business, we were getting so many cuts that, even though they weren't all doing big numbers, it was all adding up. It just takes time. When we got our first publishing cheques, we phoned them to make sure the numbers were correct. We couldn't believe it!​​​​​​​
Do you live together?
Uche: No, we've got apartments one above the other now [laughs]. Our mum always told us to stick together, so we are.
Are you party guys?
Obi: Only if there's something to celebrate, like signing something or a victory in the team; we've got our record label, and we're managing artists including Swarmz and Kwengface. We work closely with AJ & Deno as well, and we've had our publishing company, DBF Records—which goes through Cloud9—for two years now, and we recently signed a big producer from Nigeria called Chopstix.​​​​​​​
Interesting that you've gone with a dance publisher in Holland...
Uche: That's exactly why we did it! We wanted to be the only ones like us on the books, not have loads of competition, and to be well-placed for the remix opportunities.
Any favourite cuts you're produced?
Obi: A personal highlight from the back catalogue for us is probably our work with Jay Parks—his album went No. 1 in 12 countries—or AJ & Deno. We're lucky to have had Top 20 success in the UK, too. When you're hearing someone and you're able to give them that hit, and keep on doing it, that's when you know you're not wrong. We never leave the studio until we feel like the job's done.​​​​​​​
Uche: What we love is that we can work with any vibe, from Afroswing to pop, and we've even had our music in the animated film, Storks. Stargate are incredible with the multi-genre approach; we look at people like them as well as the Pharrells of the world.​​​​​​​
What's been a career highlight thus far?
Uche: Sean Paul… Now that trip to Jamaica, we had the time of our lives. We were only meant to be there for a day, but we're brothers; Sean rolls with his brother and we clicked. We ended up staying a week and getting some cuts together, including "Naked Truth" featuring Jhene Aiko. We've realised it doesn't matter what level someone is at either—it's about your combined energy.​​​​​​​
Word is you don't have management and run this yourselves?
Obi: Thanks to the mentality our parents gave us, we always knew we had to run a business alongside making music. Everything comes out via our DBF Records imprint. We're both inspired by the producer-business types like Puffy, Jay-Z… So, we've always been the guys staying up till 3am, sending emails, trying to make things happen. Having a good publisher makes a big difference and now we're able to employ a team, thankfully. We feel very blessed.​​​​​​​
You've already notched up millions of streams with "Swingin In Da Whip" with Giggs, "Pumpy" with AJ, Deno and the late Cadet, and now the new single "Motorola" is doing bits—congratulations.
Uche: Yes! We've been looking forward to dropping this. "Pumpy" even got picked up by Boohoo for an ad so who knows where this will end up, but we've taken a more DJ Khaled approach to this one.​​​​​​​
Obi: We wanted this video to be more about the artists and us—move away from the clichés. It shows that we're businessmen from South London who are doing well. We watched the Nipsey Hussle documentary the other day and it definitely left us even more inspired.​​​​​​​
Uche: This stuff takes time but you have to remember to have patience and with it, build a community. That's the message.