Is Drake Getting More Hands-On With OVO Sound Artists?
After talking about wanting to make a "graceful exit" from being an active artist, is Drake now shifting his attention towards his label?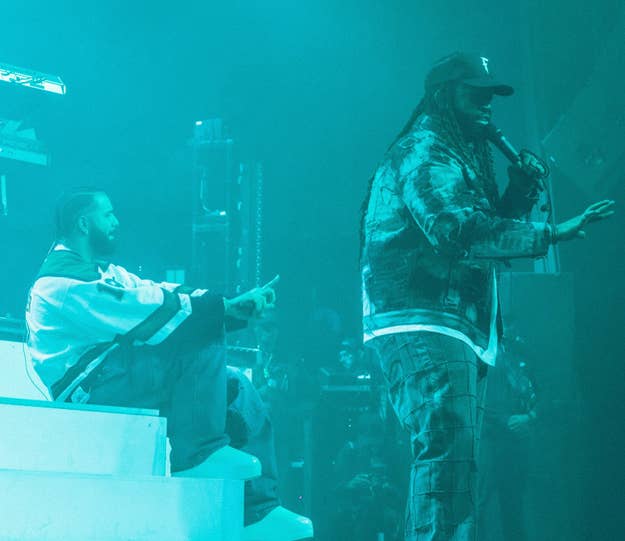 (photo credit: Astral)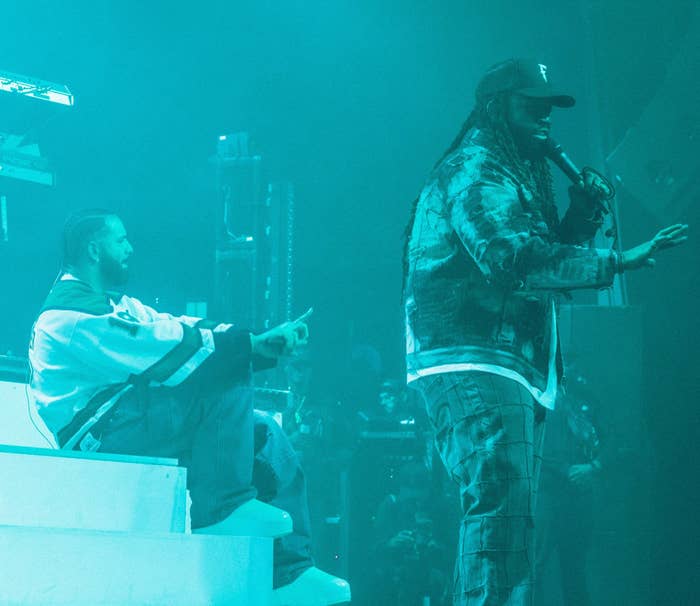 On the song "Summer Sixteen," Drake raps, "I used to want to be on Roc-A-Fella, then I turned into Jay." The "Roc-A-Fella" Drake refers to is the legendary Roc-A-Fella Records which started as an independent record label when Jay-Z couldn't find a home for his debut album Reasonable Doubt. Roc-A-Fella would become one of the most successful subsidiary record labels launched by an artist with the label's partnership with Def Jam, resulting in multiple Gold and Platinum albums and launching countless successful and historic careers.
Drake's record label, OVO Sound, began as a subsidiary of Warner Records, launching when Drake was already on the trajectory of becoming a global superstar. History tells us that label deals are common for rising hip-hop artists, but successful ones are few and far between. There is a literal graveyard of imprints and label deals for artists that haven't amounted to much except for their founding superstars.
And while Drake has turned into, and some say, passed Jay as an artist, his record label hasn't come close to launching anything resembling the career of Kanye West or even Memphis Bleek, for that matter.
The first two artists signed to OVO Sound were Canadian acts Partynextdoor and the R&B duo Majid Jordan.
In 2022, OVO Sound ended its partnership with Warner becoming an independent label.
And while Drake is still very much part of the major label system, he signed a massive new record deal with Universal Music Group last year; his record label's break from the major label system seems to coincide with Drake's renewed interest in his OVO Sound artists.
Recently, Drake sat down with Lil' Yachty for an interview where he hinted at retirement, talking about wanting to make a "graceful exit" from being an active artist. Is that why Drake is shifting his attention towards his label and other ventures rather than his recording career as an artist?
Drake has long been criticized for not promoting artists signed to his OVO Sound record label during its time with Warner. Take, for example, Majid Jordan. The Toronto-based duo, who slept in tents in the studio while writing and recording for Drake's 2013 album Nothing Was The Same, released their OVO Sound debut EP A Place Like This in 2014. That EP made little noise on the charts, and Drake was largely absent from any significant promotion around the project and didn't appear on the release.
Following the release of the EP, Drake would appear on "My Love," the lead single from Majid Jordan's first official album on OVO Sound in 2016. Despite the star power of the 6ix God, the album sold less than five thousand copies during its first week on the charts and quickly became an afterthought.
Drake's assist on "My Love" was a welcome sight. Still, the song was underwhelming, and outside of Majid Jordan appearing at Drake's OVO Fest, the label and Drake seemingly quickly moved on from the promotion of the release, leaving Majid Jordan once again struggling to carve out their place as OVO Sound artists.
On April 5, 2021, Majid Jordan released "Waves of Blue," the undeniable first single from their new album Wildest Dreams which would be released by OVO Sound in October of that year. "Waves of Blue" was one of those songs (and moments) that screamed for an additional assist from their mega superstar label boss, whether via a remix or other promotion around the record. Unfortunately, the song stalled out, failing to make significant waves (no pun intended) stateside.
The most successful artist signed to OVO Sound is undeniably Partynextdoor. From the release of his first Gold-certified EP in 2013, the Mississauga, Ontario-born artist immediately began carving out his audience and path from the onset of his early days with the label. And while it would be a stretch to say that Drake hasn't promoted or supported Partynextdoor over the years, PND didn't require the assists. He released two Gold albums on the label, wrote "Work" for Rihanna, and, despite having not released a project since 2020, continues to have the music world waiting for his next release or tour.
Perhaps that all changed last night at History. Partynextdoor brought out Drake during his performance, and after signalling that next album 4 is on the way on his socials, Drake did the honours of telling the crowd that the album is coming.
Outside of Partynextdoor, the argument could be made that OVO Sound's most successful artist is one who has largely disappeared from the public eye. ILoveMakonnen, an OVO Sound artist from 2014-2016, is best known for his single "Tuesday," which reached number one on the Billboard R&B charts and peaked at position twelve on the Billboard Hot 100, earning platinum certification. For a brief period, Drake was all-in on ILoveMakonnen, releasing a remix of "Tuesday," which preceded his signing to OVO Sound. But has been the criticism in the past, ILoveMakonnen got tied up in record label politics, telling FADER in an interview in 2016 that he didn't know "what the fuck" OVO Sound wanted from him as an artist.
Looking back now, OVO Sound and Drake's experience with ILoveMakonnen may have been a catalyst for Drake stepping away from the label's artists or being very selective about who and what he promoted.
But recently, Drake has shown increased interest in promoting his label's artists.
Signed to OVO Sound in 2014, Roy Woods is expected to release his new album 'Mixed Emotions' soon. Initially slated for release in the Summer of 2022, the album is executive produced by Drake and features the latest single, "Young Boy Problems."
Smiley, arguably one of OVO Sound's most visible artists over the past few years, has appeared frequently on Drake's IG stories and benefited greatly from a Drake feature on his hit record "Over The Top," released in 2021. Drake also showed up for a brief moment on Smiley's recent "Nicky Nine Door" video.
And who can forget Baka Not Nice. The Montreal-born, Toronto-based artist is frequently seen on Drake's Instagram enjoying vacations with the OVO crew in exotic locales. And Baka's latest single, "Took A Trip," received promotional love from Drake and is one of the first releases on the newly independent OVO Sound.
But why now? Is it merely because OVO Sound has gone independent and the marketing of its artists no longer falls on Warner's structure?
Or is there something else at play?
Recently, Drake sat down with Lil' Yachty for an interview where he hinted at retirement, talking about wanting to make a "graceful exit" from being an active artist. Is that why Drake is shifting his attention towards his label and other ventures rather than his recording career as an artist?
On "Weston Road Flows" from his 2016 album Views, Drake raps, "I'm assuming everybody's 35 and under/that's when I plan to retire, man, it's already funded." And while Drake is now 36, it's fair to say he doesn't need to release more albums or work any longer. But like any hungry entrepreneur, they always look for and work towards the next thing. And one could conclude that Drake sees his OVO Sound record label as one of those things that he wants to and will be able to shift more of his attention towards when his career as an active artist is done.
Another pivotal moment in OVO Sound's history was its failure to sign global superstar The Weeknd. A friend and collaborator of Drake's, The Weeknd turned Drake and OVO Sound down in 2012, saying that he didn't want to sign under another artist. Given the track record of OVO Sound artists that would follow, this proved to be a wise decision for The Weeknd, but one that may have stunted the growth of Drake's record label and thus far has prevented it from holding the same cache and profile as record labels launched by his contemporaries like J. Cole's Dreamville.
As Drake hints at the next phase of his career, recent activities indicate that the drive is still there to turn OVO Sound into a historic record label in the same vein as the Roc-A-Fellas and Young Moneys of the world. All Drake needs now is his own Kanye, Memphis or, well, Drake to send OVO Sound into the stratosphere.