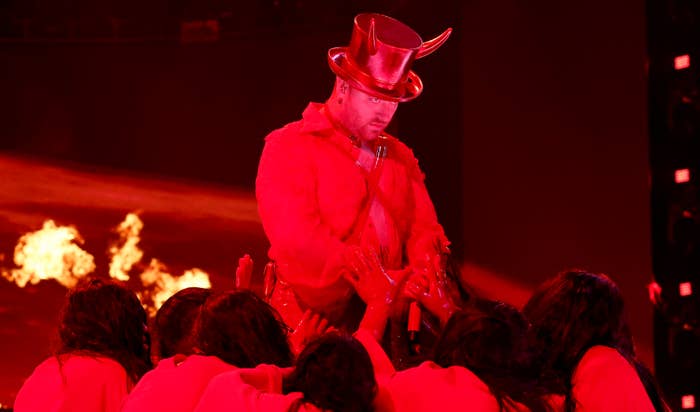 Two years after Cardi B and Megan Thee Stallion sparked outrage with a risqué performance of "WAP" at the 2021 Grammy Awards, another duo is facing heat from the conservative crowd due to its controversial appearance at last Sunday's show.
After taking home the Grammy for best pop duo/group performance earlier in the evening for their chart-topping collaborative single "Unholy," Sam Smith and Kim Petras outraged some viewers while delivering a rendition that featured both artists draped in blood-red costumes and satanic headgear. 
As a result,  numerous people have filed complaints against CBS and the Federal Communications Commission (FCC), with TMZ reporting that most of the offended parties claim the performance doubled as satanic worship. 
"It was wrought with evil imagery, and depicted DEVIL WORSHIPING ACOLYTES writhing around on the floor virtually naked, and in CAGES. It was broadcast on live television, and I cannot believe that CBS allowed it," one person wrote. 
Another person took their displeasure to the extreme, writing, "I will be canceling my television service due to this."
Fresh off the performance last Sunday, Petras defended her and Smith's creative decisions, saying the stage was inspired by not feeling accepted by religion.
"I think a lot of people, honestly, have kind of labeled what I stand for and what Sam stands for as religiously not cool, and I personally grew up wondering about religion and wanting to be a part of it but slowly realizing it didn't want me to be a part of it," she said, per Variety. "So it's a take on not being able to choose religion. And not being able to live the way that people might want you to live, because as a trans person I'm already not kind of wanted in religion. So we were doing a take on that and I was kind of hellkeeper Kim."