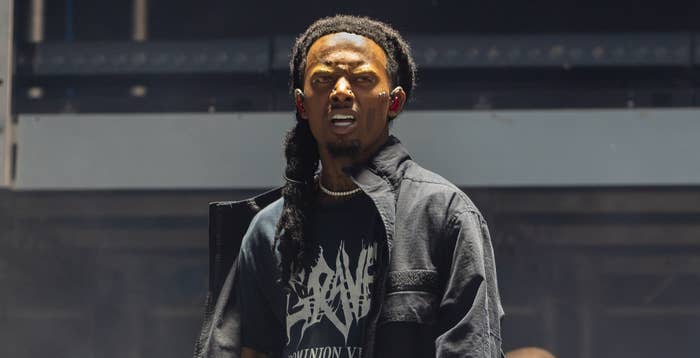 In a new interview with Numéro Berlin, Playboi Carti opened up about his relationship with ASAP Rocky.
"Me and Rakim [ASAP Rocky] was one of the best things that could ever happen to me in my life," Carti shared. "He was very genuine and everything was very organic and he's a genius and it's kind of hard to not pick up great things being around great people, you know?"
Carti continued by saying people will match the energy of those they surround themselves with.
"I feel like the rooms that you surround yourself with most definitely can alter whatever is going to happen in your career," he said. "You put yourself in a room with people who are not being positive or not this and not that, then that's the type of energy you don't have. Put yourself in a room with the energy you need."
Rocky and Carti have joined forces for numerous collabs since first linking up on "New Choppa," a standout from Carti's self-titled 2017 debut. Since then, the pair have teamed up for "Buck Shots," off Rocky's 2018 album Testing, as well as Cozy Tapes Vol. 1's "Telephone Calls," Cozy Tapes Vol. 2's "Raf," and last year's "Our Destiny."
In an interview with Ross Scarano for Complex in 2017, Carti shed light on how he first met Rocky in 2015.
"I met Rocky at this house party and it was crazy," Carti said at the time. "He told me he fucked with me, bro, and after he said that I was like, I gotta get out here and get my swag up. It was lit. There were a bunch of bitches everywhere. It was life. The life I wanted was in the house, right there."
Head here to read Carti's full interview with Numéro Berlin.