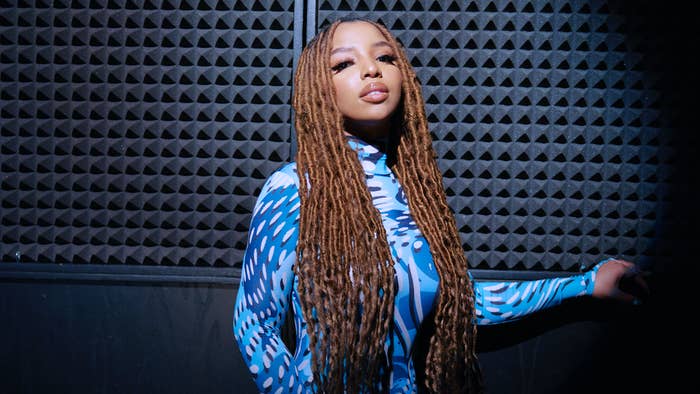 An entertainer's résumé and tenacity ordinarily determine their longevity. But if fate orders our steps, it would appear that Chlöe Bailey has been destined to make her solo debut alongside Parkwood Entertainment since she was cast as the younger version of Beyoncé's character (Lilly) in 2003's The Fighting Temptations. Since then, her 5-year-old cinematic ambitions evolved, unlocking her potential as a vocalist, music producer, songwriter, and the eldest sister of the platinum-selling R&B duo Chloe x Halle. 
When we chat, the 24-year-old is fresh off of a Fendi shoot, and she beams enthusiastically as she discusses her new American Express partnership with TikTok—a collaboration that's meant to support small businesses with the #ShopSmallChallenge hashtag. She seems immune to any of the chatter surrounding her love life and unnecessary cyberbullying. She's big on energy and is doing everything in her power to protect what's hers. 
"My sister and I have been traveling the world," Chlöe says on Zoom in front of a studio backdrop in Los Angeles. She somehow manages to get the room's black paneling and blue lighting to complement her cropped fuschia blouse and layered baguette necklaces. Having already opened world tours for her mentor Beyoncé and also Jay-Z, it appears Chlöe remains camera ready.
Chlöe—born Chloe Elizabeth Bailey in Atlanta—began her musical career beside her sister, Halle Lynn Bailey, posting covers on YouTube and performing locally. Though the sisters' video uploads began in 2008, their viral breakthrough came in 2013 when they covered Beyoncé's single "Pretty Hurts" after winning Radio Disney's Next Big Thing singing competition in 2012. Shortly after, they signed a joint deal with Columbia Records and Beyoncé's production, management, and entertainment company, Parkwood Entertainment.
They've had many successes as a duo, including their 2018 Grammy-nominated debut album, The Kids Are Alright, and the critically acclaimed 2020 LP, Ungodly Hour. But it wasn't until the release of their hit "Do It" that global audiences truly appreciated the sister's gifts, opening larger stages for Chlöe to reemerge as a solo artist in 2021 under her moniker. 
Ahead of 2021's Juneteenth celebration, Chlöe reimagined Nina Simone's classic "Feeling Good" as her first solo release for the compilation album Liberated/ Music for the Movement Volume 3. In tandem, Chlöe honored the legend's memory with a televised performance of "Feeling Good" on ABC's Juneteenth: Together We Triumph special. The artist's rendition's choreography and sheer jeweled bodysuit were met with mixed reviews, which Simone's granddaughter, RéAnna Simone Kelly, addressed by tweeting: "Grandma was unapologetically herself. She was a muhhhfuckin badass woman who did what she wanted when she wanted. She was a sexual woman and she expressed that. Educate yourselves!!" 
The sultry introduction served as a prelude to what Chlöe had in the moments leading up to her premiere. Tired of the negative commentary she saw online regarding her showing her curves, she tapped Murda Beatz for her debut single, "Have Mercy." While she laughs about the track today, the singer noticed her trolls had plenty to say, so she gave them a show. "'Have Mercy' stemmed from my being sad. I was responding to haters," Chlöe explains to Complex. Its Medusa-themed video features body, sorority paraphernalia, and a cameo from Celestine Ann Beyoncé Knowles-Lawson, best known as Miss Tina. The visual is Chlöe's most viewed video to date. 
The songstress has since had to set boundaries to keep fans engaged with the releases on her building tracklist and away from the prying eyes of the paparazzi swarming her date nights. She understands her listeners' curiosity comes with the territory and politely veers away from relationship questions. The music says plenty. Chlöe showed up with the sexy ballad "Surprise," delivering her most vulnerable video in time for the summer. Much like Beyoncé, she is cautious not to reveal too much about her LP's surprises, but Chlöe confirms its songwriting is true to her experiences. Her latest release alongside Latto, "For the Night," known to be about Gunna, is arguably her most personal, identifying when love is not giving you its best. 
Below, Chlöe spoke to Complex about relationship standards, her debut solo album, her recent partnership with American Express and TikTok to support small businesses, the importance of community, and more.
This interview has been edited and condensed for clarity purposes.
What has been your biggest lesson while developing your solo album?
The biggest lesson I've learned has been to trust my gut and to trust the timing.
Your latest release, "For the Night," features Latto. How important is reciprocity in your relationships? 
It is definitely very important. I am huge on energy! And if I do not feel from you what I am giving out, I tend to leave the situation. I never want to feel like I am suffocating anyone with my love and heart. It is a special gift to love with no boundaries. And yeah, I just think it is very important to get back what you are giving.
Is there anything that you are manifesting for yourself?
Yes, peace. I want peace and happiness—just complete peace.
Black women and women of color continuously see you celebrate your curves through your art. What would you say to your fans who struggle to find their own peace with that part of themselves? 
My message is to love yourself no matter what form you come in. You know, I love wearing cute fitted clothes and feeling snatched. But then there are also some days when I don't feel like that. I am learning to celebrate myself in all shapes, moods, and sizes. So, as long as the inside feels good, that will show on the outside. And it is important to celebrate your mind, body, and spirit—all of it!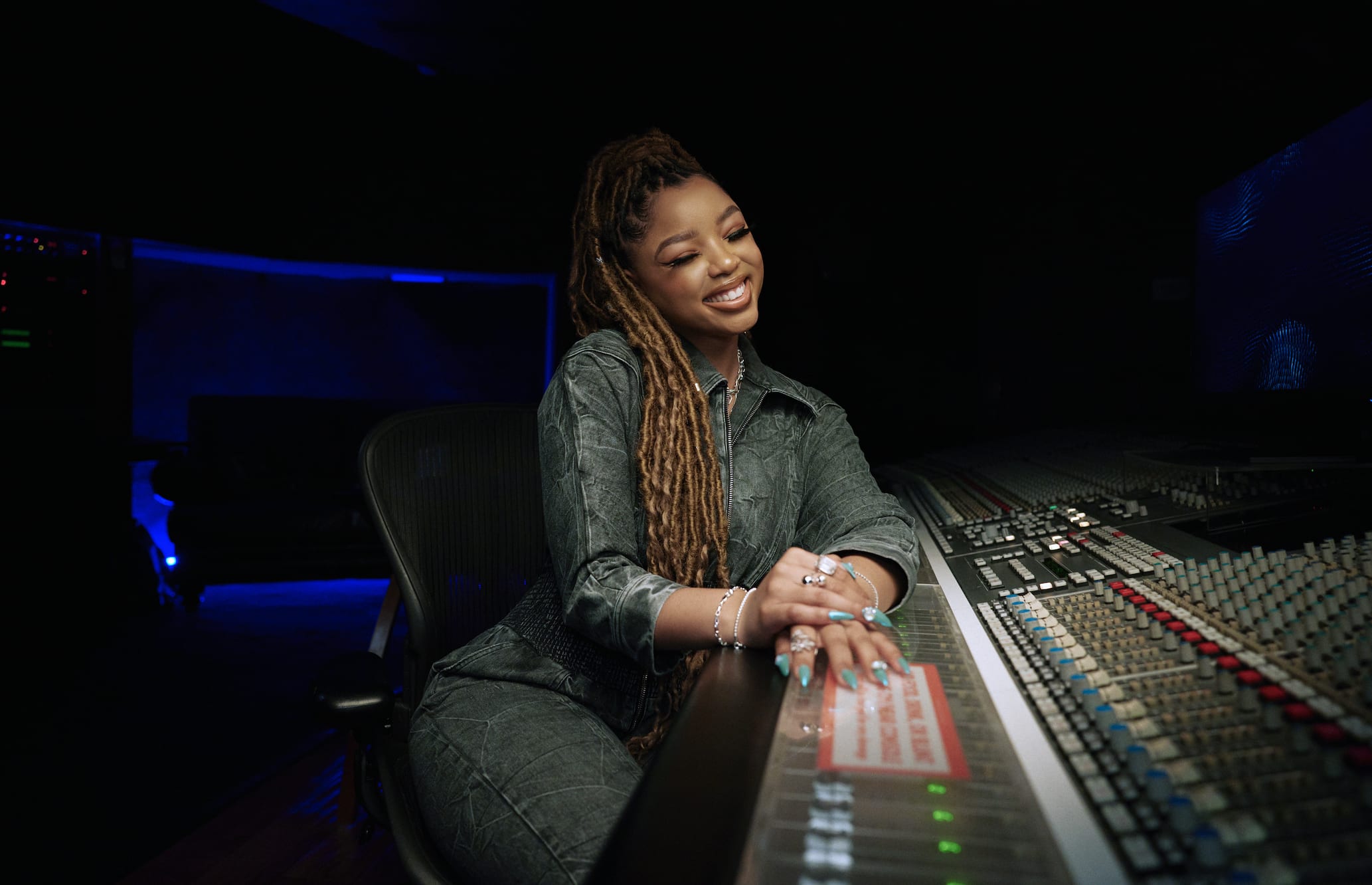 You recently partnered with American Express and TikTok to support small businesses. How can fans reinforce this new endeavor?
Yes, I am so happy to talk about this collab with American Express and TikTok. And it is all about supporting small businesses. Especially now, I love to support our communities and local businesses during the holidays. It starts at home. 
So, I was really excited to do this. I got to bring my love of music into the collaboration. I created a fun, cute song for TikTok that people can use. It will either motivate them to shop at small businesses or even have fun with us and create cute videos, too.
What are some of your most loved small businesses?
Some of my most loved small businesses are definitely this spot called Crystal Shine and another place called Candle Delirium, for sure!
You've expressed that "For the Night" was written about Gunna. With respect to your forthcoming solo debut, how much of your album's songwriting stems from your own experiences? 
Every single song on that project stems from my own experiences. "Have Mercy" stemmed from my being sad. I was responding to haters. That is where that song came from. The single "Treat Me" came from reminding myself that if there is something I want out of a man, I have to give it to myself first. 
The song "Surprise" came from, you know—it's OK to feel a little sexy sometimes. I let that side come out of me with those lyrics. Now, I have released "For the Night." Every song I have is personal. It has been so much fun collaborating with such incredible song makers. I am happy people are getting more and more of me.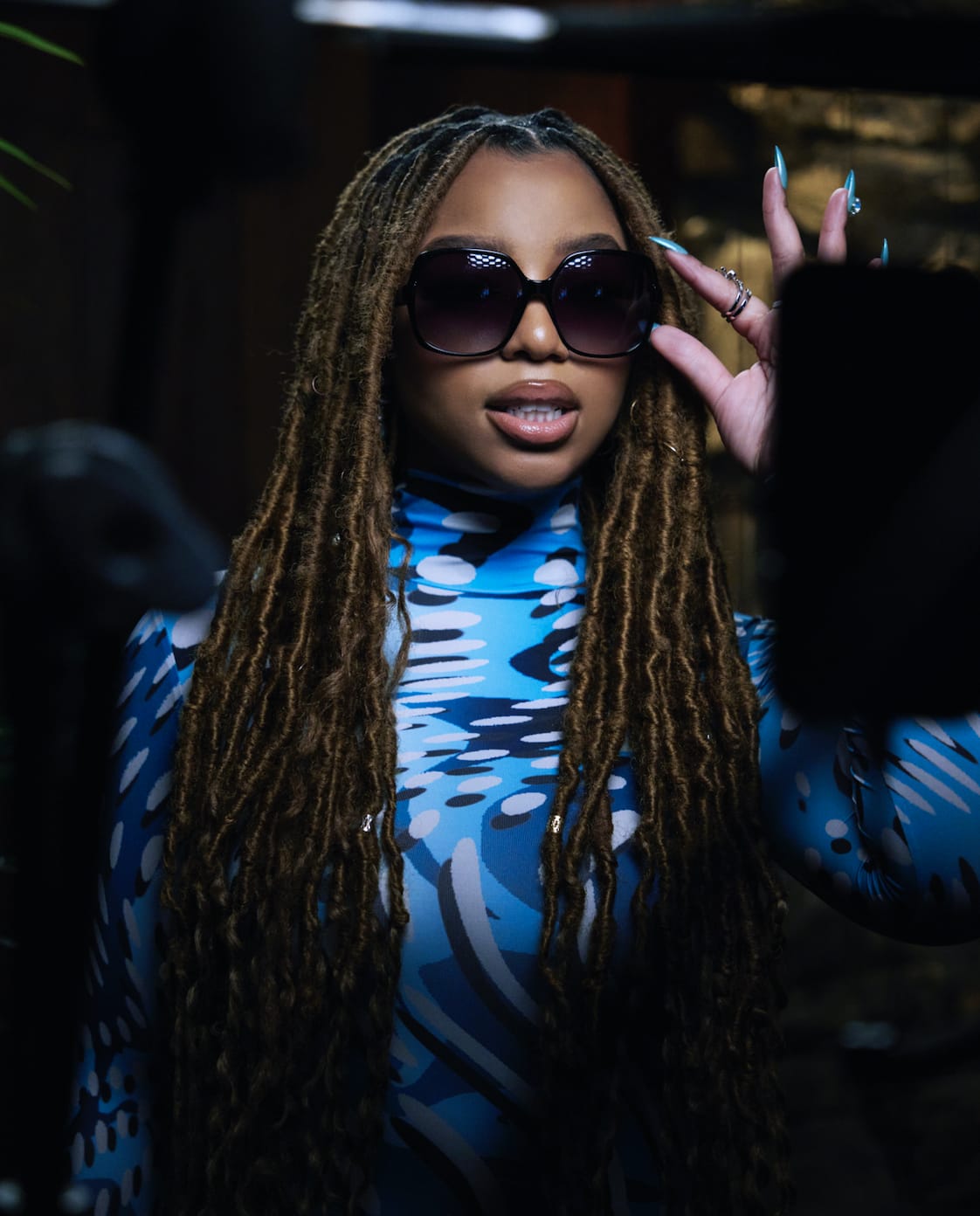 Can fans look forward to more collaborations with your album en route?
Yes, absolutely! There are a lot of exciting features and collaborations to look forward to. I cannot wait to say more and put it into the world.
Your little sister is blossoming. How does it feel to see Halle also ascending as an artist?
It feels incredible! I am just so proud of her. I am so proud of what we are both accomplishing. I mean this together and separately, all at the same time. I thank God every day for blessing us and allowing us to have a strong, solid, beautiful connection and relationship throughout it all. 
What can supporters look forward to musically via your duo? 
What people can look forward to musically from us as a duo is definitely more! My sister and I have been traveling the world. Separately, we have been taking in our own experiences. Now, you will get both perspectives in the studio. I think there are two completely individual perspectives—now, in our new music, and all on the same songs.
Long-term goals: How do you wish to be remembered?
How do I wish to be remembered? I want people to remember me as a good person. I want them to see I have a good heart first and foremost. I want to be seen as someone who loved so hard and gave back unconditionally. And someone who makes good music!