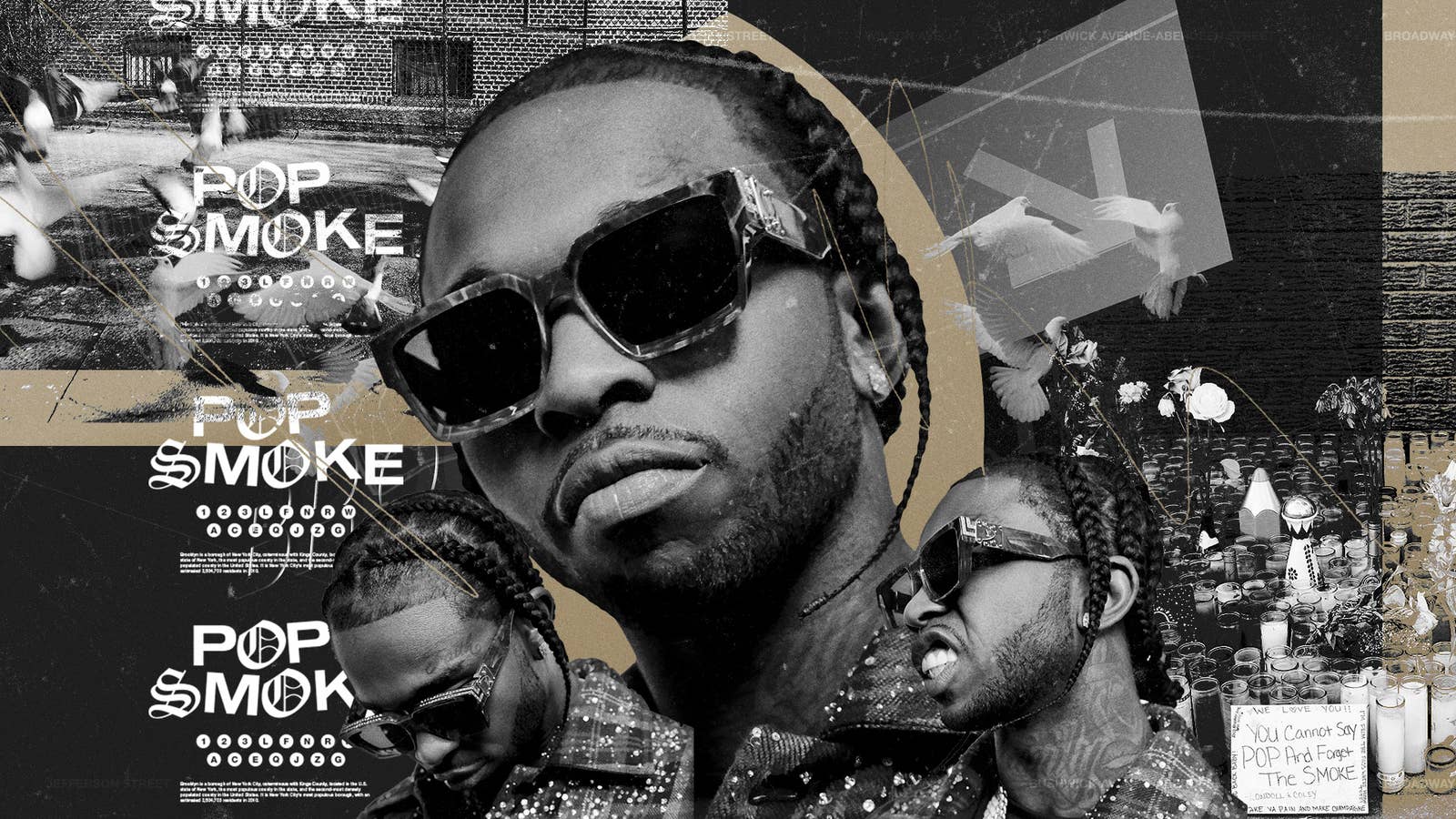 In the early hours of February 19, Pop Smoke was shot and killed during a home invasion at a house in the Hollywood Hills. The face of the Brooklyn drill movement, who spent the past year captivating the five boroughs and beyond with his impossibly deep roar, had been taken away just like that. Bashar Barakah Jackson was just 20 years old.
Pop Smoke's rise had been swift. He'd been rapping for less than a year when "Welcome to the Party," with its anthemic hook and wobbling bassline, became 2019's song of the summer in New York City. It was impossible to go anywhere in the city without hearing his voice from car stereos and speaker systems at block parties. Over the next six months, he harnessed the energy of his breakout moment and followed it up by making another hit ("Dior"), releasing a standout mixtape (Meet the Woo), and collaborating with mainstream stars like Travis Scott. He had graduated from regional hero to global star, bringing the sound of Brooklyn with him. 
Less than two weeks before his death, I spent a day with Pop Smoke as he prepared to attend the release party for his second project, Meet the Woo 2. Throughout our time together, mostly spent speeding through the streets of Manhattan in the back of a Sprinter van, he was surrounded by his closest friends and family. The day felt like a victory lap of his hometown.
Wearing a "Flossy Tuxedo" of head-to-toe white Dior denim, Pop Smoke began the day by sitting for one of his first major radio interviews with Angie Martinez, joking about eating snails in Paris as they discussed his bright future. When their interview was over, he eagerly plugged his phone into an AUX cord and played a series of unreleased R&B-leaning songs on which he traded in his rough growl for a smooth baritone. One of the songs sampled Tamia's "So Into You."  
Later, at the Louis Vuitton store in Midtown Manhattan, he fielded an endless series of FaceTime calls about the party later that night. When a friend teased him about mixing and matching prints, and "getting Panamanian with it," Pop Smoke kissed his teeth and adopted an exaggerated accent to defend his father's home country. "What you talking about Panamanians for?"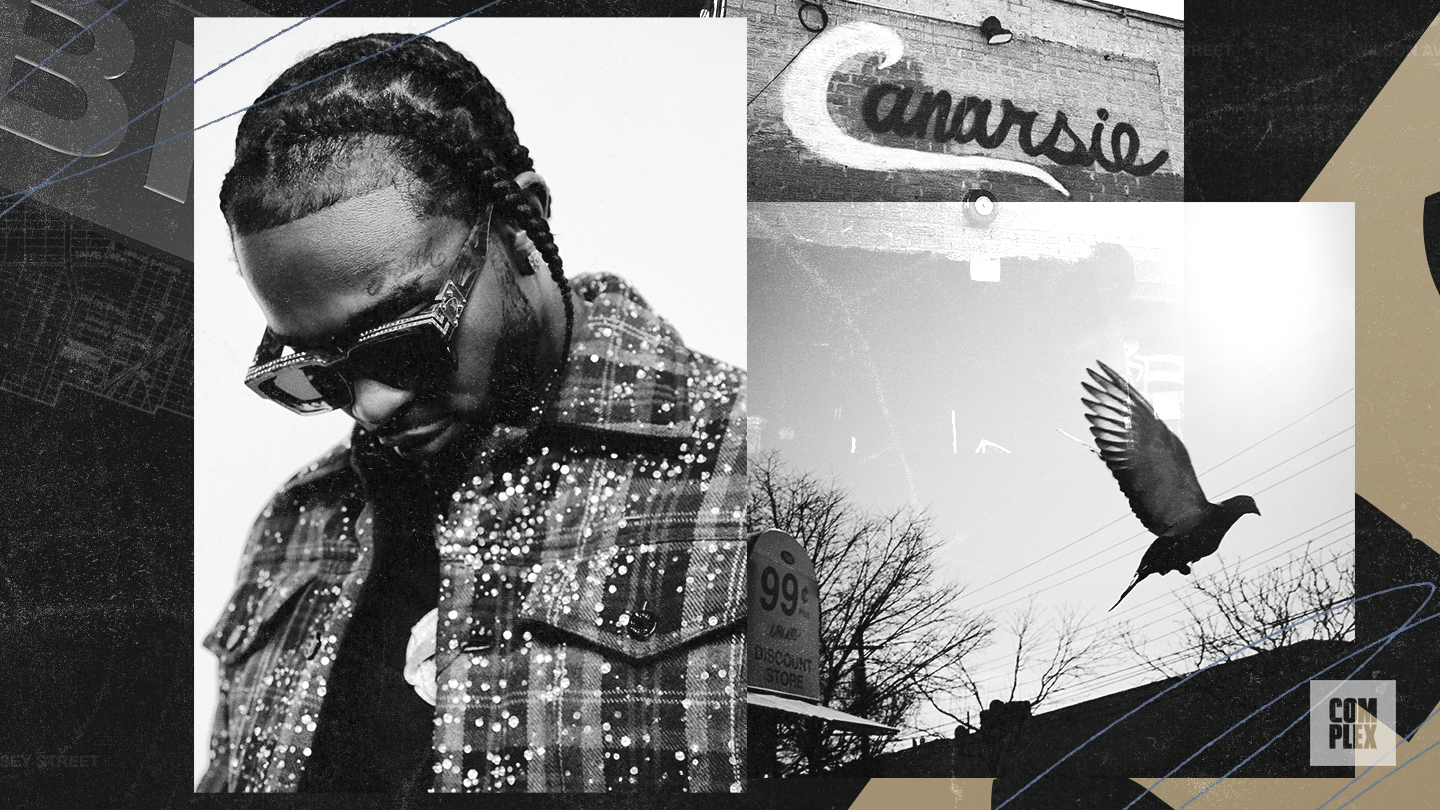 Unhappy with the selection at Louis Vuitton—"I want some leather and some suede," he said—we headed across town to the Rick Owens store in SoHo, which the employees kept open late for him. He immediately picked out a maroon satin jacket, tight-fitting black jeans, and sleek black shoes with zippers on the sides. He walked up and down the white marble staircase in the store, pausing on each step so his photographer could take pictures, and then rushed back up to see how the fit looked on camera. 
In between these stops, in the back of the Sprinter van, we talked about his childhood, his rise, and his future. At times—like when he spoke about riding around in the first car he ever owned, a blue BMW—he was animated and almost jumping out of his seat. At other points—like when he talked about the NYPD, which had shut down his hometown show at Rolling Loud New York in October and arrested him on charges of transporting a stolen Rolls-Royce in January—he was steely and determined, tapping his knuckles against my shoulder to emphasize each of his plans to combat police harassment.   
At his release party that night, in the absence of a stage at a large Williamsburg warehouse, he walked into the center of the room as the crowd formed a close circle around him. In the small space between himself and the people watching, Pop Smoke played songs from the new project to a public audience for the first time, dipping and dodging with the microphone as two friends Wooo Walked beside him. A large group of NYPD officers lingered outside the venue for much of the night, blocking the front doors at one point and barring late arrivals from entering.
Inside that tight circle, though, the only thing that mattered was Pop Smoke's voice.
Editor's note: Complex planned to spend multiple days with Pop Smoke for an in-depth profile as part of the Brooklyn drill series that we published today. Due to his death, we weren't able to spend more time with him after our first day together. Considering the circumstances, we feel it's most appropriate to publish Pop Smoke, in his own words, with little editing. Below is the transcript of an interview conducted on the evening of February 6. It was his final editorial interview.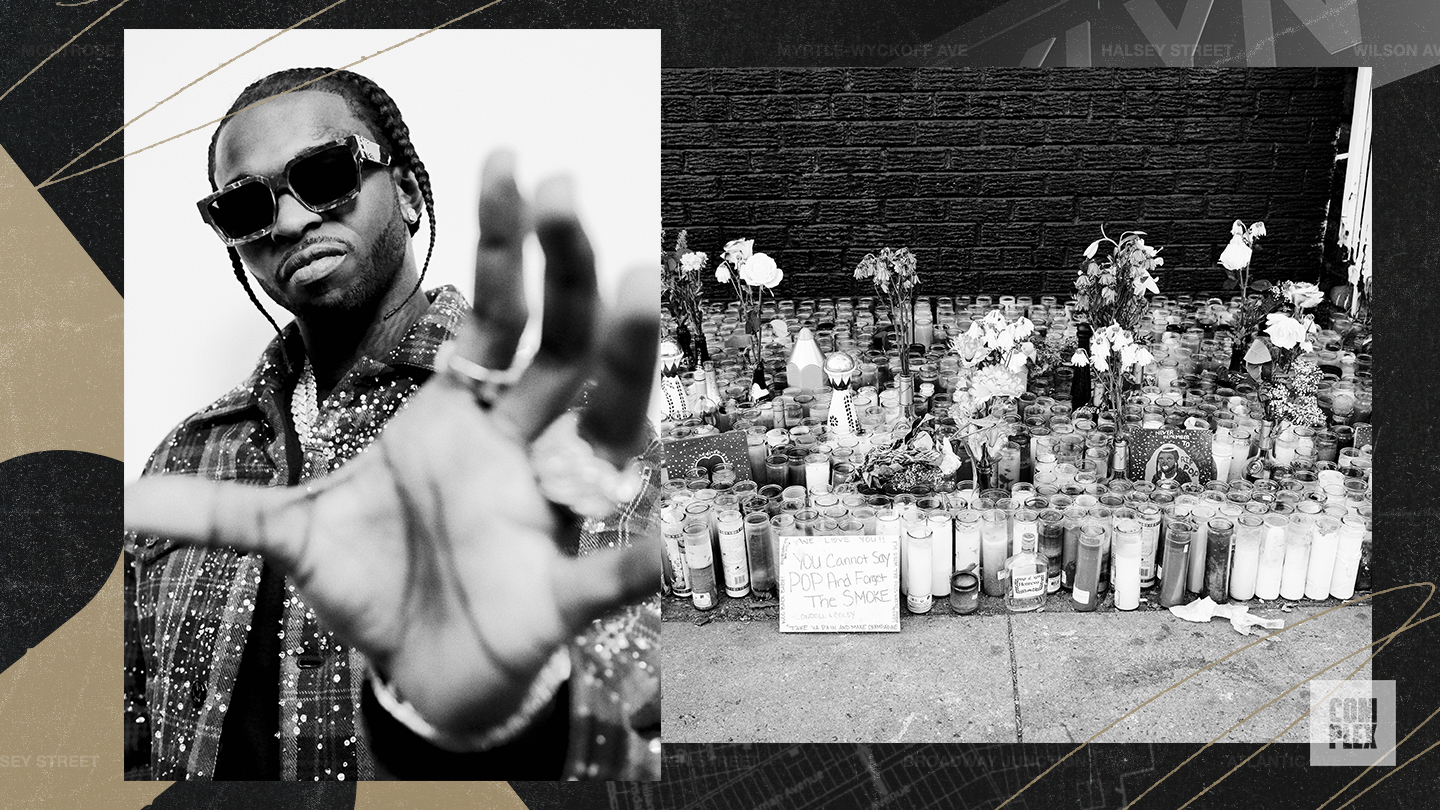 Who raised you, mostly?
We raised each other. [Pop Smoke points to his friends sitting in the back of the Sprinter.]I bounced from a lot of cribs. We really raised each other. I used to sleep at his crib in middle school and then go to school in Queens. I used to stay at Ace's crib, and we would walk to school, get a chop cheese. Kid shit.
You've said you're not into talking a lot, but it seemed like you were having fun with Angie Martinez earlier. 
I love Angie. I used to fuck around watch all her videos growing up. I'm really not good with interviews—the talking. I'm ain't really one of them niggas. People say I'm aggressive. I don't know why. I don't think I'm aggressive. 
Were you always quiet? 
I just never talked a lot. I would do the craziest things, but I wouldn't talk. You'd never know when it was coming. I definitely wasn't shy. It was more like meditating. I like to pree. I like to just watch things. 
Tell me a little bit more about growing up. What kind of kid were you?
I was a cool kid. We was them niggas. Everybody jacked us. You know them kids that everybody wanted to see when they come to school? And if you didn't see them, it was like, "Damn, they not here. I'm going home"? We turnt everything up. Always wylin', always going crazy.
"This is what New York sounds like now. We bridged that gap between London and New York. Our slang, our tone of voice, our sh*t."
You switched schools a lot growing up. What was going on?
I never really got into no trouble, but it's something about my aura, though. It's a good and a bad thing. Some people's presence is just felt. They don't really have to say nothing, don't really have to do nothing but just be there, and it's good enough. Sometimes I'd just walk into school and people would just be on some, "What the fuck? Oh, that's son from Brooklyn?" I went to school in Jersey, Philly—I used to live on 33rd in North Philly. 
What brought you down there? 
Prep school. I used to play ball, running through that shit. I went to top camps and played the top schools in the country: IMG, Elevate, Impact. I tried it—the sports route—but I got a heart murmur, and I had to pump my brakes. I found out on the court when I was playing IMG in Florida. I just started not feeling too good. I went and sat on the bench, and the next day the doctor told me I had a heart murmur. I was 15 or 16. 
It ain't matter. When I come home, I started hustling. Bow! Sixteen, I had a Beemer. Now I'm going to Springfield Gardens in Queens, Beemered up. If you come to my crib right now, I got that same blue Beemer parked. I ain't giving that up. That's my first car, cuz. I don't even know if it can drive. I probably haven't driven it in three years. It probably needs a whole new battery, but I just love looking at it.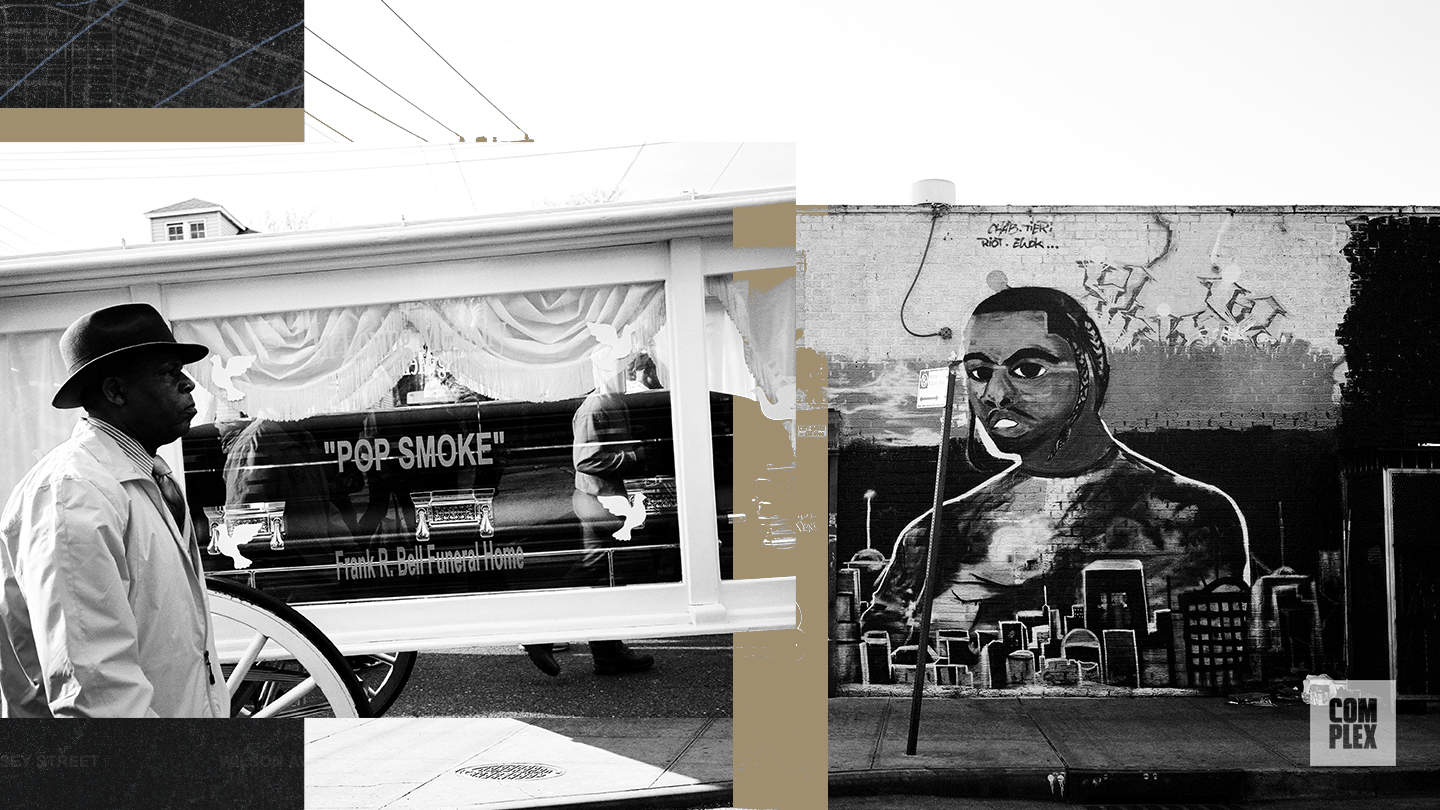 When you were driving around in the Beemer, what kind of music were you listening to? 
When I was driving in the Beemer, I was bumping a lot of New York drill: Sheff G, Rah Swish, Curly Savv, Jay Gwuapo. I was paying attention to it, but I wasn't studying it. I would hear songs, but I wasn't a student of the game. 
Now I'm looking like, "OK, this nigga coming up. I like him. I wanna know what's going on with him." Like Fivio [Foreign]. When I heard the music, I'm like, "Yo, this shit's hard." I heard him doing the ad-libs in his own way and I wanted to know where that shit come from. 
When did you start to see drill become the dominant sound in Brooklyn?
You know what happened with that shit. That's me! Who you know that was getting millions of dollars in New York, bumping New York drill? That shit was down here [puts hand close to the floor of the Sprinter]. Now niggas is eating and feeding their families with this shit. Nobody was doing it like this. I'm not saying I started it. I'm just saying there's a different light on it now because of me.  
Do you consider yourself a "drill" artist? I know you've pushed back on that a bit in the past. 
It's that drill beat, for sure. Do I make drill music? I wouldn't say I make all drill music. But it's those drill beats. Nobody was using them like that. You got other weird niggas trying to get on this shit. They're trying to be Woo. They can't be flossy. 
When you first started, were you using those U.K. beats right away? 
I was using those type of beats from the jump, because that's what I was listening to at the time. I was looking up a Sheff G song, and when I found his song, right under it was this 808 Melo beat. I end up clicking the beat, not the song. I started rapping the lyrics, some Sheff G shit. I was like, "Fuck that, let me try this shit."
I always had a voice, but I never was a rapper. The way I would talk—I never talked a lot, but when I would talk, people would listen. You hear some little-ass kid with a light-ass voice, but then when you hear the lion roar, it's like, "Whoa!" You ever seen Lion King, where they're doing the christening for Simba, and that nigga roar, and all the animals are just looking up? It's like that.
"You got all this f*ckin' security, big a** guns, snipers on the roof, all this crazy sh*t, and you're worried about Pop Smoke performing? Y'all need to protect me."
What do you see as the connection between Brooklyn and London? 
Brooklyn and London are the same thing. We both got our good sides, super-posh sides, and we got our super-ghetto sides. We eat the same food, drink the same drink, Kool-Aid, dress the same. If I show you a nigga from London right now, you can't tell he's from London. I bring a nigga from Jersey to London, they'll be like, "That nigga not from London." New York and London niggas blend in. Same slang and all that. We're like cousins. 
A lot of the young drill rappers in the U.K. are being targeted by police for their lyrics and videos. Do you feel like you've been targeted in the same way? 
Any nigga that's coming up from the city, that's doing good, that's doing what I'm doing right now is gonna get targeted. It's nothing against me. But watch, I'm gonna make it about me. I'm gonna show them they need to stop doing this shit.
I'm gonna put out a movie or a documentary. I'm gonna make that shit about me. Walk 'em through where I used to live, where I used to be at, and why they look at me the way they look. I'm gonna show you why they don't like that—what they don't like. Let's see if you have the same feedback that they have. Let's see if you would want me to be banned and want me to not perform. I doubt you will. All this good music being recorded, and you want to put it on hold? You don't want people to hear it?
Are you banned from performing in New York?
I wouldn't say I can't. I can do whatever I want. But I know they'd be trying to hold me. I don't want to bring it on me. I just know they'd be fuckin' with me. Rolling Loud, that was a big show that got canceled. That shit came out of nowhere. I don't understand. You got all this fuckin' security, big-ass guns, snipers on the roof, all this crazy shit, and you worried about Pop Smoke performing? Y'all need to protect me. I just don't get their logic sometimes.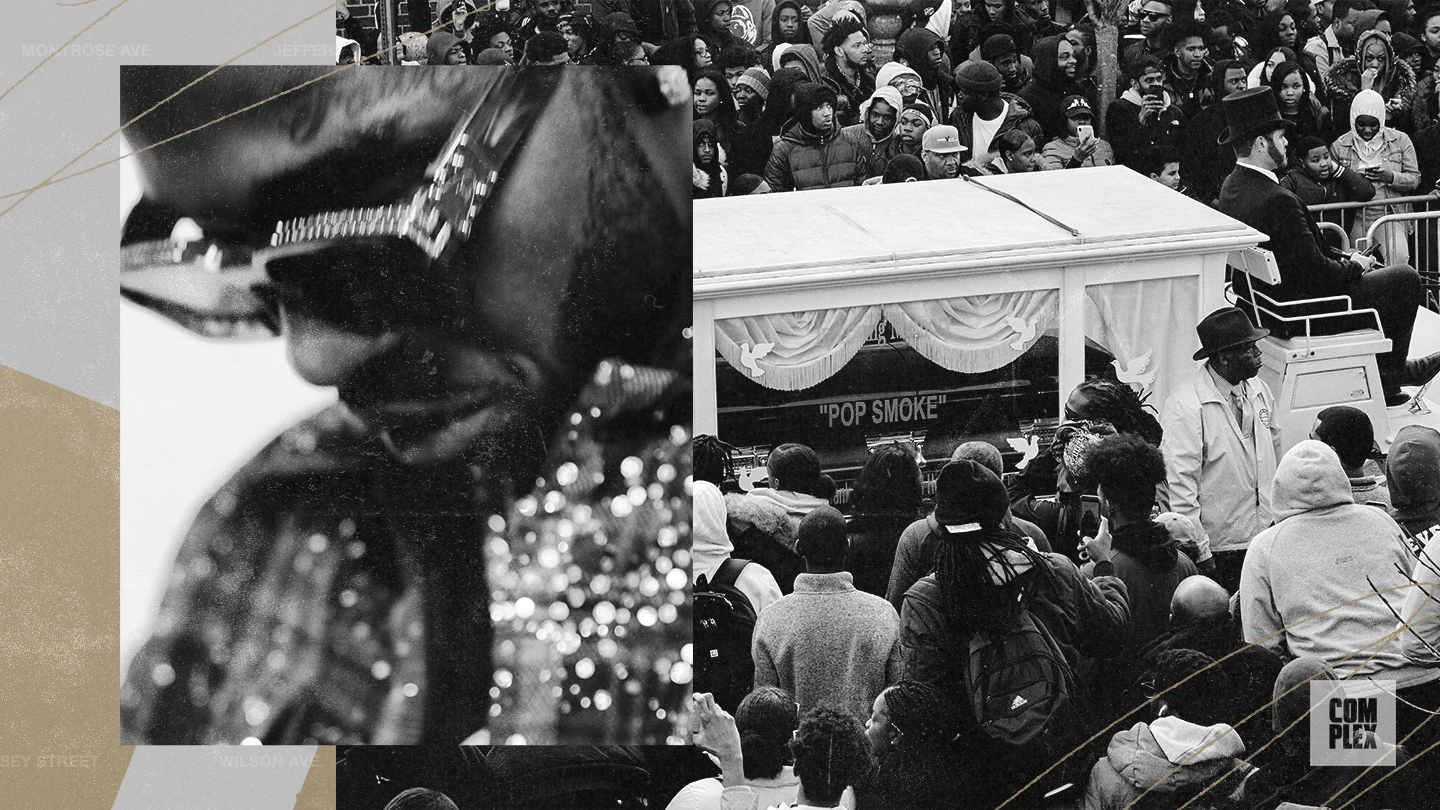 Your new project is part two of Meet the Woo. At this point, do you feel any need to distance yourself from that phrase?
Why? What do you think Woo means? Woo is all this jewelry I'm wearing. Woo means flossy. That's the definition of Woo. You're flossing, wearing designer shit, buying all this jewelry, feeding your family, helping these kids get better educations. It ain't no gang. Would you wanna go away from that? I wouldn't, especially if you created that and started that. That's special. You gotta hold that tight. When you in front of like 7,000 people and you say, "Woo," and everybody yells back, "Woo." From something that was just regular hood shit, and you made it a worldwide thing? There's people everywhere that's Woo. You got Woo doctors, Woo teachers, Woo technicians, Woo engineers. We're everywhere. It's almost like Freemasons. 
In terms of things like beef, that can distract or bring negative attention, what's your mindset right now?
I gotta stay fully focused. Tunnel vision. I gotta be selfish for right now, until you build your empire to where you could bring people in and help them. That's the only way you gon' be the best.  
Drill is the sound of New York right now, but do you think you'll start moving away from it as you get bigger?
I got a love song coming out. I'll be talking more to the ladies in 2020. I gotta feed them, too. I don't wanna make songs for niggas all the time. There's no money in that. You think I wanna go to the show and see a thousand niggas? I might as well be in jail. 
It's all about balance. Sometimes shit gets overwhelming if you have too much of something. You gotta beware, because the decisions you make today will determine your future. Niggas is having money now. I grabbed the hood first. I got the hood on my back, and niggas is rocking with me. Now it's time to grab the attention of these females all over the world. I want to be that nigga to them. That's how you keep everything balanced.  
Does that balance for you mean moving around too?
Definitely. If you stay somewhere too long, some shit gon' happen. You're not supposed to stay in one place forever—not even home. I just went to the Bahamas with Steven Victor and a couple of my producers. We just vibed out, working, staying up all night in the studio and sleeping all day. You need that to balance your shit out. 
What do you see for the rap scene in New York as a whole going forward?
This drill shit is the sound of New York. This is what New York sounds like now. We bridged that gap between London and New York. Our slang, our tone of voice, our shit. We at least got a decade with this. 
See below for the rest of the stories in our Brooklyn drill series:
We also put together a playlist of essential Brooklyn drill songs, which you can follow on Spotify.