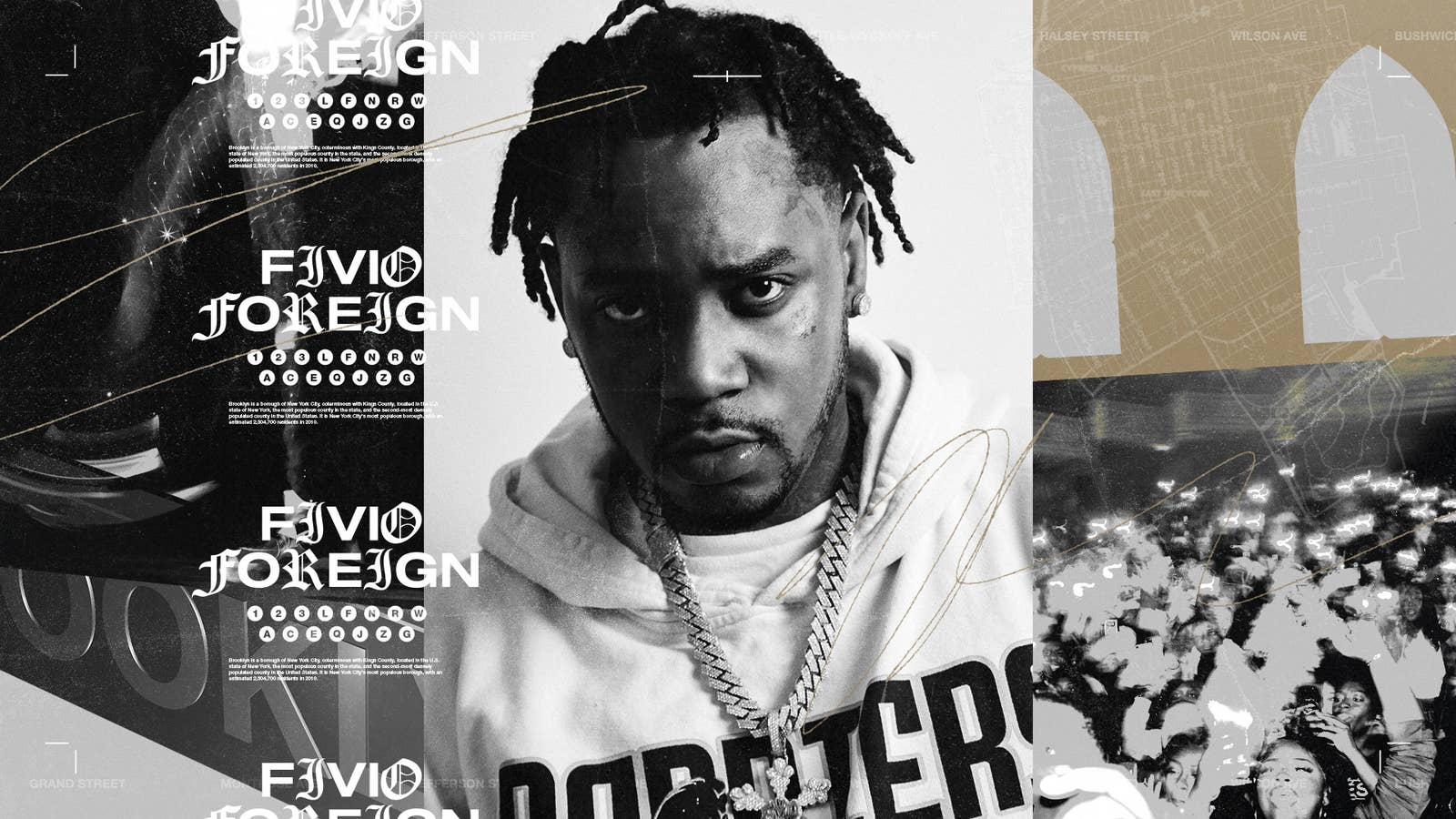 Everything about the building where Fivio Foreign lives is extra. The U-shaped apartment complex towers over the small strip malls and gas stations next door. In the front, two golden lion statues flank a set of revolving doors; inside, marble columns frame the extravagant lobby area. The two hallways leading out of the lobby are each lit by a series of large glass chandeliers, giving off a distinct Buckingham Palace-meets-The Sopranos family home vibe. 
We were supposed to meet in Fivio's apartment, but, because the rapper's family is there, his manager Jerry leads us to his own apartment a few floors down in the same building. "He basically lives here anyway," Jerry says. "He comes down here as soon as he wakes up." After a few minutes, there's a soft knock on the door, and Fivio walks in. Aside from the diamond-flooded watch on his wrist, he's dressed down, wearing a yellow hoodie, black jeans, and slip-on sandals. He immediately lists off the things he has to do today: go to Manhattan to get his chain fixed and then go see a friend in the Brownsville area of Brooklyn who just got out of jail. But before all that, he settles into a tall chair at the kitchen island, mixes weed with crushed Fronto leaf, and rolls it all into a long joint.
Fivio has been living here since last November, shortly after he signed a reported seven-figure deal with Columbia Records. According to Fivio's publicist, the building has been home to a number of New York rappers over the years who signed record deals but didn't want to move to Los Angeles. Fivio says it's been a cool place to live, but he's already getting noticed and stopped too much for his liking. He's tried to keep the address private, and many of his closest friends still don't know where he lives. "They can't know," he insists, parting the blinds in Jerry's apartment to look out the window. But even with the glitzy new apartment, Fivio says, he's been slow to accept his new reality fully. "I don't even feel like a rapper," he says. "Like, it don't even be hitting me, still."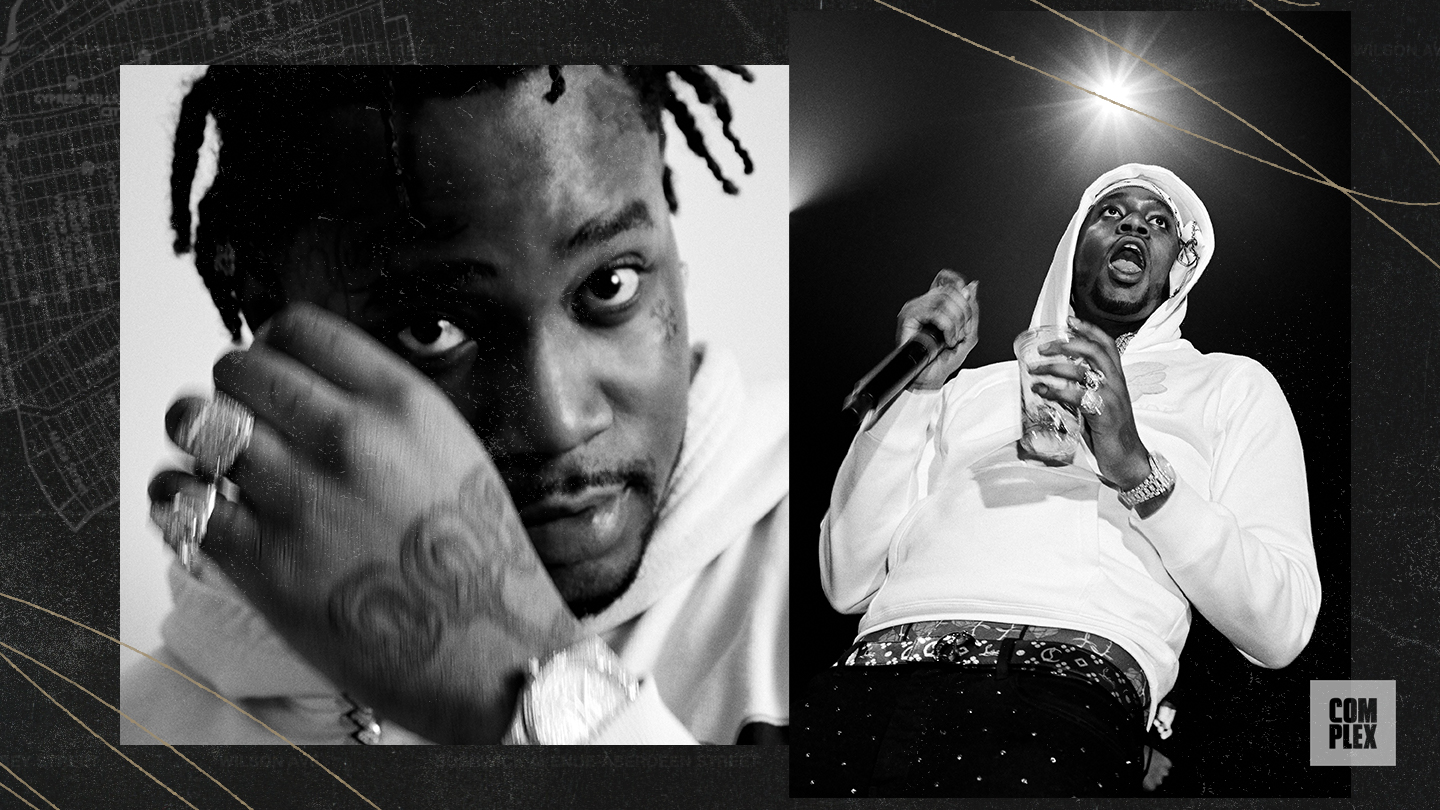 Over the past year, Fivio has gone from neighborhood star to regional hero. "Big Drip," a song that originally came out on his self-released Pain and Love EP last June, has become a staple of car stereo systems and parties across New York City. Along with songs by other Brooklyn rappers like Sheff G, the late Pop Smoke, and, more recently, Smoove'L, it's become an anthem of Brooklyn drill, a sound that has been bubbling and mutating for years in the boroughs. "Big Drip" is mostly stuttering hi-hats with Fivio's short bursts of high-energy rapping and even louder ad-libs. That energy is matched by the song's rowdy music video, in which Fivio and crew turn Brooklyn Bridge Park into a block party—Wooo Walking on top of an ice cream truck and drinking from plastic cups full of Hennessy in front of a Shake Shack—as tourists walk by and stare in bewilderment. 
Fivio Foreign is already much more than just a one-hit wonder, though. Judging by the frenzied anticipation for the song leading up to its release in March, his new single, "Wetty," already seems like a consensus smash. Sitting on the L-shaped leather couch in Jerry's living room, they look over a treatment for the video that the director sent over, nodding in approval. Fivio also casually mentions that he and his close collaborator Sosa Geek just did a song with Drake. To my surprise, while the photographer for this story begins taking pictures of Fivio around the apartment, Jerry hands me his phone to listen to the song. 
"Fivy, Sosa, viral, movie/I'm in this bitch with the Woozy," Drake raps over a typically moody drill beat, borrowing a few of Fivio's favorite phrases. 
"Drake think he Crip," Fivio says from the window as the camera's shutter snaps and clicks behind him. 
After a few minutes, he walks around to the other side of the camera to look at the pictures of himself on the small display screen. "OK, now I feel like a rapper," he says.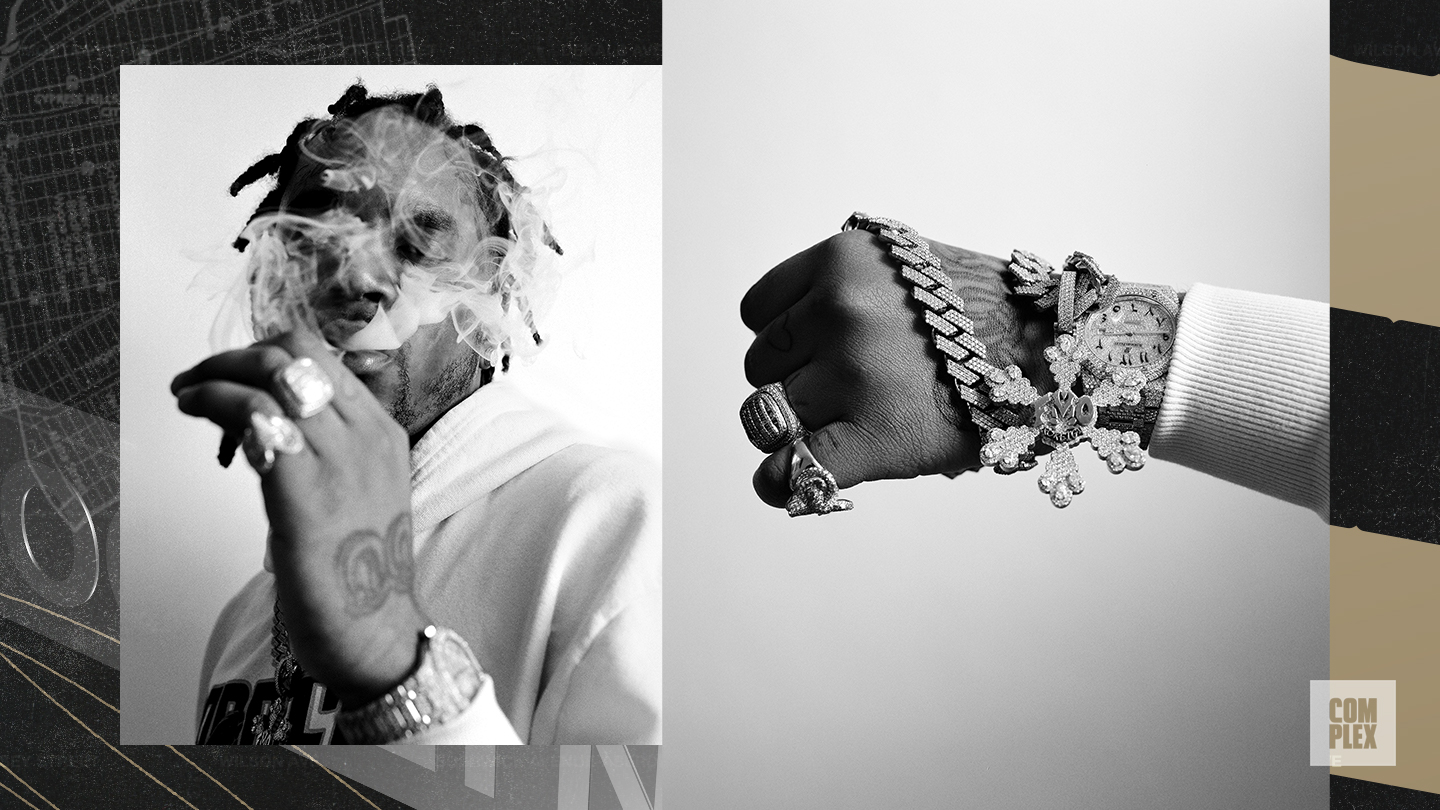 The first time Fivio Foreign ever really went viral was with a baby shower recap video. In the clip, Fivio and a visibly pregnant woman with bright turquoise hair celebrate their coming child with blue rags and blue-chocolate-covered strawberries as "Big Drip" soundtracks the festivities. At one point, they stand on a table and Woo Walk together. The video, which was posted to his baby's mother's Facebook page a week before the song's official video came out, has since been viewed almost 3 million times. "We was in that bitch wyling, twerking, going crazy, viral," Fivio says. "They were trying to book me in Chicago for shows off that baby shower shit."
Fivio ends many of his sentences with the word "viral." It's both the desired outcome of any new action and his current reality. When the youth basketball team he played for in East Flatbush won their tournament, they went "viral." When Bobby Shmurda and Rowdy Rebel get out of prison this December, it'll be "automatic viral." And when Fivio starts his own label, Foreign Side Records, it, too, is going to be "viral." Virality suggests something, or someone, going from unknown to known incredibly quickly, but Fivio has been working towards this goal for a long time. 
Growing up in the 90s section of East Flatbush, Fivio began rapping as a kid, along with an older cousin who would "fake tell us to rap and freestyle." Later, in his teens, he began rapping under the name Lite Fivio. Some of his earliest recorded songs are still up on an old YouTube channel. In one of the first uploads from 2011, he films himself in a bedroom, wearing a blue snapback hat and freestyling over Kelly Rowland's "Motivation" instrumental. "I keep my bars on a cold plate so they sound cool," he raps at one point. 
"I saw the whole hood change. I saw people start treating people different."
In 2013, he joined forces with a group of childhood friends as 800 Foreign Side and began going by Fivio Foreign. Around the same time, Bobby Shmurda and GS9 were putting the neighborhood on the map, and Fivio—who grew up in the same building, on the same floor, as Rowdy Rebel—had a front-row seat. 
"I saw the whole hood change," he remembers as we drive over the George Washington Bridge into Manhattan in the back of a large black SUV. "I saw people start treating people different. I saw people acting different. It was lit, though. Bitches was outside." 

Inspired by the attention GS9 was receiving, 800 Foreign Side began releasing group songs and videos, many of them heavily influenced by the sounds of Chicago drill and the party rap futurism of early 2010s Atlanta groups like Travis Porter. Over the next few years, life got in the way for some members of the group. Some went to jail or just stopped rapping altogether. "I felt like, at a point, people just gave up," Fivio says. In addition to the GS9 crew's success, he also points to other rappers, like Desiigner and Casanova, who he watched make it out of East Flatbush. "I put it in my mind like, Nah, this is it," he says. "I ain't gon' watch another n**** blow past me, 'cause we had been doing this shit for a long time."
Driving down Broadway in Washington Heights, at the very top of Manhattan, Fivio sees a Foot Locker and decides he needs a new pair of Timbs. As we double-park on the corner, he hops out of the car quickly and runs into the store as rain begins to drizzle from the gray sky. Jerry waits outside to smoke a Newport and tells me that he met Fivio around three years ago. At the time, Fivio's mother had just passed away from complications following a stroke, and Fivio didn't have a steady place to live. "I felt bad for him," Jerry says. "His luck wasn't there at all." 
Fivio leaves with a black-and-white-striped bag in hand and stops to take a picture with the store's employees before getting back in the car. After we drive in silence for a while, I ask him about his mom, and he tells me about how she taught autistic kids in New York City public schools; how she would always try to keep him from hanging outside in the 90s; and how, when he had told her that he was going to go perform his songs at a party, she just looked at him and said, "You know those people are supposed to be paying you, right?" 
"I got this tattoo after she died," he says, pointing to the name Yvette written in thick cursive script above his right eye. "I stayed in the hospital with her the whole time for, like, two weeks. She just went out. I was on my own after that. That's how shit was feeling." 
Without a home, Fivio bounced around between relatives and friends, never staying in one place for too long. "I'm not the type of n**** that can really overstay my welcome," he says. "I still had kids, I still had people that needed me. Me being homeless, me losing my mom that fast, that made me go harder, anyway. I gotta get out this shit. There's no better motivation than that."
He kept pushing forward with his music, collaborating with old friends from his 800 Foreign Side days, like Drizzy Juliano and Gino Mondana, as well as Brooklyn up-and-comers like Jay Dee. The videos for songs like "Hottest Winter Ever" and "Blixky in a Box" began to gain traction as the sound of Brooklyn began to move away from the Chicago drill influence and more towards the drum patterns and bass lines of its U.K. offshoot, itself modeled off of G Herbo, Lil Bibby, and DJ L.  
"This one felt different. [Pop Smoke and I] was in this sh*t together. It's way deeper than music."
"We don't really listen to the U.K. shit," Fivio explains. "It's just that the n****s from the U.K. know how to make the beats. We didn't really know they was on that type of music, but they were making beats and putting shit on YouTube as 'Chief Keef type beat' or 'G Herbo type beat' and we were snatching 'em up, not knowing they were U.K.-made."
Throughout his 800 Foreign Side days and into 2019, almost all of Fivio's songs had been collaborations with other rappers. It was Jerry who encouraged him to get in the studio by himself and, armed with a pack of beats from London producer AXL Beats, record the songs that would become his debut EP, Pain and Love, originally released last June and then re-released on streaming in November, after Fivio signed to Columbia. For Fivio, the deal gave him some peace after many years of instability: "I was getting too lit, and I was too broke to be that lit."
The project hit at the perfect time—right as Pop Smoke and "Welcome to the Party" were kicking down the door for the Brooklyn drill sound to move from the streets to the radio. Pop showed love to Fivio early on, shouting him out in radio interviews and recruiting him for a guest verse on "Sweetheart" from Meet the Woo 2, Pop Smoke's final project before his death on February 19. Fivio had been finishing up his verse for a song he had with Pop and Lil Tjay until the early hours of that morning, but he woke up to a bunch of missed calls and texts. At first, he didn't believe the news, but when family started calling, he knew the reports had to be true. 
"The pain I felt was crazy," Fivio says. "After my mother passed away, I got cold and shit. I didn't really care after that. This one felt different. We was in this shit together. It's way deeper than music."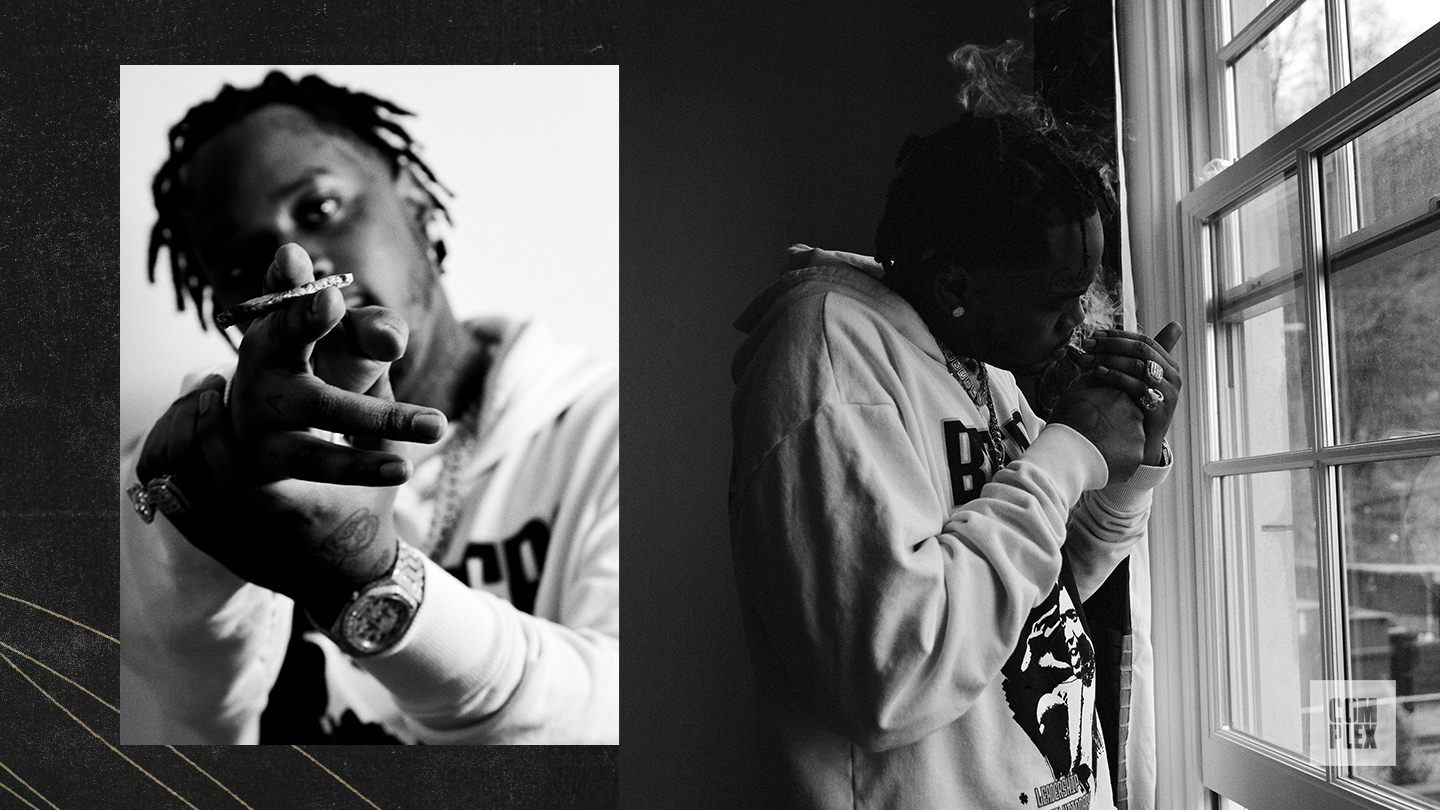 As the sun begins to set and we cruise down the West Side Highway, it becomes clear that we won't be accomplishing any of the errands Fivio laid out at the beginning of the day: His chain remains broken, and we haven't been anywhere near Brownsville. Fivio says he loves to keep moving no matter what, always in forward motion. This has been both a survival instinct and, now, a way of being that's proven to bring success. "I never stayed still," he says. "But I'd rather be in the crib all day. I'm a house n****. I'm an introvert."
Fifteen minutes later, we arrive at a cavernous building on a side street in Midtown Manhattan for what seems like the one solid plan of the day: a meeting with a streetwear brand about making Fivio's merch. Inside an office suite filled with stacks of colorful shirts and all-over-print hoodies, they discuss the rollout plans for Fivio's next project, 800 B.C. "Me dropping this mixtape is gonna separate myself," he says. "I got a good sense of what I wanna hear." 
The project, which will arrive in late April, boasts big-name features from the likes of Meek Mill, Quavo, and Lil Baby. In each case, his guests step into Fivio's world, not the other way around. Over the course of the seven songs, he pushes into more melodic territory, but the skittering drum patterns remain a constant.
For now, Fivio is committed to the drill sound that got him to this place and served as the backdrop to some of his toughest times. "Whatever I start living like and whatever I start going through in my life, that's how I'm gonna be sounding," he says. "It might sound a little different if I get more comfortable. It was pain and hunger. Now, it ain't that. It ain't no pain. But, you know, I try my best." 
After Pop Smoke passed, Fivio saw some people's immediate tendency to see an opening instead of a tragedy. "N****s was like, 'Oh, we got next,'" he says. "That shit ain't even supposed to matter that much. There's other shit that's bigger and more important. It's just weird to me." Pop Smoke was one of Brooklyn drill's defining voices, but, to the people that were close to him, like Fivio, he was much more than a rapper. Still, Fivio wants to continue what he and Pop started together. The day after Pop Smoke died, Fivio visited his vigil site in Canarsie. "Went 2 go see Yu 2day cuz," he wrote on Instagram. "We gon keep dis shyt goin forever."
As his meeting with the streetwear brand drags on, Fivio wanders between boxes of folded jeans and T-shirts to take a FaceTime call with someone who, it seems from the conversation, is one of the founders of Runtz, the go-to weed brand for rap's elite. I hear him asking about the weather in L.A. and the best ways to market his own strain of weed, which he's calling "Aye, Aye, Aye," a reference to his favorite ad-lib. After a while, he makes his way back to the other side of the office suite, where a long mirror leans against the wall. Looking at his reflection, Fivio mouths the words to "Big Drip" as he holds one hand close to his mouth like a microphone and grabs the front of his jeans with the other. When he gets bored with that, he comes back to sit on the couch and turns to me. "You wanna keep doing the interview?" he presses. 
"I always gotta be doing something."
See below for the rest of the stories in our Brooklyn drill series:
We also put together a playlist of essential Brooklyn drill songs, which you can follow on Spotify.