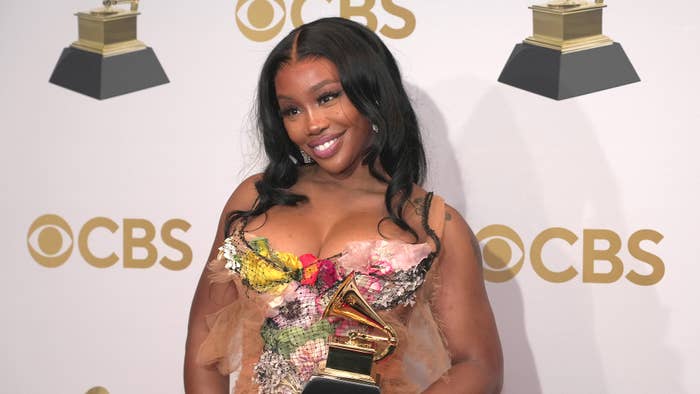 SZA's long-awaited album SOS has remained at the No. 1 spot on the Billboard 200 albums chart for its fourth consecutive week, Billboard reports.  
SOS is the first album to spend its first four weeks in the No. 1 spot since Adele's 30 stuck around for six weeks from Dec. 4, 2021 to Jan. 8, 2022. It's also the first R&B album by a woman to spend four weeks at No. 1 since Alicia Keys' As I Am sat at no. 1 for four weeks nonconsecutively in 2008. The last time an R&B album by a woman stuck around at No. 1 on the chart in its first four weeks was Janet Jackson's Janet in 1993.
SOS garnered 125,000 equivalent album units in the United States for the week ending Jan. 5, which is a 2 percent decrease from the previous week. The record debuted at the No. 1 spot last year with 318,000 equivalent album units, and was certified gold by the Recording Industry Association of America within days of its release.
Shortly behind SOS was Taylor Swift's Midnights with 117,000 equivalent album units, which was bolstered by the release of four new digital editions of the record on Jan. 5. Some fans suggested there was "beef" between SZA and Swift, but the former has since shut down speculation in a series of tweets. "Uhh I feel silly that I even have to say this but i see supporters arguing and I hate that," she wrote. "I don't have beef w ANYONE especially not Taylor lmao I genuinely loved her album and the writing! Everyone's jus tryna do their BEST as we all should. LOVE TO EVERYONE."
Metro Boomin's Heroes & Villains sits at No.3 with 57,000 equivalent album units, while Drake and 21 Savage's Her Loss sits at No. 4 with 52,000 equivalent album units. Bad Bunny's unstoppable Un Verano Sin Ti rounded out the top five with 50,000 equivalent album units.