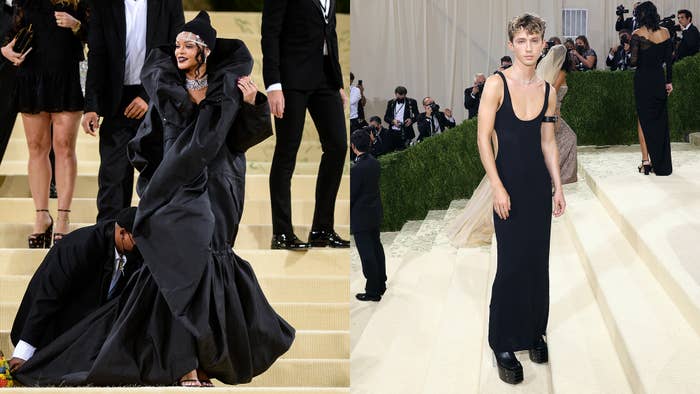 Following the Met Gala, Troye Sivan shared a picture of him attempting to pee with his dress on that he says Rihanna wanted Tom Daley to take for her.
In a post shared on both his Twitter and Instagram, where it has garnered over one million likes, Sivan wrote, "@Rihanna told @TomDaley1994 to take this pic of me weeing." In a post on his Instagram Story, Tom Daley corroborated what Sivan said. "True Story," he wrote. The striking dress Sivan wore is more urinal friendly than it would initially seem, then.
Complex has reached out to Rihanna's representatives for comment.
Rihanna attended the 2021 Met Gala alongside her date ASAP Rocky, with both of them sporting very big looks that blended comfort with fashion. Hell, Rocky wore a suit and a blanket over it, essentially. The two debuted two of the most talked about outfits of the night, and it's not hard to see why.