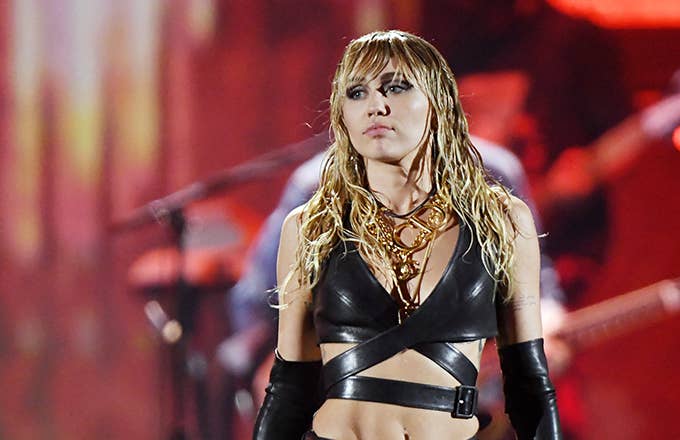 Miley Cyrus went on Instagram Live on Sunday evening to share her experiences in the dating world. Earlier this year she split with her husband Liam Hemsworth, then began dating Kaitlynn Carter. Cyrus has since started a relationship with Cody Simpson, and during the livestream admitted she thought she "had to be gay" after going through so many bad experiences with men.
"There are good people out there that just happen to have dicks," she said in a joint stream with Simpson. "I've only ever met one, and he's on this Live."
She continued, "There are good men out there guys, don't give up. You don't have to be gay, there are good people with dicks out there, you've just got to find them. ... I just always thought I had to be gay because all guys were evil, but it's not true."
Cyrus, who is pansexual, has always been an avid supporter of the LGBTQ community, but the stream with Simpson landed her in hot water. Her comments were met with some backlash on Twitter, specifically in regards to her "you don't have to be gay" quote.
In response to the criticism, Miley addressed the backlash on her Instagram Stories. "I was talking shit about sucky guys, but let me be clear, YOU don't CHOOSE your sexuality," she wrote. "You are born as you are. It has always been my priority to protect the LGBTQ community I am a part of." 
Miley Cyrus is expected to release her seventh studio album, She Is Miley Cyrus, later this year.