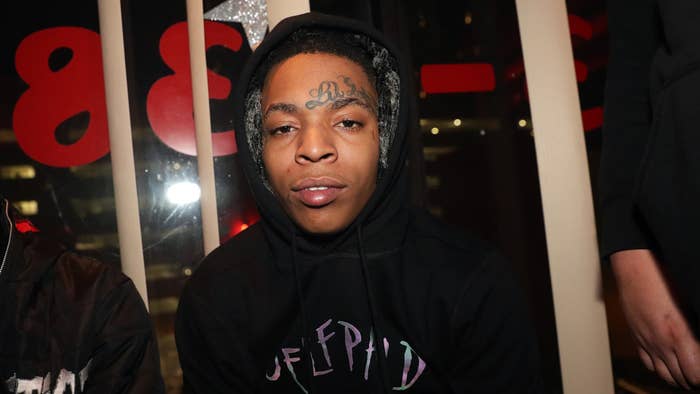 On Gunna's new song "Bread & Butter," he denies allegations that he snitched on his YSL associates in the ongoing RICO case but Atlanta rapper Lil Gotit isn't impressed.
"I just be wanting to know, right, why as soon as I say something [it's] 'you hatin' or 'you tryna divide some'—n***a, I ain't divide nobody," said Lil Gotit in a video shared to his Instagram Stories not long after the release of "Bread & Butter" on streaming services. "N***as divided they own self, bruh. Y'all ain't thinking about how goddamn Slime feel, or Yak feel down there. Man, these n***as down there locked down, bruh. The other rest of these n***as out here living their life. ... So, damn right I feel some type of way, I'mma say something every time, I don't give no fuck about none of that."
While Gotit didn't name Gunna directly in the video, this isn't the first time he's clashed with the rapper following his release from jail as part of a plea deal last year.
"This shit over with for you, bruh," Lil Gotit continued. "You changed on the family."
In the video, he went on to suggest his brother Lil Keed, the YSL artist who died last year, would feel the same way if he was still here.
Earlier this year, Gunna made his return to social media to call for the release of Young Thug and pay tribute to Lil Keed. He referred to Keed as his "twin," but Gotit didn't take too kindly to the comments.
"Don't call me twin," he wrote in apparent response. "N***as needa stop that cap."
Lil Gotit later responded to rumors there was a "civil war" brewing amid the YSL camp. "This ain't no civil war," he wrote in January. "This ain't none of that capping. I don't know what the fuck Akademiks got going on."
Gotit also cautioned against artists sharing what he considers to be "fake love" for his late brother. "Just don't say bro's name if, you know, it's fake love," he said.