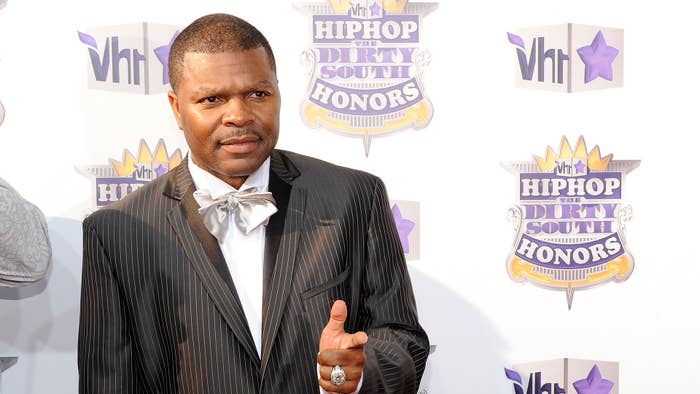 After trading shots earlier this month, J. Prince and Wack 100 have clashed again and this time it's over the two accusing each other of being a "snitch."
As of late, the Rap-A-Lot Records founder and prolific hip-hop manager have been at each other's throats. The situation worsened when Prince spoke about their issues on a recent episode of Million Dollaz Worth of Game, which saw him refer to Wack as a "clown" and "Rat100." He also heavily criticized Wack for his repeated disses directed at the late Nipsey Hussle and 2Pac, among other controversial comments.
"He like a sissy to me," said J Prince on the podcast. "Just for the record, I want all the smoke … I know how to put all that out." He later reposted a clip of the podcast on his Instagram, and shared a message for Wack alongside the video. 
"Quit screaming piru officer rat 100, they don't claim you rat. You're a club house gang banger with two members that can't walk in your own hood," wrote J Prince. "My brother Larry Hoover has been locked underground in inhumane treatment for 26 years and this clown is working to stop him from living above ground in freedom. The true definition of a bad seed at birth." 
In response, Wack appeared to share a screenshot that showed various legal documents pertaining to a case involving J's son, J Prince Jr.
"@jprincerespect when you use the word #Rat you gotta have the paperwork," wrote Wack. "While your Cappn on my name I think you need to call Pest control on somebody tied to your name ‼️ #SealedFiles Naw can't expunge in 2 yrs takes 5 yrs after ya off paper. This seal means 1 or 2 things . R for Rat or R for a Rape either one clean ya DNA up Partna . #Coward hides behind men but won't face me." 
It's not clear what prompted Wack to shift his attention to J's son, instead, but it did prompt a response from him in the comments. "I had a gun case and did time for it," wrote J Prince Jr. in the comments, as seen below. "What I do tell on myself weirdo lol stop the bullshit, your too old for this."

"Naw ya Pops started this fire so we gone let it burn," replied Wack in his own comment. "No n***a seals a gun case that's the courts and they only do it based on other circumstances. He say Ima Rat I been free 23 yrs never had a crime Partna. Now I'm a strategic man. He utter another word Ima let the real shit go. You know me I ain't never been slow to the base … We both know what it really is."
Wack, who manages rapper and convicted sex offender 6ix9ine, also included the hashtag "#ProtectOurWomen" in his comment.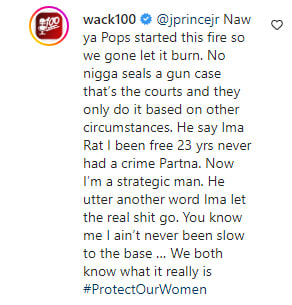 J Prince has yet to respond to Wack 100's latest accusations.