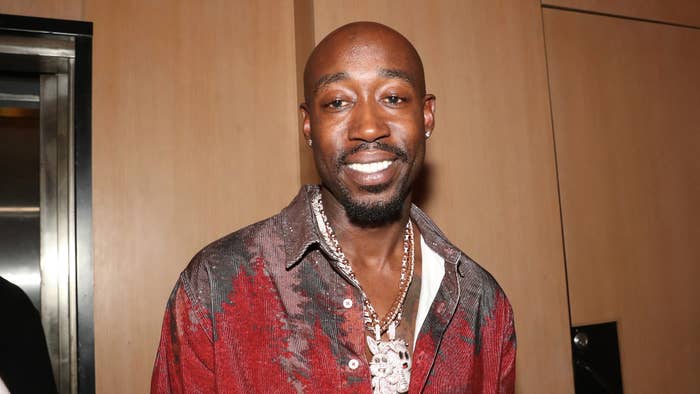 Freddie Gibbs is never one to shy away from a rap beef, but he doesn't take them all that seriously, either.
In an interview with Uproxx for their latest digital cover story, the Gary, Indiana rapper opened up about why he would rather troll rappers he gets into beefs with than engage with them on a more serious level. "Oh, I can take the jokes," he explained. "That's the point. If you can dish it out, you got to be able to take it."
Over the past few years, Gibbs has traded shots with Gunna, Jim Jones, and Benny the Butcher among others. The one thing in common between each of those beefs is that he mostly responded with jokes, rather than diss records or anything particularly mean-spirited.
"That's why when one of those rappers try to come and be crazy, I just burn their ass with jokes and they be looking stupid and then they get mad because they be getting laughed at," he added. "I ain't even got to do all the, 'I'll fuck your baby mama,' and all that old gangster shit. I don't got to do none of that, man, I'll just make you look silly. I'm a comedian at the end of the day."
Elsewhere in the interview, Gibbs spoke about his approach to working with a small group of producers. He's previously teamed up with Madlib and The Alchemist for full-length projects, and it's something he plans to continue doing with future material, too.
"Everything that I make I try to make it like a film, not just an album," he said. "And when I approach it like that, Madlib and Al, they provide the score. Doing whole projects with them just shows that I know how to intertwine everything, themes we like. When we're creating an album, I'm not just creating a list of songs for you. I'm creating a world for you to enter. That's what I did with Alfredo. I feel like we did that with Bandana and Piñata. I want to create the experience of film."
He also spoke about his acting aspirations, following his roles in the comedy series Bust Down and the upcoming drama Down With The King. "I'm taking the Ice-T route," he joked. "I'm gonna play a crooked cop like Denzel. Anything that I could slide into, man. My favorite actor is Samuel L. Jackson. So whatever role he play, put me in a movie with him, hopefully." When it's suggested that he could be a great addition to the Marvel Cinematic Universe, he replied, "Hell yeah, Crack Panther."