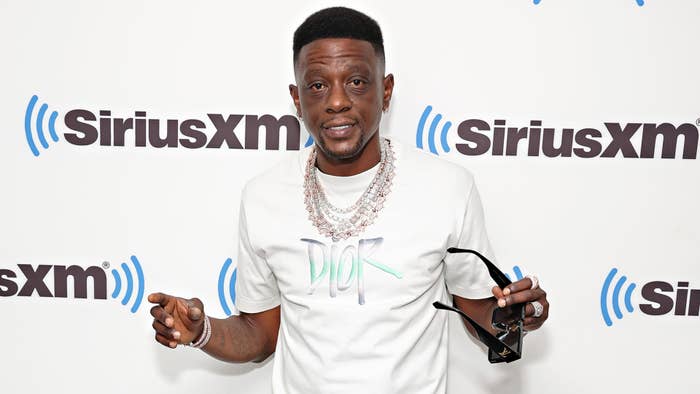 Boosie Badazz was arrested by federal agents earlier this week, and it was because of an appearance he made on an Instagram Live stream.
TMZ reports the Baton Rouge rapper was arrested outside a courthouse in San Diego on Wednesday on a possession of a weapon by a felon charge. Authorities arrested after Boosie made a recent appearance on an Instagram Live stream with a firearm tucked into his waistband. In the stream, which was broadcast on May 6, Boosie was seen with the weapon.
According to federal documents, federal agents saw Boosie with the firearm and the San Diego police department later pulled over a vehicle he was riding in. When the car was pulled over, an officer noticed movement in the backseat, which they took as an indication someone was "attempting to conceal firearms or illegal contraband." Boosie told the officers he didn't have any weapons but his security was in possession of handguns. During the search a loaded Hellcat 9mm was discovered in his security guard's bag, and a loaded Glock 9mm was located in one of the passenger seats.
During that arrest, Boosie, the driver, and his security guard were taken into custody. At one point, Boosie apparently told his guard, "You told me they were in the bag." Video from the Instagram Live stream showed the firearm in Boosie's waistband matched the Glock found in the passenger seat.
In a tweet shared following his arrest this week, Boosie wrote in all-caps, "I wanna take this time to apologize to my kids, I'm sorry and I love y'all forever."
He was initially cleared of the same charges during his court appearance on Wednesday, although he's now facing the charge again because of the arrest upon his exit from the courtroom.