In a post on Instagram, rapper and personality Bhad Bhabie shared an email she received from someone who found out their boyfriend was subscribed to her OnlyFans.
"I recently found out my boyfriend of 3 years has been using OnlyFans," reads the email she shared, from someone only identified as Kaylee. "He tried telling me it was only once but I don't believe him. Can you tell me when he first subscribed to you please." Alongside the screenshot, she added, "Tell him thanks for the Birkin."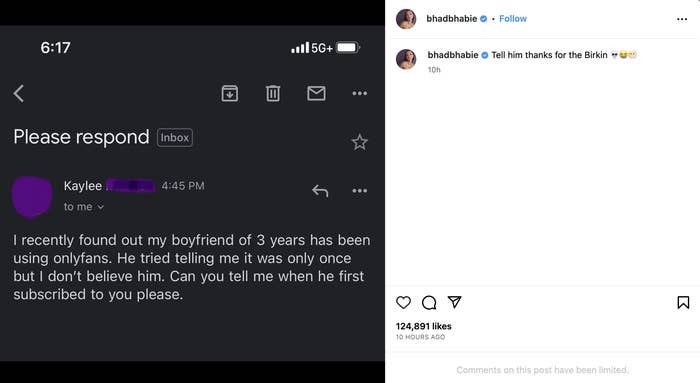 The 20-year-old rapper, who shared her breakthrough single "Hi Bich" in 2018 after she went viral for her infamous "cash me ousside" appearance on Dr. Phil, launched her OnlyFans account shortly after she turned 18 in 2021. She claimed that she broke records and earned $1 million in the first six hours of her account being active.
When people doubted her success on the platform, she shared receipts that showed she made $50 million in gross revenue during her first year producing OnlyFans content. "Go cry about it bitch," she captioned the screenshot. Due to the young age she started her account, some were critical of her decision to launch an OnlyFans. In 2021, she responded to the criticism and said she makes her own decisions. "I think any bitch who says that is mad," she added.
She recently defended her past relationship with fellow rapper Chief Keef, who was called out for dating someone younger than him. Bhabie said their relationship didn't begin until she was 18, and shot down accusations he "groomed" her. "Wait I'm mad confused," she tweeted. "20 and 27 is weird but 30 and 37 isn't? Calling someone a pedophile isn't just something you say to troll or talk shit. It's disrespectful asf. I can't stand the mf but I'm not the type of person to let someone's name b ruined with lies. Dead that shit."