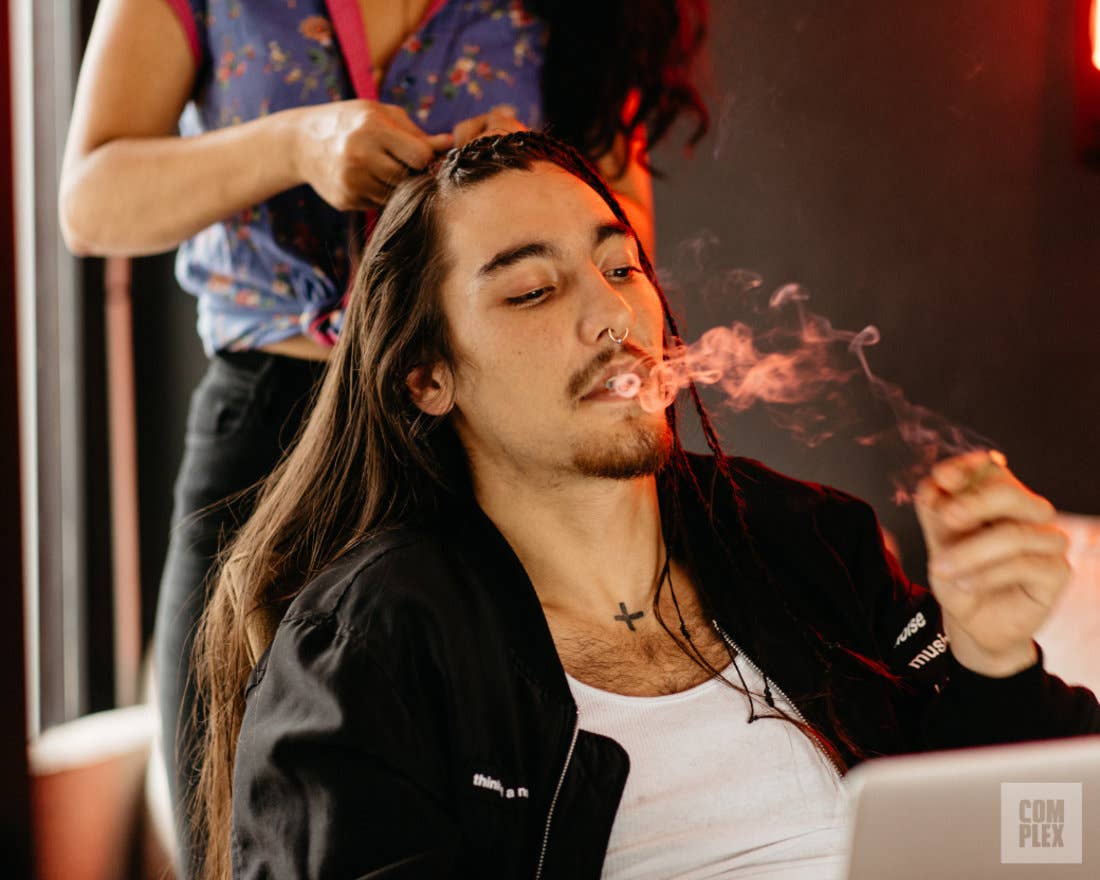 June 18, 2015. Chicago. The city is pulsating thanks to the Chicago Blackhawks, who've just secured their third Stanley Cup in six years. On this particular day, the streets are littered with red jerseys and T-shirts, as bodies weave in and out of watering holes in Chicago's West Loop neighborhood. It's barely 2 p.m., and people are partying as if it's 2 a.m. It's parade day, and the city estimates nearly 2 million Hawks fans showed up downtown in support of the champs.
But in the midst of this West Loop madness sits a recording studio, where patrons are oblivious or indifferent to the ongoing parade spilling out onto the streets below. In fact, the only mention of said parade is when the studio owner, Peezy, proclaims he had to play Frogger with it in order to get into his workspace.
The scene is LPZ Studios, which serves as a sort of creative hub for many of Chicago's brightest young talents. On any given day you could catch Rockie Fresh in the lab working on his MMG debut, or perhaps Chance the Rapper putting the finishing touches on Surf. In fact, the night before, Vic Mensa and Skrillex were working on some top secret new material in the A room, while Nick Cannon and Young Chop worked on the Chiraq soundtrack in the B room. On this day in particular, Peter Cottontale and Nate Fox of the Social Experiment casually mill around, while SaveMoney MC Joey Purp sits at a console hard at work on his long-awaited debut solo project. It's bustling to say the least.
In the B room sits SaveMoney's newest breakout star, Towkio, who made a splash earlier this year with his critically acclaimed breakthrough project, .Wav Theory (in fact, we placed it at No. 22 on our Best Albums of 2015 (So Far) list). Towkio sits quietly in a swivel chair, putting the finishing touches on his "show CD," which is the collection of songs he'll be performing as he goes on his first tour with Vic Mensa in a few days. When Towkio notices the presence of others, he immediately lights up the room. He oozes with charisma and has that "it" factor and star quality that so many aspiring musicians long for and lack. He's unforgettable, and the genuine love he shows his guests makes it easy to forgive him for being an hour and change late for the interview.
The first thing one might notice about Towkio is that he looks more like a rock star than a traditional rapper. He has a unique demeanor and personality that makes guys want to hang out with him, and girls want to be with him. He's as cool as a fan, and is excited at the thought of people on the road hearing .Wav Theory live "I just want the people to hear the music. They have to experience it to really get it. All I have to do is press play."
Preston Oshita, better known as Towkio, was born on the north side of Chicago almost 22 years ago to a Japanese father and a Mexican mother. Towkio often cites this mix as the reason why his music sounds so eclectic and worldly. His love for the art began early in life, as he started writing poetry in grammar school—many times writing and reciting poems for female classmates who were the object of his affection. "I used to rap for girls, and tell them I wrote the rap. But I didn't. [Laughs.] Then I figured I should make my own version," says Towkio. It was there he met lifelong friend Joey Purp and began to take his craft more seriously.
By high school he'd ditched sports, despite the fact that he was the star quarterback for Lane Tech College Prep High School, a sprawling and historical campus on the north side of Chicago that looks straight out of central casting from Back to the Future. Towkio, instead, chose to pursue his true passion and linked up with the Bo Squad—a group of like-minded teenagers who raised hell throughout the city and did music on the side. The group would eventually evolve into the collective famously known as SaveMoney, who would captivate America just a few short years later thanks to high-profile members Vic Mensa and Chance the Rapper. "We were able to advance each other. And we were able to advance at a fast pace," says Towkio.
Most of the crew attended separate high schools in the city, but through the arts and culture scene (and the fact they were all born in 1993) they formed a close bond and started to pursue music as a career as their graduation date loomed closer. In 2012, Vic Mensa was still with his band, Kids These Days, and was the most well known and successful of the troop. Then Chance began to bubble with his debut mixtape, 10 Day—and that's when the city started to take notice of SaveMoney. But much of what the SaveMoney squad was creating at that time was being overshadowed by Chicago's drill scene, which exploded in early 2012 thanks to Chief Keef, King Louie, and Lil Durk.
That same year, Towkio—who was going by Preston San at the time—dropped his debut EP, Community Service, alongside super funky producer Mojek. It was a solid and fun outing, but largely fell on deaf ears due to his low profile at the time. In 2013, Towkio was relatively quiet, but did give us the vibrant and captivating visual for "World Turning," which garnered over 300,000 views with little to no promotion or backing project. In 2014, Towkio emerged with another EP, Hot Chips N Chopstix, which was produced by house-influenced collective A Billion Young. That's when things started to click, and the outside world really began paying attention. Preston San had become Tokyo Shawn, who shortened up the moniker to simply Towkio. A star was born. But those who've known Preston for any amount of time knew success was always in the cards for him.
Shortly thereafter, Kathryn Frazier, owner of Biz3—the powerful publicity and management firm—signed on as Towkio's official manager. Pat Corcoran, b.k.a. Pat the Manager, Chance the Rapper's longtime manager and business partner joined the fold as co-manager. A dream team of sorts had been assembled. "First of all, Preston is one of the most genuine, kind souls on the planet," said Corcoran. "I'd do anything for him just off that." He added, "When he approached me about helping with his project last year, I was excited to help. Everything that I had seen and heard of his, from Community Service, to the 'World Turning' video with Joey Purp was very, very awesome. His energy, style and passion for the game and for the art is from a special place and I am very happy to be a part of his team."
But how was Towkio going to stand out amongst a group of so many talented friends? Chance the Rapper was now a full-fledged star, Complex cover boy, and one of the most popular young acts in all of music. The same can be said for Vic Mensa, who inked to Roc Nation and recently appeared on Saturday Night Live alongside his new BFF, Kanye West. The SaveMoney business is booming. But being overshadowed is easy when the stars are oh-so bright.
In 2015, Towkio struck gold with .Wav Theory, a genre-bending musical experience. It meshed hip-hop with house music, EDM with pop, and even included some footwork elements—foreign to many outside of Chicago. He cites Kanye West and Lil Wayne as his biggest influences, and you can hear what he's learned from both deeply ingrained in his music.
Fun, exciting, unique, new—there are many ways to describe the vibe of .Wav Theory. But in a dark time for the United States, .Wav Theory is a much-needed bright spot. It's the type of music that can bring all ages, sexes, and races together. The project knows no genre or color line, and is truly one of 2015's best. And the fans agree, as .Wav Theory has racked up hundreds of thousands of plays on SoundCloud—with one song ("Heaven Only Knows" featuring Chance the Rapper) sitting at over 14 million plays.
On the eve of his first-ever tour, Towkio sits comfortably in the studio's lobby, waiting to have his hair braided by a beautiful accompanying female. He casually fires up a blunt and puts it in the air. He seems at ease with his current situation, and excited yet anxious for the future. "If you stay true to yourself, and do you, and be you. It's always going to prevail," says Towkio. "I just continue to be me. I'm strange, like, how did I happen? My mother is from Mexico, and my grandparents met in a Japanese internment camp. My mom [grew up on] the south side [of Chicago], my Dad on the north side. They end up meeting, then I happen. Then I happen to grow up and meet Joey [Purp], then end up in CPS [Chicago Public Schools], now we're all making music together. I don't know, like. I don't know how this happened."
We don't either, but we're happy it did.