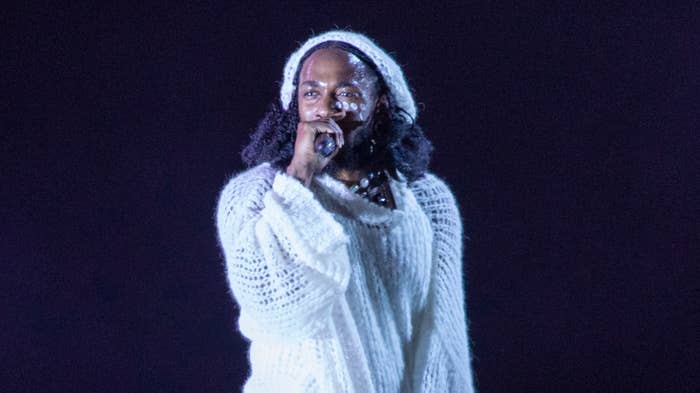 Kendrick Lamar's last solo album, DAMN, dropped in the spring of 2017. It was a revelatory time. Donald Trump's assault on civil liberties, Twitter, and our collective nerves was just beginning in the early days of his presidency, and he had emboldened white supremacists who revealed just how much of a scourge racism still was. The women behind the #MeToo movement were also revealing how rampant sexual assault was througout our institutions, disgracing prominent figures like Harvey Weinstein and Bill Cosby. 
If that wasn't enough, 2017 was the deadliest year for mass killings in a decade. Even before COVID, the societal tumult had many of us turning inward and taking stock of our lives. In turn, many of the year's most memorable rap releases were reflective. Jay-Z's 4:44 answered Beyoncé's Lemonade as a similarly soulful, confessional album in which he admitted his extramarital affairs and got candid about wanting to do right by his family. Vince Staples' Big Fish Theory showed the Cali rapper giving another harrowing glimpse of the Long Beach streets through an updated take on classic funk and electronic music. And Tyler, the Creator shined on Flower Boy, a lush, deeply personal album that, for many, marked his sonic evolution from a petulant teenager into a grown man with well-considered reflections on the world. 
Arriving first, DAMN set the tone for all these projects, with Kendrick getting existential throughout the album on tracks like "DNA," and "FEAR." He has said that DAMN's 14 tracks tell a story meant to be played backwards and forwards. Whichever direction one listens, it's hard to deny his brilliance, and the project added another piece to one of hip-hop's most infallible catalogs. DAMN, ​​an impeccable, Pulitzer Prize-winning project, made us excited for where Kendrick was going next. Little did we know, it would take five years to find out.  
The long wait is finally over. New Kendrick Lamar music is imminent. Today, the iconic MC announced that his fifth solo studio album, Mr. Morale & The Big Steppers, will arrive on May 13, ending a long hiatus since his last full-length solo album. It's been five years since DAMN.
Kendrick fans stand next to only Grand Theft Auto die-hards when it comes to prolonged thirst for new product, as there's been immense speculation about what he'll do next. There was a January 2020 scoop about him being "close" to finalizing a rock-influenced album, but then the pandemic hit and the world drastically shifted. In August 2021, Kendrick posted a letter announcing that the then-unnamed album would be his last on Top Dawg Entertainment, while expressing that he's been grappling with "love, loss and grief," hinting at some possible themes for the new project. The following month, photos popped up of Kendrick filming a video in LA. In 2022, the Milano Summer Festival announced an upcoming performance in July and promised Kendrick "will play the pieces of the new album, long awaited by the fans," while Rolling Loud tweeted and deleted that his upcoming set in Miami "means exactly what we think it means." It seems like he was waiting for the concert scene to come back to some sense of normalcy after COVID shut down venues worldwide.