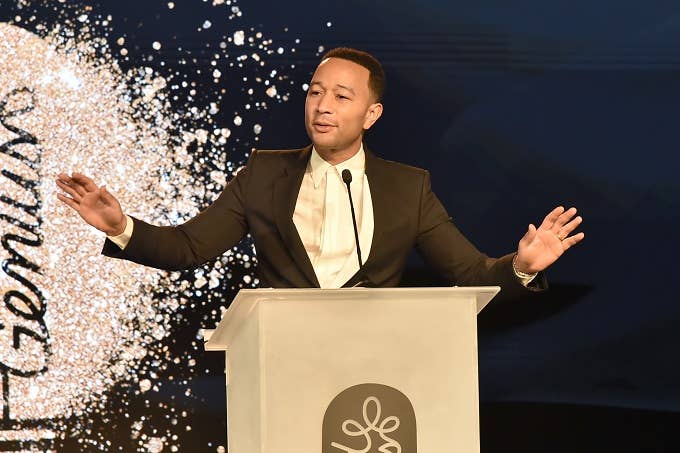 Arguing about "Baby, It's Cold Outside" season comes earlier every year. John Legend and Kelly Clarkson threw a few extra logs on that fire this year by updating the lyrics to give the woman in the problematic duet a bit more agency. This has rankled the same group of people who defend the song year in and year out, including Dean Martin's daughter. 
Deana Martin, whose father helped popularize the song with his version for the film A Winter Romance, said that changing the lyrics was "absurd."
"You do not change the lyrics to the song. He's made it more sexual with those words that he has just said. It's absolutely absurd," she said while talking to Piers Morgan on Good Morning Britain. "I think what he's done is, he's stealing the thunder from Frank Loesser's song and from my dad. He should write his own song if he doesn't like this one, but don't change the lyrics. It's a classic, perfect song."
Martin's critique joins talk show host Sharon Osbourne's, who called Legend's piece a desecration of someone else's art.
"It's a piece of art and the thing is to change an innocent lyric to what is it, 'Your mind and your body'? What the hell are you on? That's ridiculous," she said on a recent episode of The Talk. "I have to tell you, I love John Legend. I love John Legend's wife, his family. He's an amazing artist that I really respect. Why do you do this? That's not right."
It's far from the first time that artists have attempted to reclaim the Christmas standard. Michael Bublé and Idina Menzel rewrote the lyrics that cause disagreement all the way back in 2014.
Key & Peele remade the song in a sketch where the pursued woman reacts violently to the man's constant advances, giving him aa bit of comeuppance for being a creep. 
Even though both of those examples are from more than two years ago, the debate rages on and likely will until about 2050, when it's no longer cold outside in December.