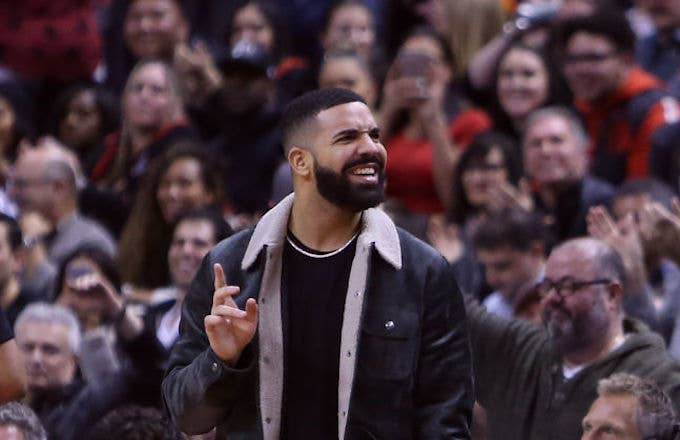 Drake's legal troubles with the music publishing company Hebrew Hustle aren't over yet.  
In 2014, Hebrew Hustle sued Drake over his sample of Jimmy Smith on his Nothing Was the Same track "Pound Cake/Paris Morton Music 2." Last year a federal court ruled in Drake's favor, deciding the 1982 spoken-word recording from Smith was fairly sampled.
But Aubrey is still battling Hebrew Hustle and owner Stephen Hacker in a counter lawsuit. He accused the company of using his name and photo on their website without his consent. The website also included a sentence claiming Hacker "played a heavy hand with his clients in the creation of hit songs for the likes of Eminem, Jay-Z, Kanye West, Lil Wayne, Drake, Nicki Minaj, and others."
In new documents obtained by Complex, filed on Nov. 28, Drake's lawyers call out Hebrew Hustle for making that claim (the line has since been deleted from its site) while suing the rapper.
"Graham was severely upset and appalled that Counterclaim Defendants would force Graham to defend against a baseless lawsuit Hacker set up while at the same time, willfully including Graham's false endorsement on their Website," the document reads, referencing the copyright case.
His lawyers also argue the company's name, Hebrew Hustle, makes falsely using Drake's likeness more offensive since the rapper is Jewish.
"Additionally, the very name of Hebrew Hustle is offensive, as it perpetuates stereotypes regarding persons of Jewish heritage, such as Graham," the document states. "Graham would have never licensed his name and image to Counterclaim Defendants, and is offended to have been falsely associated with them."
Drake is seeking damages from "mental distress" and "humiliation" for his connection with Hebrew Hustle. It's unclear how much money he wants from the publishing house, but the case is expected to go to trial before the end of the year.