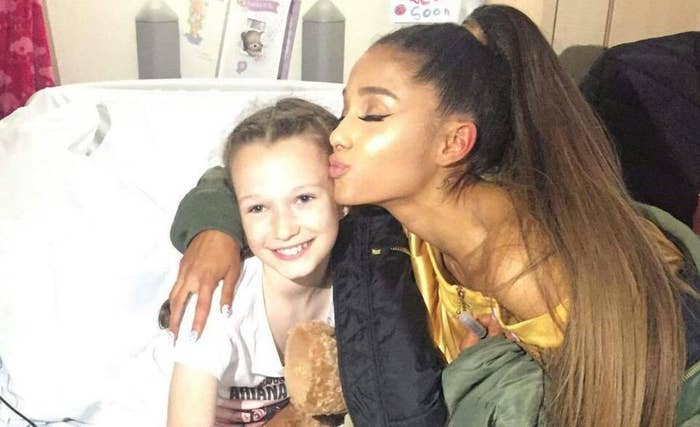 After a terrorist bombing attack at the Manchester Arena that left 22 people killed and 59 injured, Ariana Grande was at a loss for words following the incident.
She has since actively tried to help victims and their families. Friday night, she showed up unannounced at the Royal Manchester Children's Hospital to surprise her younger fans who were injured in the attack.
The above photo shows Grande next to 10-year-old Jaden Farrell-Mann, who suffered shrapnel wounds and fractures to both legs. Farrell-Mann seemed overjoyed after the visit.
Grande also visited 8-year-old Lily Harrison. Her father, Adam, described the visit to Billboard.
"She's been in really high spirits ever since," Adam Harrison said. "Lily's hands were shaking and she was really giddy with excitement when the nurses said that she was coming, but Ariana was absolutely brilliant. She was very humble and knelt on the floor in front of Lily and was stroking her head and telling her how she'd been a really strong little girl and was proud of her."
"Lily had an Ariana Grande t-shirt on and we were joking and having a laugh with her that it was unofficial merchandise," he said. "Lily was really shy at first, but Ariana was really nice and it was impossible not to like her."
Grande is in Manchester for a star-studded benefit concert dubbed "One Love Manchester." The show will feature some of the biggest names in music: Grande, Coldplay, Katy Perry, Miley Cyrus, The Black Eyed Peas, Justin Bieber, Marcus Mumford, and more.
The show will seat 50,000, but it sold out in less than 20 minutes. The 14,200 fans who attended Grande's original Manchester show were given free entry.
You don't have to be in England to see the show. It will air in the U.S. on Freeform (formerly ABC Family) and ABC, and it will also be live-streamed on a number of online platforms including YouTube, Facebook, and Twitter. You can watch at 2 p.m. EST Sunday, and a one-hour highlights version will air on ABC later in the day following Game 2 of the NBA Finals.