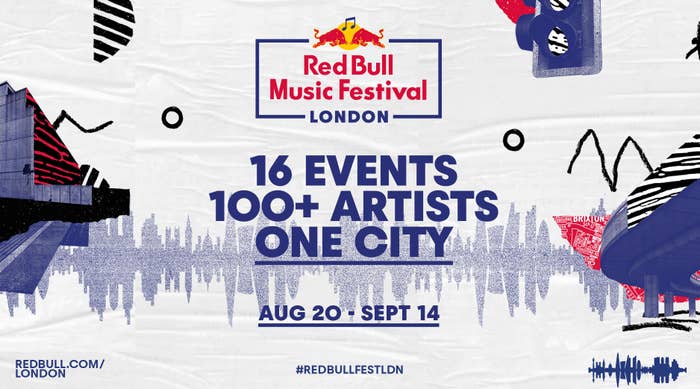 With more than 100 artists across 16 events over four weeks, Red Bull Music Festival is bringing a new series of must-sees and dos to London Town.
Kicking off on August 20 and ending on September 14, Red Bull will be putting on a wide range of events, including concept shows, club nights, live gigs and talks. This is the first time it's taken place in London, having previously been held in cities such as Sao Paulo, New York, LA and Tokyo.
The festival will span the length and breadth of the capital. A car park south of the Thames will play host to UKG icons such as So Solid Crew, Ms. Dynamite and MC Creed, while in West LDN the NiNE8 Collective will present a pop-up in their home neighbourhood. Spice—queen of the dancehall—will be appearing on August 22 at Subterania for a conversation with Sian Anderson, where the pair will be discussing her childhood in Finsbury Park, her work with legends like Beenie Man and Vybz Kartel, her Grace Hamilton Women Empowerment Foundation (GHWEF) and the realities of being a woman working in the music industry.
On August 30, Fabric will be playing host to a massive three-room event spanning D&B, grime, dubstep, jungle and more. Grime spitters Yizzy, Manga Saint Hilare and Lioness will be joined by a list of the architects of the UK underground that includes Blawan, Pangaea, Pariah, Saoirse, Appleblim, Bruce, Danielle, Special Request, Source Direct, Adam F, Addison Groove, Sherelle, Jossy Mitsu, Fauzia, Impey, Loefah, L U C Y, Sgt Pokes, El-B, Horsepower Productions, Dan DNR, A.G and Sicaria Sound.
Elsewhere on the genre-mashing line-up for the four weeks will be appearances, performances and in-depth talks from Steel Banglez, Wretch 32, Aphex Twin, DJ Q, Alicai Harley, Todd Edwards, Cooly G, Lady Lykez, Nubya Garcia, Br3nya, El-B, Shy One, Greentea Peng, Swindle, Lapalux, Impey, Nabihah Iqbal, Kenny Allstar, Pxssy Palace, BBZ and more.
For more information, head here, and peep the full line-up after the jump.