The Story of 'Questlove Supreme': Low-Key Flexes and the Magic Circle
The Roots' drummer has seen and done it all. So why is Questlove waking up at 6 a.m. to host a podcast?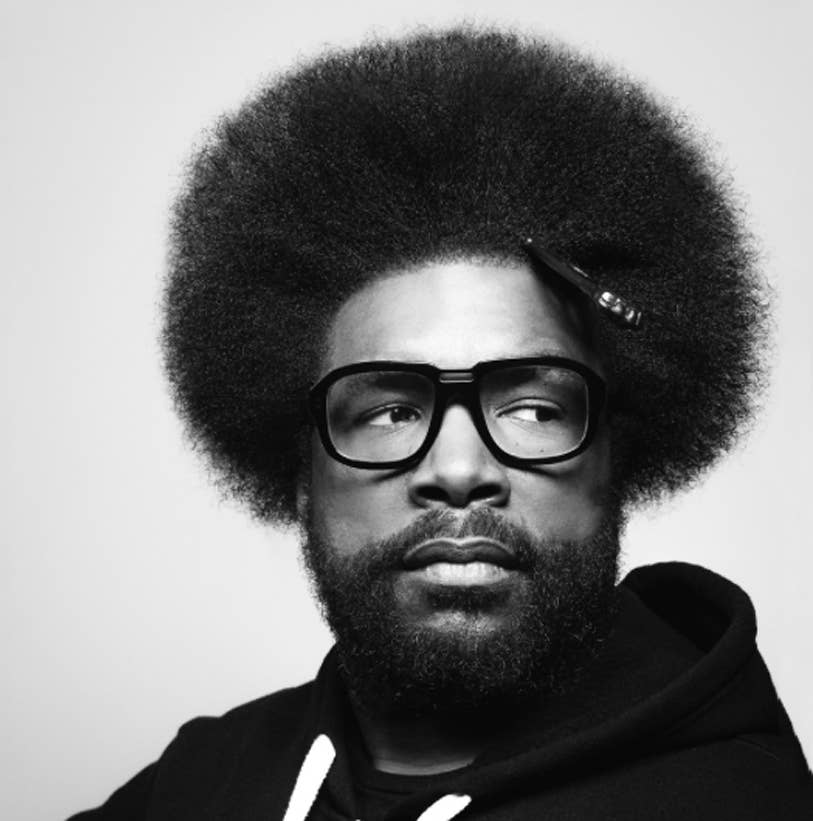 Publicist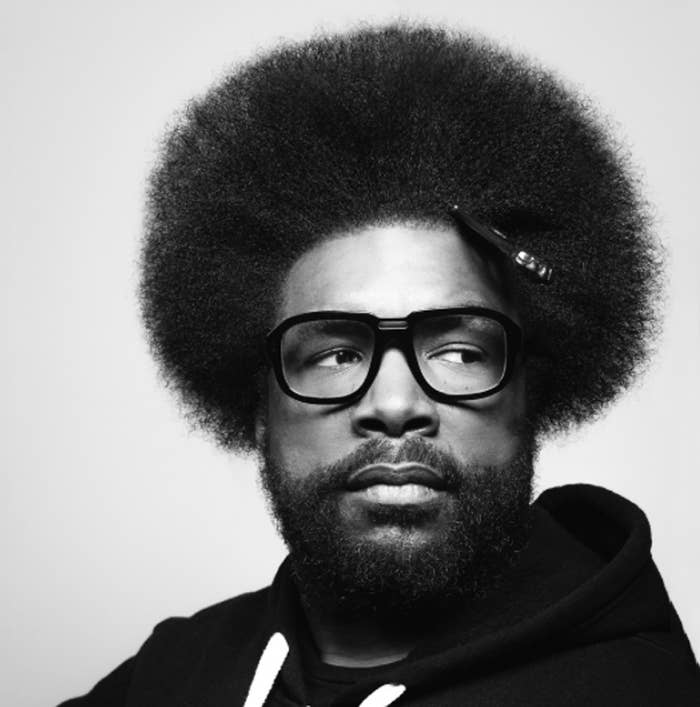 Inside a quiet, unassuming recording studio control room on Manhattan's far west side, the tide is slowly turning against Ahmir "Questlove" Thompson.
"Let me ask a question: Which one am I in?" the drummer/author/late-night bandleader/podcast host asks on a Tuesday night in April. He's referring to the current topic of conversation on his Questlove Supreme podcast: NBA video games (Quest was a character in the NBA 2K series). Tonight's guests, comedians and Showtime hosts Desus and Mero, are not about to let what they describe as a "low-key flex" get by.
"Excuse me, have you seen where I parked my Bugatti?" they tease.
The first hour of the episode continues in the same relaxed, breezy fashion: lots of talk about video games and weed, plus anecdotes about '90s dancehall stars. Questlove Supreme episodes regularly run around three hours, with the occasional guest talking so much that they break the result into two episodes, as was the case with Jimmy Jam's seven-hour epic.
It's easy to see why. QLS, now 100-plus episodes deep on Pandora, normally has five hosts, including Quest himself; he refers to the crew as the "magic circle." There's also on-air personality and pop culture commentator Laiya St. Clair (absent the day I'm observing), music aficionado "Boss" Bill Johnson, Sesame Street music director "Unpaid" Bill Sherman, longtime Roots engineer "Suga" Steve Mandel, and rapper/singer Phonte Coleman, formerly a member of cult heroes Little Brother.
Quest generally leads the conversation, but there's a special dynamic that comes from having so many people on mic with such a broad range of experiences. When I sit down with Questlove immediately before taping for a chat, he zeroes in on exactly that point. "This is specifically why Questlove Supreme has the five host characters that we have," he says, referring to the hosts' varying familiarity with their guests' work. "We literally have everyone from what I call the Baltic, Mediterranean Avenue part of our Monopoly board to someone in Boardwalk or Park Place."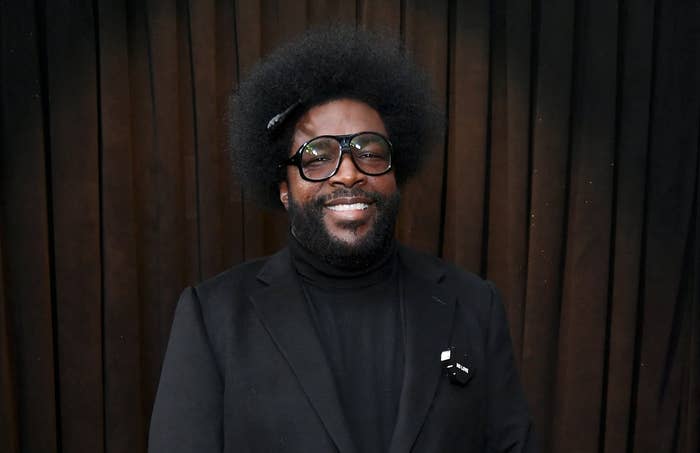 The role of main interlocutor can shift depending on the circumstances. If they're sitting down with someone whose output Quest is extremely familiar with—he cites Episode 55 guest Michael McDonald as an example—he'll be in charge. But when Snoop Dogg was on, things changed. Questlove, a charismatic, public-facing bandleader who has been around celebrities almost constantly since 1993, was reduced to a real-life version of that old SNL skit where a star-struck, heavy-breathing Chris Farley stutteringly asks Paul McCartney, "Remember when you were with the Beatles? That was awesome."
"When we were doing the Snoop episode, I became Chris Farley," Quest admits. "I was a bumbling idiot because Snoop is such a charismatic, charming figure of a person that it's easy to get caught out there. The cool thing about us in the magic circle is I can now wink at Phonte and Phonte knows to take the lead. [He] and Bill were there to pick up the pieces. I think it was wise as an entry into the podcast journalism world to have a support team."
"Doing this has taught me how to be a better human. I learned to trust the process and not insert myself." - Questlove
But why enter the podcast journalism world at all? Quest has no shortage of professional responsibilities. There's his nightly gig on The Tonight Show Starring Jimmy Fallon, touring and recording with the Roots, teaching at NYU's Clive Davis Institute of Recorded Music, various food-related ventures, writing books, working with Soul Train, and any number of other projects. For one thing, Questlove Supreme keeps him on his toes. The man who regularly appears on network television in front of millions cops to getting nervous before every single QLS interview. He begins each show day with a two-and-a-half-hour "meditation," waking up at 6 a.m. to immerse himself in his guest's work. "I have to be my own producer and my own writer," he explains. This is in contrast to the dynamics at the Tonight Show, where segment producers handle the heavy lifting of research for the show's host.
For Desus and Mero, there isn't any research needed. Quest tells me he has "purposely underprepared" for what he wants to be a relaxed, jokey, conversational episode. His relationship with the duo goes back years. They used to post on the message boards of Okayplayer, Quest's long-running website, which has for 20 years been a destination for a particular breed of hip-hop fan, and a breeding ground for talent (like Phonte's current group Foreign Exchange, which was formed through the site). So it's unsurprising when the show starts with jokes already flying. When the time comes for the freestyle rap "roll call" that begins every episode, the guys are ready. Desus jumps in with a sly nod to his show's recent change of networks:
It's Desus Nice
I be eatin' rice
I'm now on Showtime
No longer on...WHAT?
The conversation that follows (or at least the hour of it that I'm privy to) features lots of funny stories and music talk. But sometimes, episodes get intimate and close to the bone. Two of them got so close, in fact, that we're unlikely to ever hear them.
Prior to his now-infamous Vulture interview, Quincy Jones sat down with the magic circle for a four-hour talk. Quest won't specify what was discussed, but he hints that there was some overlap with that piece, in which Jones spilled about the Kennedy assassination, Michael Jackson's song stealing, the Beatles being "no-playing motherfuckers," and other hair-raising, headline-making topics.
"We were like, 'Yo, are we going to be alive when we walk out this door?'" Questlove remembers. "As soon as we walked out, I was like, 'Make sure they sign them documents now. Is he allowed to say that?'"
A fortnight later, reality set in.
"Something told me in my heart, 'I'm going to get a call from Rashida [Jones].' Sure enough, two weeks later she's like, 'Ahmir, I love you, but you know I'm not going to let you put that interview out with my dad, right?'"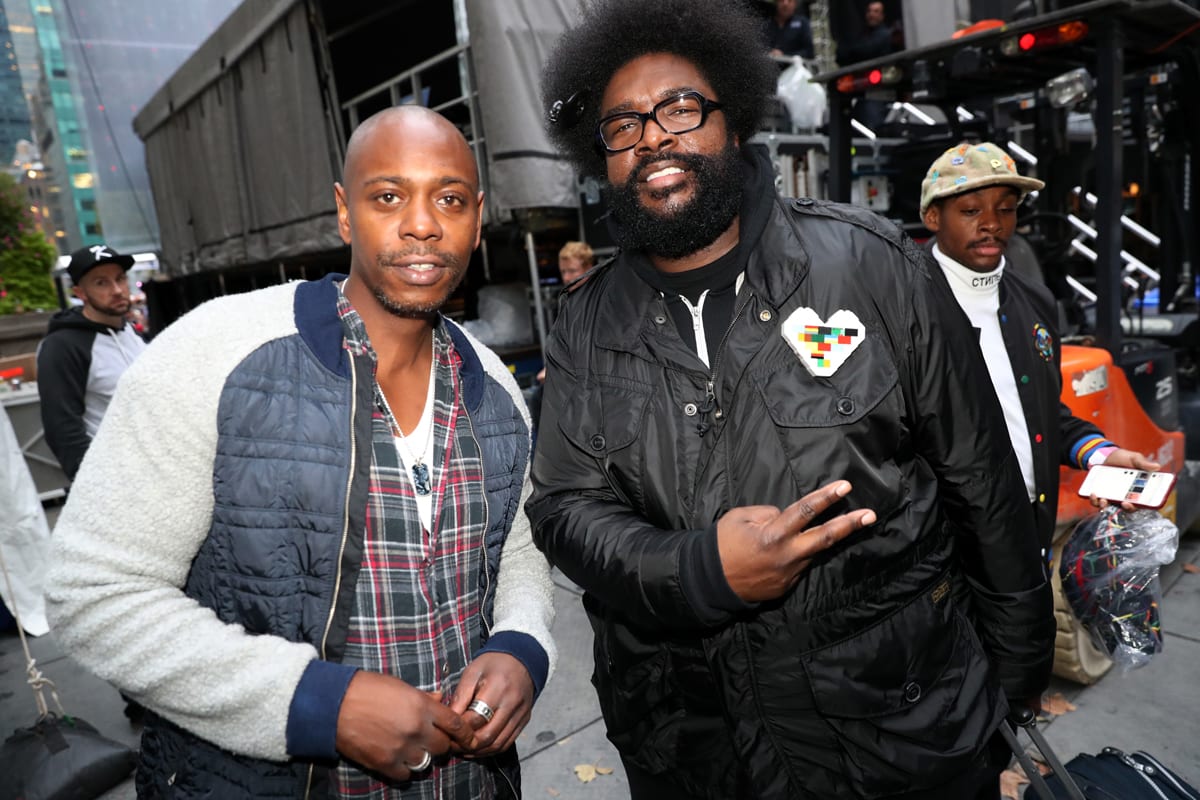 There's another four-hour unreleased episode with Dave Chappelle. ("I think he had buyer's remorse at the end; he was like, 'I was a little too honest,'" Quest theorizes.) But mostly, Quest's interview style—inspired lately, he says, by watching old episodes of The Dick Cavett Show on the Shout! Factory TV app—leads to in-depth conversations that you can't hear anywhere else. The reason for that, more than anything, is not only Questlove's research or his legendary music knowledge. It's his whole life.
Even with Desus and Mero, where he's trying hard not to ask any "showbiz questions," this becomes clear. For every topic that comes up, Questlove has an anecdote ready. Mad Lion? Did you know the Roots played a gig with him at Millersville University years ago, and Black Thought and Malk B got arrested just as they were going onstage, forcing Mad Lion to do his set twice? That controversial HipHopDX list of "The Best Female Rap Albums of All Time"? Quest received a "Koran-sized dissertation" in his DMs from Missy Elliott in response to some of his tweets about it. Beanie Sigel's face-melting early career guest spot on the Roots' "Adrenaline"? Oh, Big Pun was originally supposed to be on that song.
None of this is ostentatious. In fact, aside from some gentle ribbing, it's barely noticed at all. It's just part of a comfortable conversation between seven people, just like the signs of a good chopped cheese spot (a $20 bill on the wall and graffiti on the gate, if you're wondering).
"Doing this has taught me how to be a better human," Questlove tells me. "I learned to trust the process and not insert myself."
For someone whose life consists of being everywhere and being involved in everything, that may be the part of QLS that resonates the most with its always on the move host. He can just be a part of the magic circle, rather than at center stage.