The Wizrd Is in Control: An Afternoon With Future at a Video Shoot in Atlanta
We spent time with Future in Atlanta as he shot a pair of videos with Vevo for "Call the Coroner" and "Promise U That."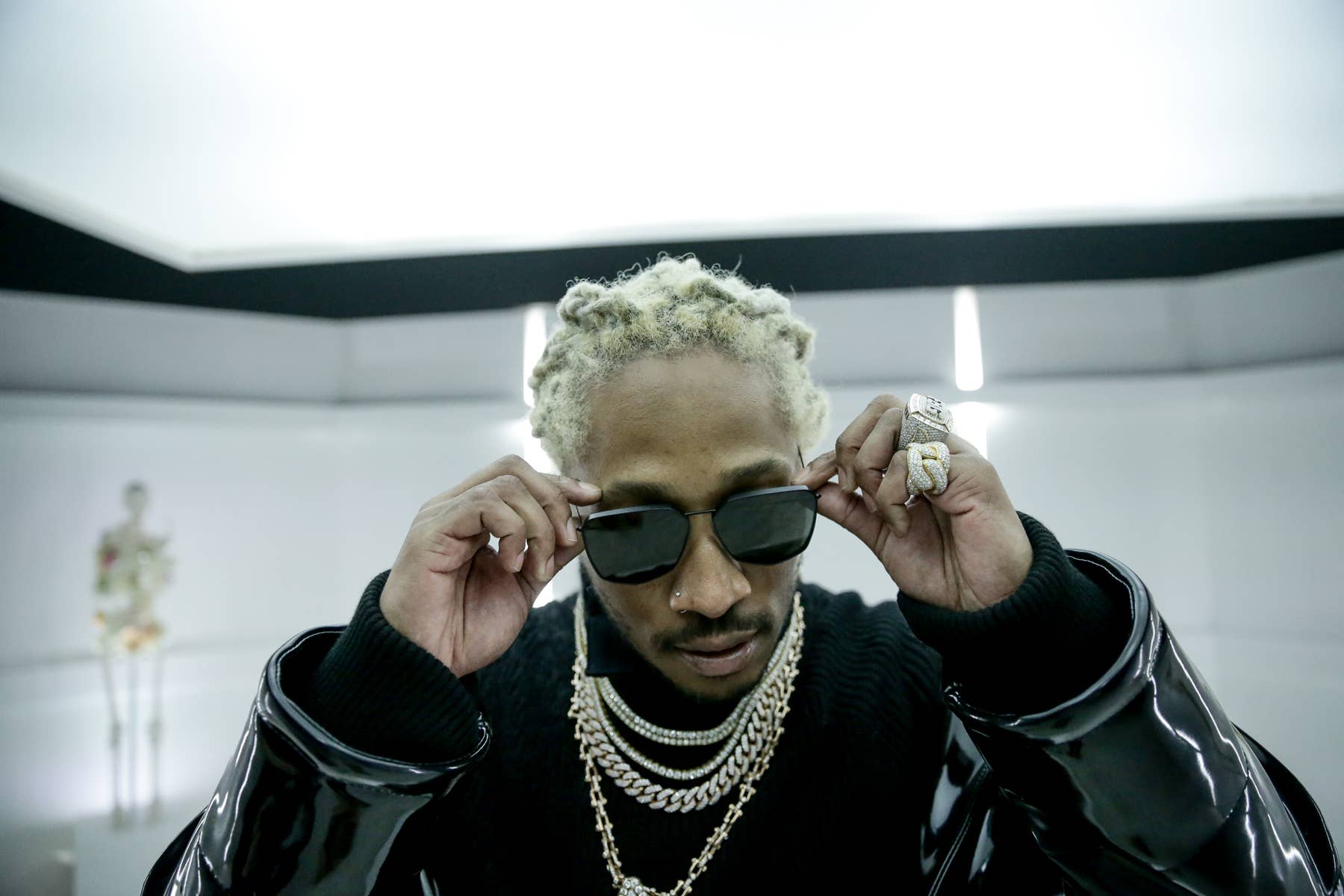 Publicist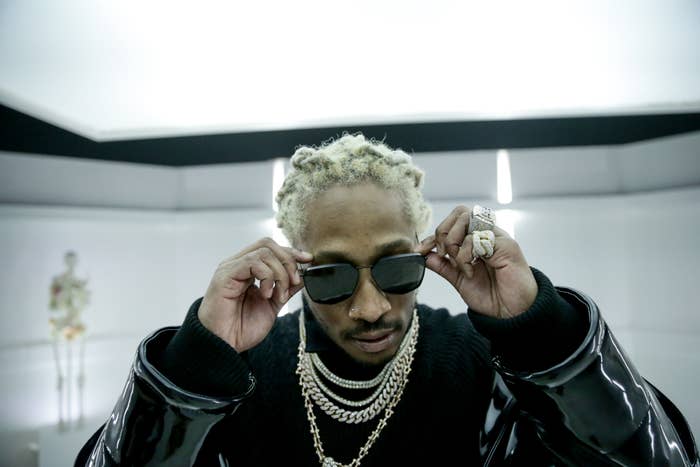 It's a cool March day, and Future is in Atlanta filming a pair of Vevo performance videos for "Call the Coroner" and "Promise U That," two standout tracks from his seventh studio album, The WIZRD, which respectively showcase his no bullshit attitude and a propensity for sweeping romantic gestures.
"I just know right now it's all about your visuals and people being able to see you," he says during a pause between shoots, explaining why he's gathered a crew at the Pinewood Studios lot, which is known for being the site of climactic Marvel movie showdowns. "The fans, they're looking at you on their phones all day, people just on social media. So it's good to have videos and visuals and to be able to put them out and give the fans something quality to look at."
The superstar rapper is interested in more than simply creating additional content for the tech neck afflicted masses, though. The wizard is coy about exactly what his next trick will be, but he says he will be more involved with each aspect of his career than he has in the past—including visuals and overall presentation.

"I feel like I'm growing as an artist and just becoming better," he explains. "[I'm] really completing my vision for everything. It's not only the music, but the creative side, too. I'm growing in that area, so now you're going to see me more focused and more hands-on, really using my creative control."
When I was doing mixtapes at the beginning, I was more hands-on, and now I want to get back to the basics.
Future is a few hours behind schedule, meaning the crew has had time to debate whether he's really saying that his two girls "look like an Oreo" or not. But when the imposing 6'2" rapper finally arrives, it's all business and minimal bombast.
What's most notable is his stillness. When he moves into position on the "Call the Coroner" set, obscured initially by an Alexander McQueen-inspired skeleton adorned with bright flowers, there's a feeling that he glided there (particularly since two crew members are responsible for wiping his footprints out of the white sand that covers the stage floor).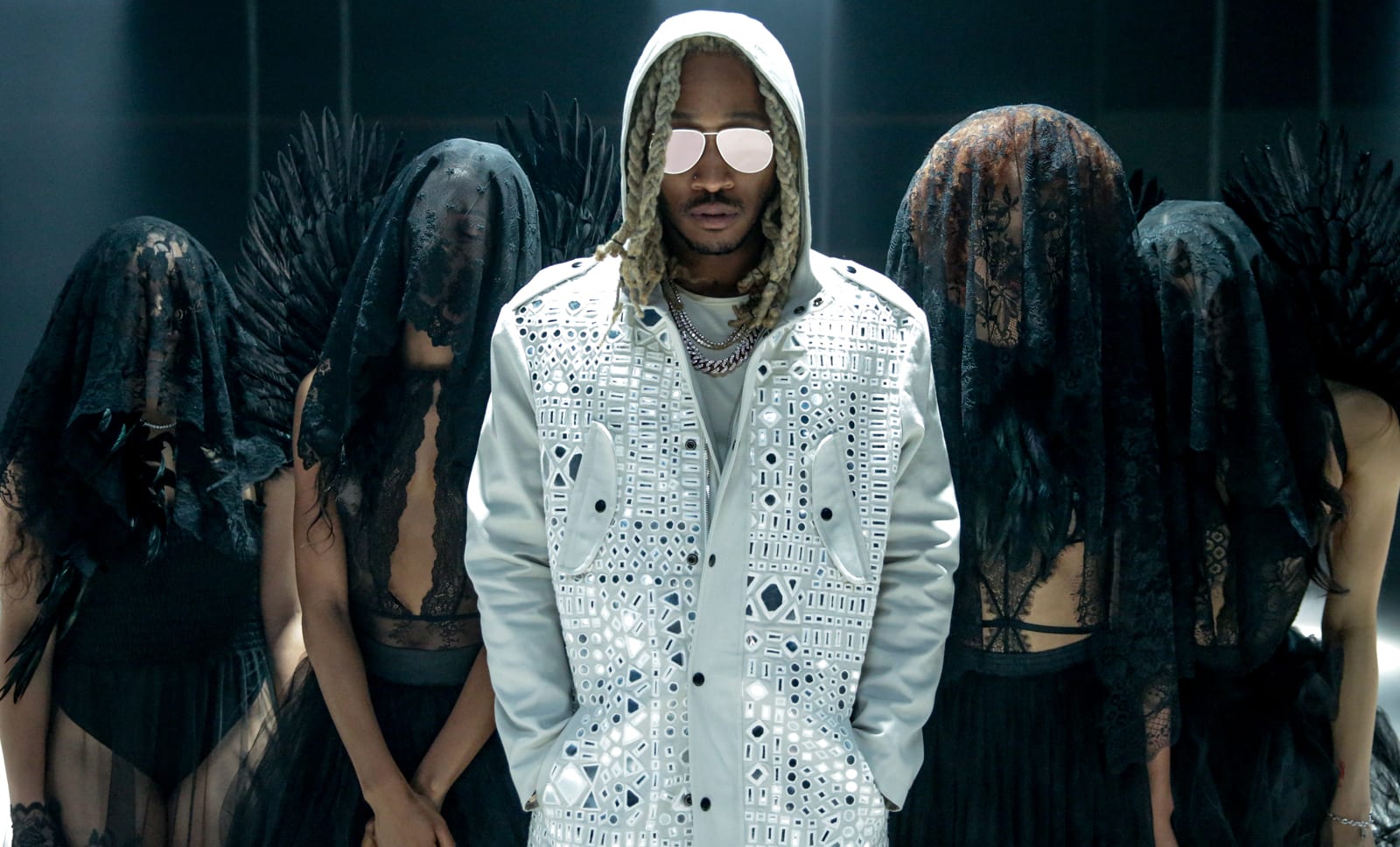 Besides the occasional laugh, Future speaks so quietly that it would be difficult for even the most sharp-eared journalist to eavesdrop, let alone one whose head is still clogged from a 5 a.m. flight. As he watches replays of the performances, he offers notes and listens keenly to the Vevo production team, one hand protectively draped over his young son.
"The idea was that we wanted to create two videos that feel connected, but are diabolically different; they feel like a contrast," says Vevo executive producer Micah Bickham, who is helping to execute the company's vision of connecting established artists to their global audience. "We wanted to create a contrast to this white room with something that felt more dark and like more of a party, but still very constructed and clean. For that one, we pulled a bunch of European theater references from the '80s."
Swap the skeletons for models dressed like extras in Black Swan, and the white sand for thick fog, and you have the set for "Promise U That," a setup that captures the tension and romance of the song. Future is the mysterious leading man who can change your life in the time it takes to board a flight.

"Promise U That" is one of two Tay Keith-produced joints on WIZRD, and both see the upstart Memphis producer adding sweet layers of synths to his usual barrage of percussion. Future says that didn't happen by chance, and that he requested the "Nonstop" and "Look Alive" beatsmith to try something new. It's another example of the Atlanta rapper making sure his presence is felt from inception through execution, which he says he's channeling from his meteoric mixtape run earlier in the decade.
"When I was doing mixtapes at the beginning, I was more hands-on, and now I want to get back to the basics, but also elevate now that I know the right things," he explains. "So just for this new beginning as far as The WIZRD and what I'm bringing to the next chapter, it's just being 1000 percent dialed in throughout the whole creative process. Not only the music, but even for the marketing, the branding for it, just everything that goes along with it."
Though Future has adopted many different names and personas throughout his career, he's managed to avoid becoming the type of performer who seems to be flipping a switch. On both shoots, he uses the initial take like a basketball player loosening up at shootaround. He gradually ratchets up his animation with each take, but maintains his poise throughout. At 35, Future knows a little goes a long way, with a quick toss of his blonde dreads, and a subtle finger wag to emphasize that no, you really haven't met anyone as rich as him.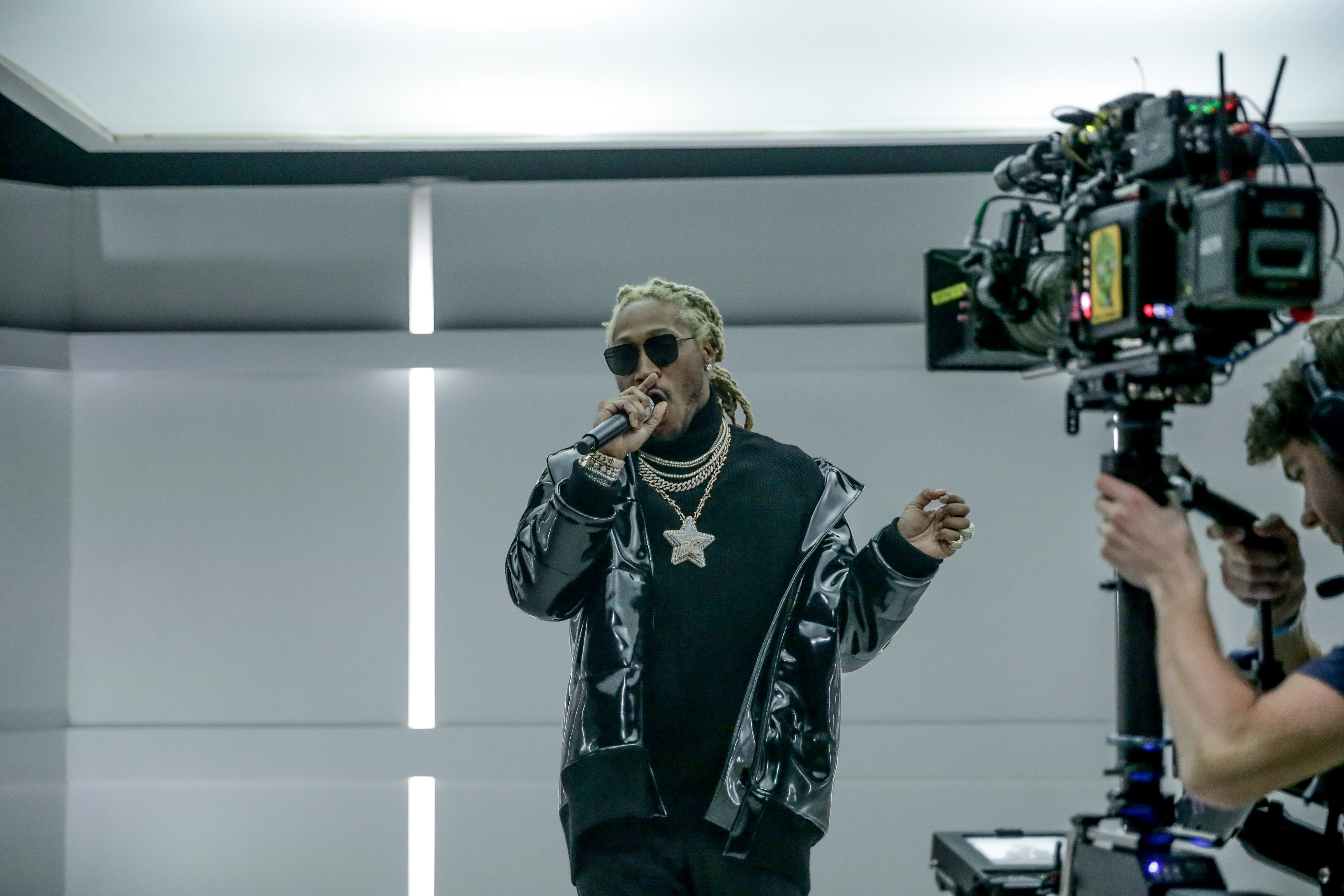 Bickham explains that the goal of the shoot, and Vevo's live performance series more broadly, is to capture the "essence" of an artist in the environment, not simply to surrounded them with expected imagery (his team provides artists with the production resources to execute their video ideas). The beauty of Future being 20-plus projects and several reinventions into his career is that there's an essence to his mere presence in a room—a detached sense of cool and control that he has always possessed, but never been able to wield this grandly. In interviews around the release of The WIZRD, he grappled with the ramifications of his colossal legacy, but it seems like he'll be playing an even more active role in shaping the state of rap going forwards.
Future demurs when asked about whether he plans on revisiting the WIZRD persona on record again ("I'm good, man," he says. "I can't tell everything about it now and have people think they got me figured out"). But he doesn't mince words when asked about a cryptic Instagram caption that led many to believe he's planning a sequel to 2017's HNDRXX.
'I didn't say, 'HNDRXX was [a masterpiece],' I said 'Hndrxx a masterpiece,'' Future clarifies, eyes widening beneath his sunglasses. "I was saying me."