JAY-Z and Beyoncé's Masterful Ability to Flip Other Rappers' Lines Is the Biggest Flex of All
JAY and Bey make a half-century of black music their own on their new project.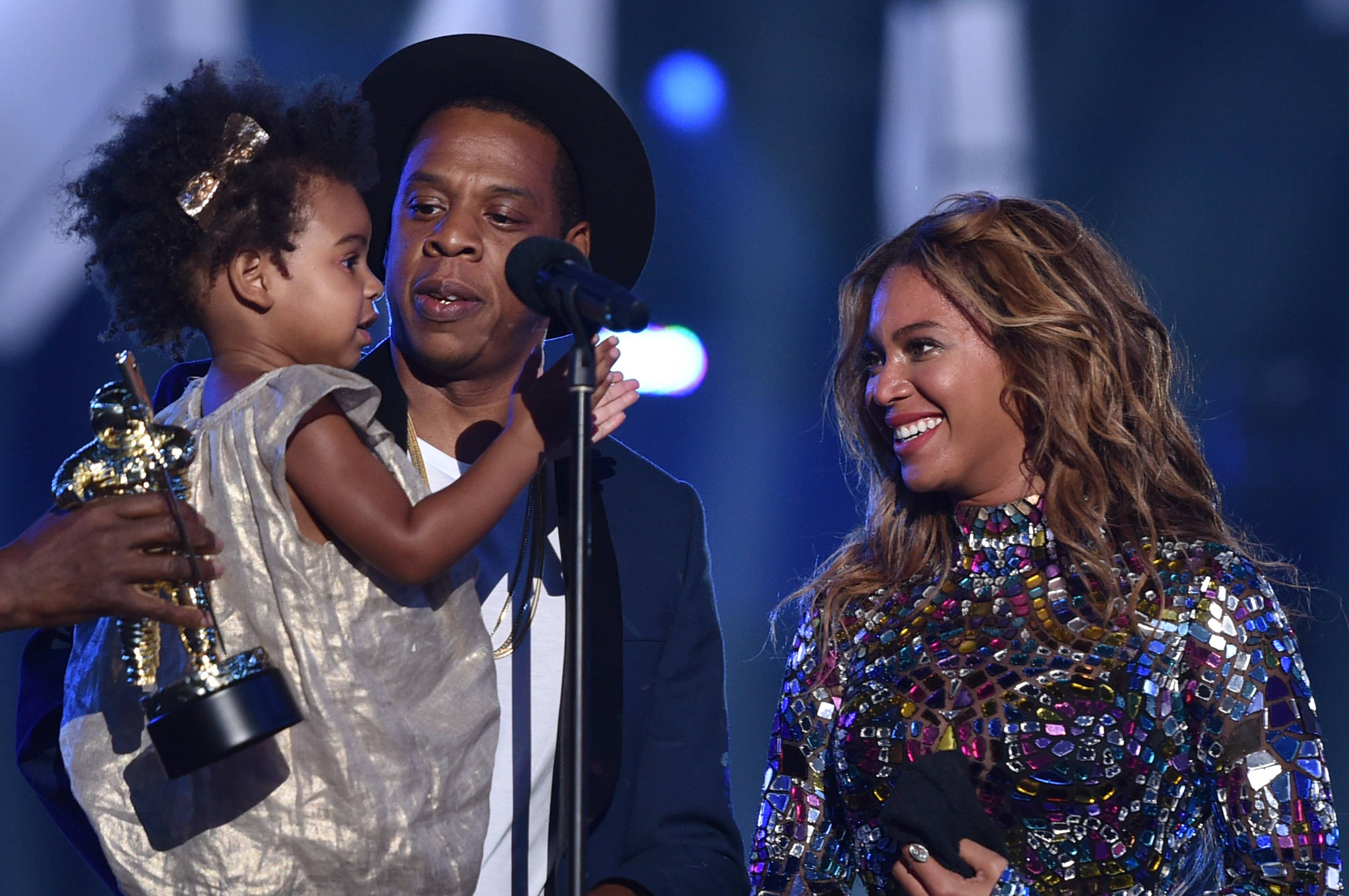 Getty
Beyonce, Jay Z and Blue Ivy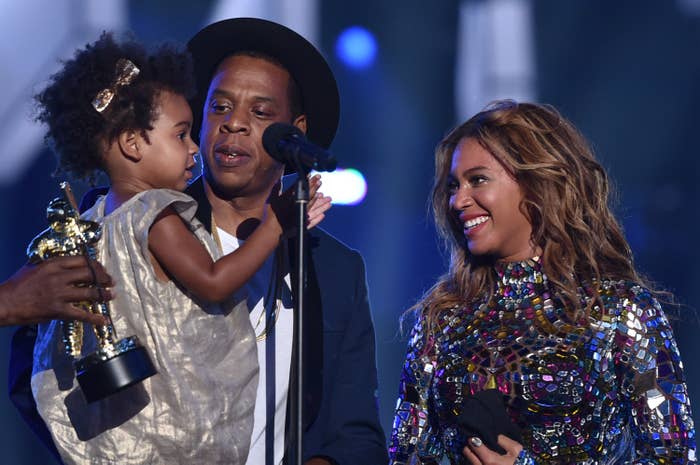 One of the things that makes hip-hop unique among genres is its explicit sense of its own history. While a jazz player may occasionally quote an older song's melody in a solo; a rock group can nod to an older track or take a lyrical shot at a fellow artist; or a classical composer might include a folk song in a symphony, these are the exceptions and not the rule. In hip-hop, everything—including song lyrics—is up for grabs, and homage and recontextualization are the order of the day.
JAY-Z is one of the greats when it comes to interpolations of other artists' work. He does it so much that Cam'ron attacked him for it during their beef, creating a seven-and-a-half minute audio collage of Hov's borrowings. For the most part, the book of Hov's quotations consists of lines from deceased icons like Biggie and 2Pac; hip-hop peers like Nas and Snoop; and predecessors like Slick Rick, Rakim, and his former mentor Big Daddy Kane.
When Hova says, "Off we go, let the trumpets blow" a la Rick the Ruler on The Blueprint's opening track, he's not trying to hide his source material. In fact, quite the opposite: he's placing himself in a rap lineage that includes Rick, elevating both himself and the genre's greatest storyteller in the process. And on the same album, his "Girls, girls, girls, girls/Girls I do adore" may well be the daughters of the girls adored by the Crash Crew 21 years prior. Similarly, flipping Snoop's "depths of the sea" to "crap tables in A.C." is not only a way to pay tribute to the Doggfather, but to move Snoop's legacy forward and to establish that JAY's own music belongs in the conversation with Doggystyle.
On Everything Is Love, Jay gets his spouse in the mix. JAY, Bey, and their collaborators take half a century of black music history and throw it in a lyrical blender.
The natural starting point for discussion here is Jay's late friend Christopher Wallace. Big's presence is always felt in Hov's music, and from Vol. 1 onwards, JAY's raps have been littered with Biggie quotes and tributes. "I say a Big verse, I'm only bigging up my brother," he once famously rapped on "What More Can I Say."
For EIL, Big's spirit is most directly experienced on "Heard About Us," as Beyoncé quotes his famous tag line from "Juicy." But instead of "And if you don't know, now you know" being about the move from rags to riches, it's repurposed to ensure us that America's true First Couple are "good," still-unspecified marital issues and Beckys with the good hair be damned.
On "713," the Queen takes things one step further. Producers Cool & Dre got the idea to have Beyoncé interpolate a line from Dr. Dre's "Still D.R.E." The added layer? She was saying words originally written by her husband.
But perhaps the most notable section of the song, to (ahem) JAY-Z obsessives at least, comes in the track's second verse. JAY works in an homage to Common's 2000 love song "The Light," as Com Sense's "lo-lo-love like this" becomes his own. And why would that be interesting? Well, if we flash back to 2003, we'll see another time our hero has mentioned the Chi-town legend. 
If skills sold, truth be told

I'd probably be lyrically Talib Kweli

Truthfully, I wanna rhyme like Common Sense

But I did five mil'—I ain't been rhyming like Common since
So we have a more mature JAY-Z, now secure in his legacy, who has no worries about bringing to peoples' minds an artist that he had previously set up as a paragon of lyricism and integrity. Common is, by JAY's own admission, the kind of rhymer Shawn Corey Carter would be if he wasn't JAY-Z, with all the commercial expectation that entails. But now that comparison seems irrelevant, and what's far more important is that Common wrote a dope love song—or two, as JAY demonstrates when he continues the trend by quoting Common again a few songs later.
"Black Effect" has a similarly sprawling range of references. The happy couple quotes a celebratory Jeezy "com[ing] up out that pretty motherfucker like, 'Hello'" one minute, and the next acknowledges Yasiin Bey's emotional tribute to his mother, "Umi Says." It's as if all of hip-hop is a canvas for them to paint their relationship's triumphs.
Everything Is Love concludes with "LoveHappy," which contains the record's oldest homage. Otis Redding's "(Sittin' On) The Dock of the Bay" was released in January 1968, just weeks after Redding was tragically killed in a plane crash. Shawn Carter has paid his respects to Redding before, of course, on a song named after the soul legend. But on "LoveHappy," Redding's posthumous No. 1 single about doing nothing and "wasting time" turns into a celebration of being successful and rich enough to do nothing in a much more spectacular fashion—by relaxing on a "big yacht."
The interpolations on Everything Is Love help ground the album and provide context for this portrait of the love between two musical icons. And it makes sense that they play this role. Beyoncé's recent Coachella performance was a powerful acknowledgment of black identity and culture, and her husband has explicitly placed his own life in the continuum of struggles for black freedom. So it's a natural continuation that their joint album would have at its artistic center the last 50 years of black music. While no idea may be original, JAY-Z and Beyoncé have found a new way to bend and repurpose old songs to their liking—and nothing could be more hip-hop than that.