ComplexCon returns to Long Beach Nov. 6 - 7 with hosts J. Balvin and Kristen Noel Crawley, performances by A$AP Rocky and Turnstile, and more shopping and drops.
Secure your spot while tickets last!
Written and interviewed by @JBAKKUP for Complex Canada
------------------------------
Cardo Antonnio and J Cortz, aka Babyboy and Bounce Zaddy, link up once again on the summer ready hit "Talk Talk." Taken off the debut album of the same name, due to release June 28th, "Talk Talk" sees Cardo confidently glide over Cortz's glittering synth-led production. "Talk Talk" is the second visual from Cardo's camp, following the jubilant 'On Fiyee', and is a true step up in terms of presentation and execution.
Speaking to J Cortz, Cardo's blood brother, he tells Complex, "This is the first time people get to see what Cardo's music looks like. It's the perfect canvas for him to be lively and over the top. Things you'd see a young boy do are being done over-exaggerated, so to speak. It can't be normal or toned down. It has to be turned up. That's the type of person Cardo really is."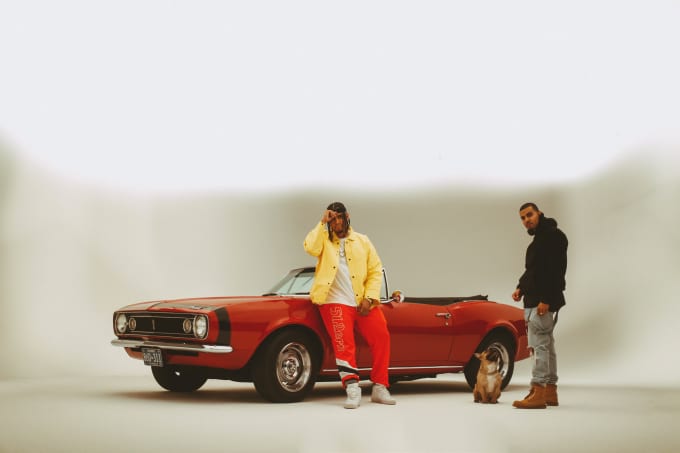 Put together by production company Breathe Entertainment, directed by Stephen Trivieri, and shot at Scarborough's Pie in the Sky studios, 'Talk Talk' teases a taste of what to expect on the forthcoming 12-track project. We spent some time with the Babyboy himself, Cardo, to get more details on his project and process. Watch the "Talk Talk" video above, and mark June 28th in your calendar for the release of the Talk Talk album.
What's the story behind 'Talk Talk'? How did you come about writing it?
Basically it was late last year, November. Me and Cortz were talking about changing sounds. We wanted to make something that was a bit more feel good - music for the summer. 'Talk Talk' is about being playful and showing a different side to the two of us. It's uplifting for sure and, as always, brings the bounce. We try to incorporate that into all the records.
The video's flashy and playful, just like the track itself. How did you settle on this track as the first single?
One day we were at my boy's house, playing the record front to back. 'Talk Talk' stood out as the most appropriate introduction to the tape. The sound is kind of triumphant. It displays a bit of what's to come on the actual album. I'm in those high registers. It's more melodic than my other records. It's a good transition from 'Kalipari' and 'Paid In Advance', to now.
Run us through the process of getting this video made.
It came about really organically. Last year, I was working at Best Buy and I met my boy Scott. He was working at a production company called Breathe Entertainment. I started to build a relationship with him, and showed him some records one day. He was like "Yo, on some real shit, we'd definitely do a video for this, and my company can do it proper." I just trusted in him, and the whole process.
For some reason everything ended up red and yellow. The walls in the home studio, where we recorded 'Talk Talk', are painted red and yellow. And my favourite colour's red, by the way. It wasn't even on purpose. One day we were thrifting and Cortz found this yellow jacket, which I wore in the video. I thought, along with those red pants, goggles and the car, it would standout. We knew the art direction for the video had to be popping and super colourful to fit the style of the record.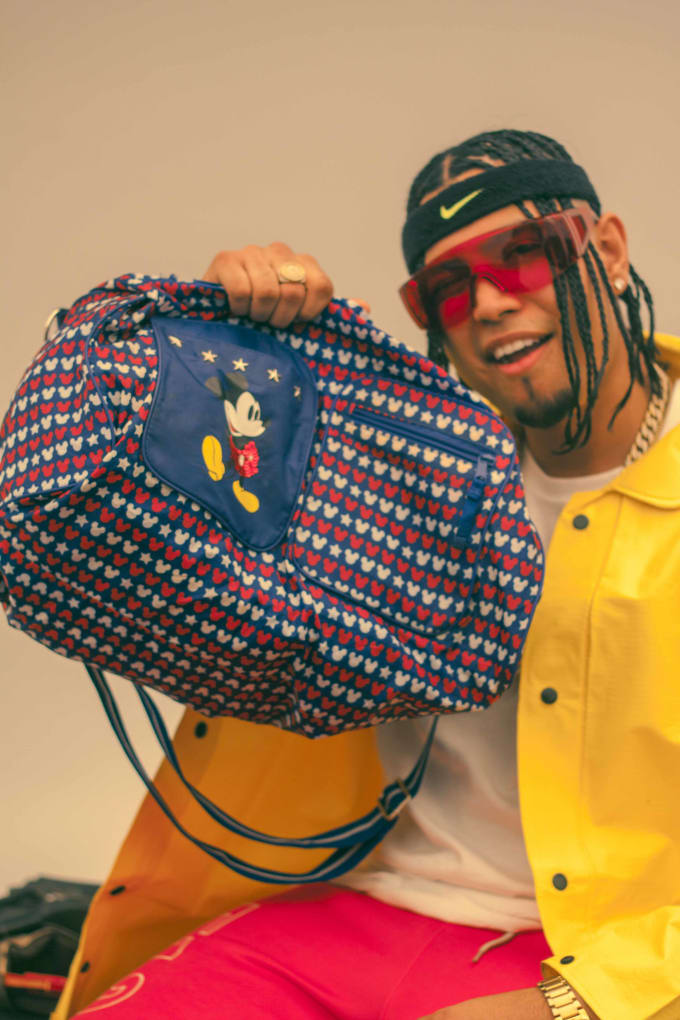 The track's called 'Talk Talk', but I know you're a big reader too. Any recommendations?
I'm reading this book right now 'This Is Your Brain on Music', it's on the science of listening. It's really helpful in terms of how you interpret certain records, and why they make you feel a type of way. Also 'Milk and Honey' by Rupi Kaur - shoutout another Brampton native.
The star of the show is your dog, Dre. How long have you had him and what's his deal?
Dre is awesome. He's my sisters dog, a little French bulldog. I remember the first time he came over he pissed on my bed. Fam... it was the worst. Since we've moved back home, our relationship - Cortz, Dre and me - is so tight nit. We're at home all day in the studio, and he's pretty much around all the time. I want to bring him on tour, that'd be sick. He's one of us. It's weird to think, but Dre's just a personality. He's almost like a human. He definitely understands. 
We played 'A OK' [from the upcoming album] and, maybe it was the harmonics of the flute, but Dre started running around in circles. Then we'd put on '2 and 2' and it'd put him to sleep. 
What should people be expecting from the 12-track tape?
Definitely a lot more R&B. No one has ever really heard me sing, and there's a lot of it on this record. Each song is different but they all fit under the same umbrella of the Talk Talk sound. Some club anthems; some records to put you in your feels. It sounds like our lifestyle. It's very easy to listen to. There's a song to fit your vibe regardless of how you're feeling.