New Orleans Rap Pioneer Devious on Being Sampled by Cardi B and Drake Going Bounce
One of the originators of bounce music shares his thoughts on the sound he helped create making it to the mainstream yet again.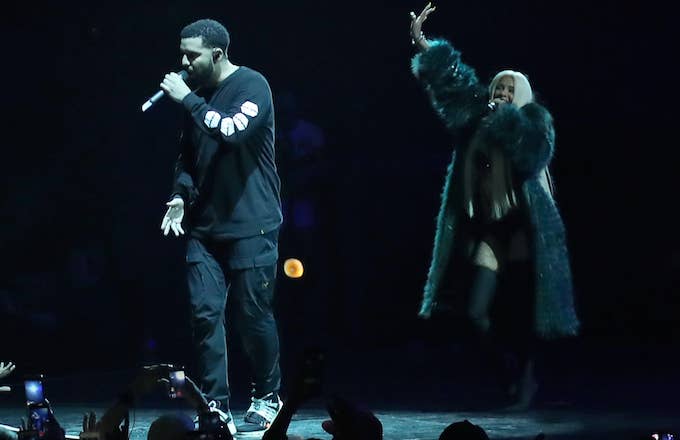 Getty
Drake and Cardi B Perform at OVO Fest In Toronto For Caribana 2017 on August 7, 2017 in Toronto, Canada.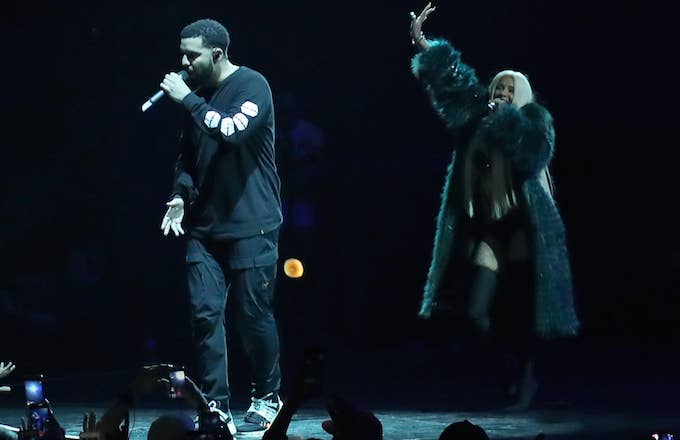 Dion "Devious" Norman is a New Orleans rap legend. Devious was one of the first rappers in the city to land a national distribution deal. His early group, The Ninja Crew, had a huge impact on the scene. But most importantly, Devious, along with DJ Mellow Fellow, co-wrote, arranged, and produced DJ Jimi's iconic single "Where They At" b/w "Bitches (Reply)." That single is widely acknowledged as one of the first bounce records—even though its success, and the attendant label drama, temporarily derailed Devious' own burgeoning solo career. While the A-side brought DJ Jimi fame and paved the way for bounce to take over New Orleans, it was the song's B-side—a reply to Jimi's chants from a female point of view—that would have a lasting legacy in rap as a whole, being sampled a ton of times.
Bounce is New Orleans' chant-based, hyper-sexual, extremely local style of music that took over the city in the early 1990s. While it never really broke out of the city in its purest form, a darker hybrid sometimes referred to as "gangsta bounce" blew up with the success of local label Cash Money Records. To this day, you can still hear Lil Wayne reference old bounce chants in his raps.
The genre is having a moment again, since Drake made his own version of a bounce song with his latest single, "Nice for What." As if that wasn't enough, Cardi B's new track "Bickenhead," a remake of Project Pat's 2000 song "Chickenhead," samples DJ Jimi's "Bitches (Reply)."
Complex caught up with Devious to see how he learned his classic creation would appear on the hottest album in the country, and what he thinks about rap's biggest artist paying homage to a sound he helped pioneer.
How did you find out about that Cardi B wanted to do a remake of "Chickenhead," which sampled your record?
Actually, I was asleep and I missed the email. It was on a Tuesday night, Tuesday night of last week [April 3]. Alien Music, which does sample clearances for a lot of different artists for major labels, emailed and said they had a urgent matter with an artist that wants to sample one of your records or something. So he left his number.
The next morning I called at eight o'clock, because that's the time that I was free. When I called them, he was telling me about the record, and that they're using the Project Pat "Chickenhead." That's what he told me. He hadn't told me that it was Cardi. So then, I said I need to hear the record so I can see if it's [sampling] "The Reply" or if it's Project Pat.
Just to be clear, all of this is happening three or four days before Cardi's album is supposed to come out?
Right, right. Once we talked and we got a little context of who I am and what I was telling him about the record, he sent me the actual documentation and the scratch version of the song for me to evaluate and let him know whether or not I would clear it or whatever.
When I heard the record, I told him, "Man, Cardi B needs to put that on her album. It's going to be a big record for her."
What did you think of her flip on the title from what Pat did?
When I saw it was "Bickenhead," I was like, okay, so Cardi is doing her thing with the "B" again. This might work. I was really amazed that it would be Cardi B that would do the record, especially her being from the Bronx. I thought that that spoke volumes of how far New Orleans music has traveled, but I also thought that it was appropriate because she's been under scrutiny and somewhat of an underdog that has actually persevered to a level of success. I told the guy at Alien Music, we're gonna make this work because I don't wanna hurt her. I remember being 23 years old trying to get an album out. I remember that pressure. I was like, I don't wanna hurt her so I'm going to comply and try to figure out a way to make this work.
When I heard the record, I told him, "Man, Cardi B needs to put that on her album. It's going to be a big record for her."
Was any kind of money involved in this deal, or did you just have to give permission?
Whenever someone samples your record, or they interpolate, they're supposed to make a deal with you. It depends on the deal. If it's not a sample, they can give you some money or they work out an advancement deal with you against your royalties. That's the way the system works.
If they use your lyrics or they re-play something, it's not a sample. They're not pressed to feel like they're doing copyright infringement, so they can make a deal with you and make you a part of the song and just give you an advancement against your royalties based on what they think they're gonna sell. Then if the record sells, everybody gets their due.
How does it feel to have probably the first bounce single live on in 2018 through one of the hottest artists right now?
I mean, it feels great. It really feels great. It speaks volumes about the real nature of how this happened, with me being a hip-hop artist and [bounce] actually being something that I didn't like at first. So years later it's like it came full return. Something that I felt was a painful experience in my career ended up being the one thing that kept pushing me throughout my career.
It's almost like I was one of the first, and then I was kind of camouflaged in the middle, and now it's resurfacing with all national artists. It's like the story [of bounce] was in the press. You got the Complex write up, you have Where They At NOLA, you have the book that the guy wrote about bounce music. So being one of the original MCs from New Orleans and to be caught in the middle, it's like, everybody else evolved as it blew up.
Yeah, amazing. And a few days after Cardi's record, Drake released a song that very explicitly nods to bounce as well.
Yeah. I actually knew about that because BlaqNmilD, who produces on my new album that I'm working on right now, The Narrative, texted me in the middle of the morning—it had to be like two or three in the morning—and he said, "I'm so nervous right now. I'm in the studio with Drake." So I said, you better make it do what it do.
BlaqNmilD is one of the main producers in New Orleans. People go to him to get their bounce remix. Like, they could make a song like Drake without a bounce background. But because New Orleans is so in love with bounce, they call BlaqNmilD to get their bounce remix just to have something for the DJs to be able to get some radio play. He's the best bounce producer, but he does more than bounce.
When you finally heard "Nice for What," what were your first impressions?
I feel that it is a great song. It's what I've always said about bounce, because bounce always suffers from not being able to clear samples. If you're just chanting on a record, you're doing it in an underground fashion speaking about things that only our geographic location knows, that's kind of limited. I've told the younger artists, rap on it. Travis Porter rapped on it. Project Pat rapped on it. Kid Cudi rapped on it. So if you rap on it with the bounce background, then it's not just a bounce song anymore. It's a club song, and it appeals to more people. So I think what Drake did is give them the archetype of how it should be done.
Put your song on it, because that's what they do in New Orleans. They take a song like Adele and they put a bounce beat under it. They take a song like Fantasia and they put a bounce beat under it, and they play it on the show in New Orleans every Saturday night with DJ Slab 1 or DJ Poppa. It's called Social Shakedown and it's just all bounce remixes of other people's songs. So what Drake did is what they do in New Orleans anyway. If Drake wouldn't have done it with BlaqNmilD or 5th Ward Weebie, someone down here was gonna bounce it out anyway, most probably BlaqNmilD or DJ Poppa.
What is going on in New Orleans that you would want people to know about, now that there's a national spotlight on it again?
What I would want the world to know is that New Orleans has always been unique. We have a whole bunch of artists with all kinds of eclectic skills, but because we don't have the Atlantic Records and the Universal Records offices located down here, we don't always get the attention that we're supposed to get.
Our artists are hungry, our artists want opportunities, and a lot of times they get upset when they hear these new records with other artists. They feel like the artist is stealing it, even though the artist is taking care of business. They think that they're stealing it because being in the city, they feel like, "Why couldn't that be me? Why did my songs that sounds something like this not get an opportunity?" But if you have a bounce record with a bunch of samples in it and you don't necessarily get the clearances on the records, you can't put it on iTunes or Spotify. So it's harder for the artists in New Orleans to get it outside of New Orleans because they don't have the budgets to clear the samples.
With a Drake or a Project Pat or a Travis Porter or a Cardi B, they have the budgets. They have the machine behind them and the spotlight is on them, and they're creative stars in their own right. So by them fusing that into their album catalog, it just makes it have more impact coming from a national star because it can actually be heard on the radio without the politics. You can turn on a TV and see it on a video. It can get streamed. The reception is going to be easier because you have the promotion and the marketing team behind it. So I just think that New Orleans needs to lead the labels to come set up shop here.