ComplexCon returns to Long Beach Nov. 6 - 7 with hosts J. Balvin and Kristen Noel Crawley, performances by A$AP Rocky and Turnstile, and more shopping and drops.
Secure your spot while tickets last!
It's safe to say that grime is now a big part of British music's fabric. With veteran wordsmiths such as Wiley, Kano, and Skepta making groundbreaking albums and infiltrating the charts, they each have set up the future of the scene for the likes of Bugzy Malone, Stormzy and more to pick up the baton and take the genre to places previously unseen.
While the dizzying heights of commercial success are surely the end goal for many artists, there are still spitters who grew up through, and remember, the early years of the genre—where pirate radio and clashing reigned supreme. One such artist is North London's Capo Lee, whose emergence over the last three years has led to hits such as "Liff" and "Mud", strong relationships with icons like P Money and D Double, and a ferocious work-rate that included two projects in the last twelve months (Stop Talk, a collab EP with producer Sir Spyro, and the recently released Capo The Champ).
With a busy year ahead, Complex caught up with Capo Lee to discuss his entry into grime, working with legendary bar-slingers, being versatile, and his plans for the rest of the year.
What music did you grow up listening to?
My two uncles used to have a soundsystem and would go to house parties around North London, and my mum used to go with them. I used to love going to my uncle's house because he had decks with bare records and I would mess around on them with like reggae music, old school sound music, like Top Cat, Ninjaman and them kinda guys, so I grew up on that music. It's funny because my uncle was the mic man and my other uncle was a DJ but my uncle that was the mic man used to get a lot of ratings growing up, but it turns out that my mum was writing his lyrics for him so my mum is a barrer still! [Laughs] Big up Mum Capo!
So what drew you to grime music?
When I was in school, it was just what was about: grime, and Channel U. But I wasn't really interested in Channel U that much. I used to listen to a lot of pirate radio and record tapes, so I would find out who was on radio, Rinse FM, Roll Deep and all that stuff.
You mentioned that you used to mess around on decks when you were younger, so were you more into DJing and the production side of things at first?
That's what got me into it. When I listened to radio, I wanted to be a DJ originally. So I started DJing, going radio, buying records, spending my lunch money on records, not eating, losing weight and then, I don't know—I just stopped. I don't know why; I just stopped. I think I lost interest for a bit. But I could always bar. I used to always write lyrics, but I didn't like my voice—my voice was squeaky when I was younger, so I didn't like my mic voice.
Do you remember your first radio set?
Yeah, it was in my bredrin's bedroom. I didn't know him then, but he's my bredrin now. I went with someone from my school, Black The Ripper—he brought us when we were young. I remember it was a Friday, after school. I was mad nervous. But it was weird because I was a DJ but I went to that set as an MC.
Were you still called Capo Lee back then?
Nah. I was called Lee Man, which was my name back in the day on the ends. Legendary. People still call me that now.
Moving forward a bit, how did you form a relationship with Sir Spyro and what made you want to make a joint EP?
You know when Bloodline did "Side By Side"? They used the studio where I record. Someone called me to bring something, like a USB or something, so I went there—and I know Bloodline and Big H from ends—and Spyro was there. One of them said, "Yo, wha gwan Capo!" and Spyro turned around like: "Rah! You're Capo. I've heard your stuff, still. I played one of your tunes on radio the other day." I was like: "Swear down? Sick!" From there, we did the whole Twitter follow and how I am is like, if I wanna work with someone, I'm not shy—I'll ask. What's the worst that can happen? He's gonna say no. So I shouted him, and just said: "Safe for playing my tunes and that. We should do work." And he replied, like: "Yeah, come to my yard." So I went to his house and from then, we became close friends. Like even when I check him now, we're together a lot but people would think we make more music than we actually do, but we don't. We only make music sometimes.
Having released so much music last year, what is your creative process like?
I did release a lot of music last year, didn't I! Do you know what it is? I make a lot of music because after a week I get bored of listening to the same tunes. I make new stuff for me to listen to—that's how I do it. I'll make a tune maybe tomorrow, and in a week I'll get bored of listening to it. What I do like, and why me and Spyro work so well, is that when I go there, I'll have no bars, he'll have no beat, and we'll build it together from scratch. He'll start building the beat and I'll start writing bars around it and then he might change the beat and then I'll change a bar. But I like when we both put it together.
Who do you listen to then? Yourself, mainly?
Nah, nah, nah. I don't listen to myself that much at all. I listen to mad stuff. It won't make sense. On the way here, I was listening to Uzi Vert, and then this morning I woke up playing Natalie Imbruglia's "Torn". I listen to mad stuff: U2, Coldplay, Mobb Deep—I like everything! If I like a song, I like it. 
Do you drink or smoke before studio or can you just go in there and work?
Sometimes I might have a magnum now and again, if I'm feeling uninspired and I need to loosen up a bit, but mainly I just make sure I enjoy what I'm recording and I have to like the beat. I really have to! I always tell people whatever you're doing in the studio, whether you're producing or writing bars, enjoy what you're doing because with the Capo The Champ EP—because I enjoyed recording it, now when I listen back to it, all that I think about is the fun I had making it. Like when you release these pressure projects, it's long to listen back to it.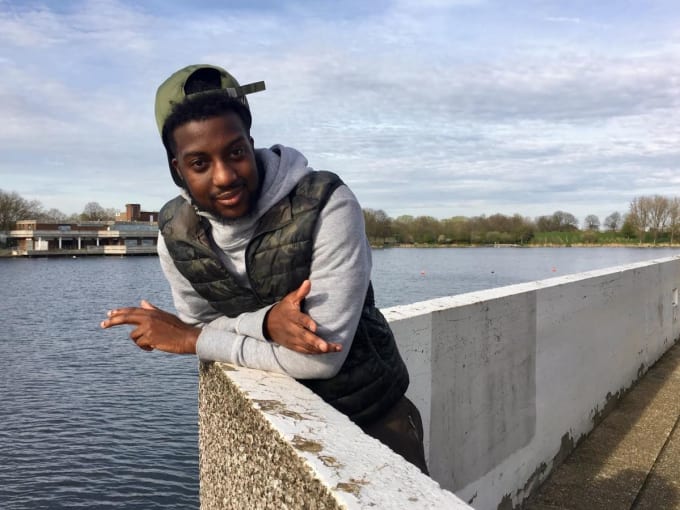 I guess as well, you're the one that has to perform it. The fans might like it but if you don't like it and you have to perform it every night at shows, it can get a bit long.
Exactly that.
Speaking of fun, last summer you performed in Croatia for Outlook Festival. What was that experience like, and was it your first time out there?
Yeah, it was my first time. That place is a mad place, boy! I'm not really the party island kind of guy—I'm a bit more reserved—but nah, that place was a mad place. People told me that you don't know what to expect out there. I remember I got there, and it's literally an island of partying and a few coaches to take you back to the hotel. It was sick because bare people were hyped to see me, coming up to me and asking when my set was and that. Not gonna lie, though: there were way more UK people there than I thought there would be. I thought it would be more Croatian or European. But that was definitely one of the best experiences I've had.
Going back to the Capo The Champ EP, you're obviously capable of shelling on grime sets but was it important to you to show versatility on that project?
Yeah, man. It was about time because I think that since I did that, a lot more producers have come forward—like, producers from overseas. It's opened doors for me for, like, different sounds and different producers. I listen to so much music that it doesn't make sense for me to make one style. As an artist, you want to experiment—you wanna try new things, and do different things. If you don't, then I don't know—that's up to you. But me, personally, I like to challenge myself. You have to keep it fresh. You have to be unpredictable. Some people might be scared of the challenge, but me? Bring it on! I'll ice anything.
What has the reception from the fans been like?
Sick! Definitely sick. When I first went to put it out, I was like: "Some parts of it don't sound too grime. People are gonna think I'm not about grime anymore and I'm just one of them man that did it and cut." But then I just thought, "Fuck it! A good tune is a good tune. If you like a tune, you like it." I just wanted to show people development. I can step over here, if I want, but it's been getting some really good feedback.
One thing I've noticed about you compared to other grime emcees, is your clarity on the microphone. Is that something you've been conscious of, or does that come naturally to you?
Do you know how long that took me? When I started barring again properly in 2015, my clarity was terrible. I used to struggle with it a bit. Overall, it was clear, but there were certain words I just couldn't get out. You know sometimes you really wanna say something but it doesn't work, but you wanna say it so bad you just put it in there anyway? [Laughs] But now, when I write bars, I structure the bar properly. If I can't get it out, then I won't say it. It took me a while, just practicing, trying different techniques. Even like voice transitions, I remember I used to record... So let's say I had a 16 bar, I couldn't stop halfway through and carry on recording the other half. I couldn't do my voice transition properly, but now I can do that. That's why certain songs, I've done line by line. You wouldn't know because I've trained myself to do that. It's something I'm still working on now.
Being part of this new generation of grime, how did it feel to work with legends like D Double E and P Money so early on?
It was sick! I didn't expect it. I did a rave towards the end of 2015, and D Double was there. I was merking it, and he came over to me after, put his arm around me, and said: "You're one of my favourite MCs." I was like: "Me? You're one of mine!" But yeah, he gave me his number and told me to shout him, saying he's heard me on radio a few times and that we should do a tune together. So I was in the studio one day making the "Mud" tune with Spyro, but it was a completely different tune. It had the first verse, the chorus, and then two other verses that were just different. I told Spyro to take out the two verses, and I didn't know who to get on it. Then I remember, it was a Monday morning, I was in the car with my bredrin and I asked him, "Should I WhatsApp D Double?" I did, and I was like: "Yo! I've got this tune and I think you would sound sick on it." I sent him the tune and, to be honest, I didn't think he was gonna like it but I just decided to shoot my shot. He was like, "This is cold!" And I said to him, "When you're ready, we should jump on the tune." And, well, the rest is history.
What was it like being in the studio with D Double E?
Mad, you know. It was mad, still. To see him record was like... You see when he records, it's strange, because he's so calm and relaxed when he does and I've never seen anyone that calm in the booth. When he did his verse, I swear to god, I knew his verse off by heart before I knew my own! He's got these bars that stick in your head. Even P Money, the first time I went studio with him, he taught me something that I use now. He went in the booth—didn't write anything down—with only headphones on, and he was freestyling in his head and was just like: "Go." He would record two lines and then say, "Stop." I've adopted that now, and I'll always say I learnt that from him. Big up P, for real.
What would be a dream collaboration for you, moving forward?
I rate bare people. Do you know what? The next tune I want to conquer is like a garage track. That's what I want to conquer next. I'd want to do a tune with someone like Wookie or Artful Dodger, or one of those sick female vocalists like Kele Le Roc or Shola Ama. If I could get on a tune with Wookie, yeah... Listen!
That would be epic, indeed. So what else do you have in store for 2018? 
More madness that you can't put in a playlist. I'm gonna do some grime bits, still. Last year was a bit more project based—it felt a bit structured—so this year, I just want to have fun and do whatever. Bare collabs, too. I don't care. 
Have you got some in the works already?
Slyly, yeah. Me and SafOne are looking to do another tune together. I'll probably do a couple rap bits, some grime bits. I've got a couple bits with Spyro to drop this year as well. I'm gonna be at everyone's necks, I can't even lie. I've been going studio and working a lot with some younger, up-and-coming artists from my ends: Shailan, Belly, Ekeno—he's a good one, because he raps and he sings—and there's a producer I work with called Izco, who's about 17 or 18,  and he is very, very good. Even in the grime scene, there's a crew called Mob Set and they're young but good. Third Degree are another one. I just wanna give these guys a mention, because they're all doing their thing.