Meet Nottingham's Mez, The MC Making Grime Excitingly Weird Again
Complex caught up with Mez at the video shoot for his latest single "Magnum"—a track inspired not just by the popular drink, but also by one of Mez's earliest..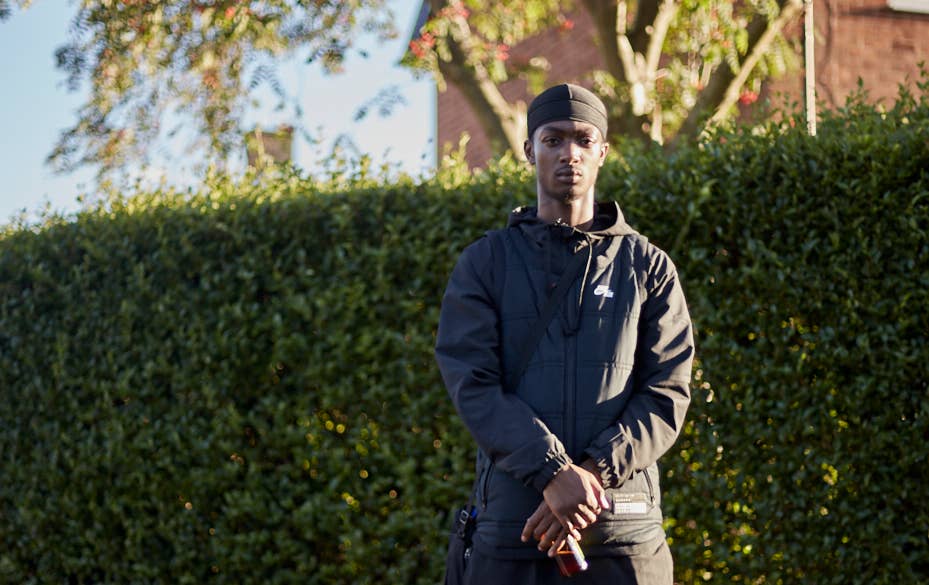 Publicist
All images by Tim & Barry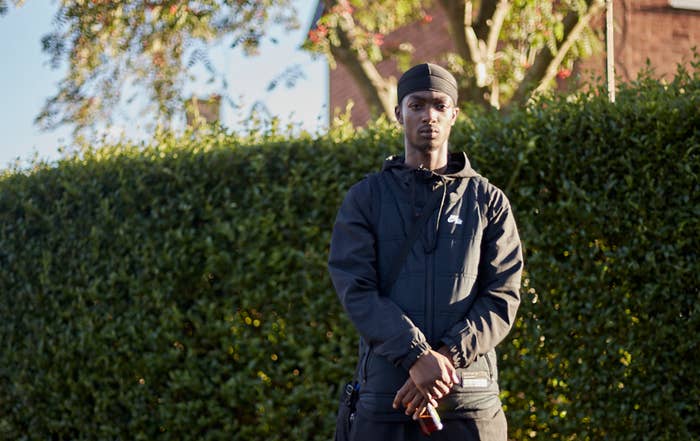 When the 'greats' of grime are listed, one of the few common denominators (besides grime, of course) is how little they have in common, stylistically. Arguably, one of the most undervalued characteristics of a great emcee is uniqueness. In some cases, a unique flow can border on the eccentric. Who can forget the wildness of Crazy T and Bruza's gravelly, off-kilter bark? Yes, you'd be forgiven for thinking that most emcees just go straight for the default setting, i.e. shout-really-loud-and-fast-over-the-beat. But Mez, or Uncle Mez as he's lovingly known, is here to buck that trend. That's not the only way Mez differs from his peers. Shooting your shot with YouTube or SoundCloud is an increasingly established route into the industry, and yet, Mez opted for the route most traveled by his forbears: pirate radio.
Using the latest technological tools to get your music out there should never be sniffed at, but there's a level of bravery needed to jump on a mic surrounded by strangers, testing your latest bars on people who actively want to outdo you—a level of bravery that certainly isn't needed to click the upload button. Complex caught up with Mezical at the video shoot for his latest single "Magnum"—a track inspired not just by the popular drink, but also by one of Mez's earliest bars. In a way, you could just about argue that "Magnum" is Mez's origin story.
COMPLEX: We're here today at the video shoot for "Magnum", directed by Tim & Barry. Tell us a bit about the track itself.
Mez: Basically, "Magnum" is a tune from me and Diamondz. I made it when I went to link Diamondz, but it's a tune that I've had parts of for some time; I've been saying "I'm a Magnum, I'm drinking myself" for a while. Obviously, it's a ting, so I just thought: "Let's flip this." So I've just come to do the video with Tim & Barry.

How did you meet Tim & Barry? Have you known them for long?
I've known Tim & Barry since I did my first Just Jam. They invited me to do one a while back, still. So I did one where I was spitting with Mak Ten, and Grandmixxer and Novelist was there doing a set as well. I recently did another one with Grandmixxer, with D Double and Spyro on the other one. I'm working with Chantelle Fiddy now; she knows Tim & Barry as well, so we just all linked up. Chantelle shouted them for the video and we linked up that way. 
Accents aside, Nottingham MCs have a reputation for delivering their bars a lot different to London MCs, or even Birmingham MCs. 
I wouldn't even say it's a regional thing—everyone develops their own thing. I wouldn't even say it's a city thing. For example, when I go around London, I meet people like PK and Strally and Saint. Now, they're all in the same crew, but they've all got mad different styles. To me, I'd say the variation's everywhere. It's more about the person.

Who were the MCs that you were listening to when you were growing up?
Don't get it twisted, I listened to all different eras; the Channel U era, and I've heard parts of pirate radio, but I wouldn't say they're the eras I actually listened to because I was a bit too young. The era that caught me, was when Logan Sama was on Kiss FM doing all them shows. That was the part that really captured me.

In Nottingham, were or are there any radio shows for young spitters to hop on?
There's been a couple of places but, over time, they've all been shut down. There was one called Rogue, and there was a DJ from Birmingham called DJ Free—he used to come down with Invasion Alert. They had a show on Thursdays and, for time, that was the only one I used to go to. There wasn't much apart from that, but Rogue got closed down. The only one that's left is the community radio station, Kemet. Beat Geeks DJ there on a Thursday, but apart from that, there's not really any grime on radio in Nottingham.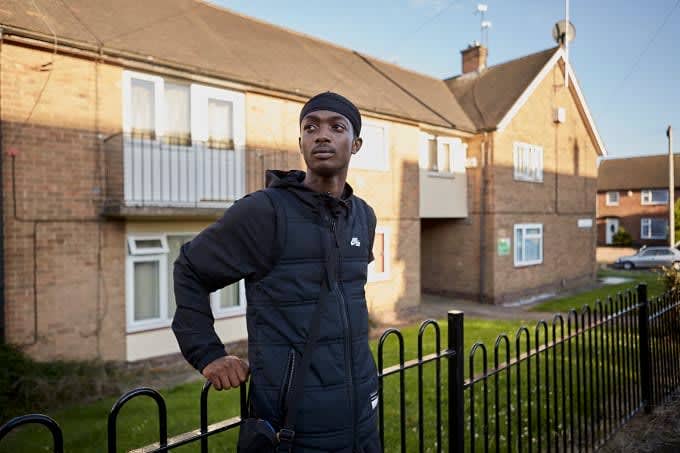 From an outsider's perspective, it seems like Nottingham's popping off more than ever—despite the lack of radio activity.
I think it's just a matter of who's beasting. If you're not beasting, then that's the end of it.
Who else from your hometown should we know about?
Producer-wise, I'd say Beat Geeks, Kidda Beats. There's not really many DJs up there. Beat Geeks DJ sometimes, Kidda DJs sometimes, but apart from that there's not too many DJs there. MC-wise, Nartz, a kid called Kaz, Kyeza, Jaydot—just the mandem, really. 

Are there any big grime nights in Notts? 
There was a good little venue, a place called Bar Eleven. When I first started going there, the DJs used to play a lot of grime and that, but it's more like a bassline ting now. When they play bassline, it fully goes off! I'd say, if you like bassline, go to Bar Eleven... Or even Stealth! That's the best place they've got over there. When people come do their shows, like Stormzy and that, they normally go to Stealth. To be honest, apart from that, there's not really much raves like that in Nottingham. Saying that, Detonate do their ting at a place called Brickwork as well. Little things like that, but there's not really many raves apart from them three. 

Is that because everyone moves to London once they've reached a certain level?
Nah, that's just where it's at. Because there's not really too many venues, people have to make that move.

When did you first come down to London?
The first time I came was when I was 16, I think. I came with Blenda for a set on Deja. I think it was a Spooky set and he invited loads of people there. There was like 50 people in there! That was the first time I ever came out and really saw what radio was really about. After that, over time, I just started coming down more and more by myself.  

Was there any push-back from other MCs for not being from London? 
The maddest thing is, you see that first set? That was a good set for me to go to first. That was the first time I experienced any of this. There wasn't anyone pretending to be your friend. It was like, "Cool. This is how man are gonna move." You have to remember—I didn't know anyone. Coincidentally, before this, the only interaction I'd had with London people was when I did a tune for Cadell and Novelist and they did one back. They were the only ones I knew. So when I went to that set, and the only man I knew was Cadell, it's like: "Fuck it! Whatever happens, happens. I'm just here to spray." It took bare time for me to do my ting, but, when I did, I just cut loose. I can't lie: there was four people there that, for the first time, I could say I actually sprayed with them. Just from seeing me there and seeing me spray, they actually respected me. That day, I spoke to Lady Shocka, G Man from Slew Dem, and two other man. From there, I had earned it.
So how old were you when you first started spitting?
Don't get it twisted: when I say "started", there's obviously a turning point where you say, "Cool. Now man's actually started MCing." I've had little turns when I was in primary school, and I had another turn when I was in Year 6. After that, probably Year 7; that's when I started properly spraying. Then, after that, I'd say I was still on a joke ting. When I got to 13, I actually wrote a bar so I've been properly writing bars since I was 13.
Do you remember what that first bar was?
I can't, but I do remember I was on a tune with a guy called Kyeza. I went in to do my verse and it was on a Ghetts beat. I think it was on "All Black Winter". Kyeza did his verse, I went to freestyle my verse and, because it was community radio, the guy recording me, Trev, was like: "Oi! What you doing, blud?" He actually schooled man like, "You're on some joke man ting. You need to fix up, write the bar and then do this ting properly. If you're gonna do it, do it properly. Don't be on some half-hearted ting." But since then, I've been writing. As for the actual bar, I can't really remember it.  

Did you ever get into producing?
You know what? I tried producing before, but I didn't actually get into it. That's the honest truth. I gave it a little turn; I didn't really decide to make a riddim, but I had a mess about on the keys, tried a couple things. But I didn't really have another turn after that. Man ain't got no computer! [Laughs]

Beyond "Magnum", what else are you working on at the minute?
I've got a couple tunes with Diamondz, I've got some tunes with PK, and I've got a couple tunes with Grandmixxer. I've been working with Grandmixxer quite a bit, still. He's secretly making the only sound right now that I want to work on. I don't feel like anyone else is willing to make that. I feel like everyone thinks they're past that, if that makes sense. Everyone wants to make hits now. Man don't feel like grime is hits anymore, and that's a shame. I'd say Grandmixxer is the only person I'm around right now, producer-wise, that actually really believes in that sound still. So yeah, Grandmixxer, PK, Diamondz, a couple tunes with Faze Miyake, a couple with Footsie as well.

So loads to come then?
[Laughs] You know, you know—a couple bits.