How Romeo Santos Blew Up Without Pandering to a Crossover Audience
The king of bachata talks about his new album, 'Golden,' and how he stays a star without watering down his music.

Freelancer Writer: words at BuzzFeed, MySpace, Billboard, Billboard.biz, The Big Takeover, The Village Voice, NME, Spinner, Rolling Stone
Aug 01, 2017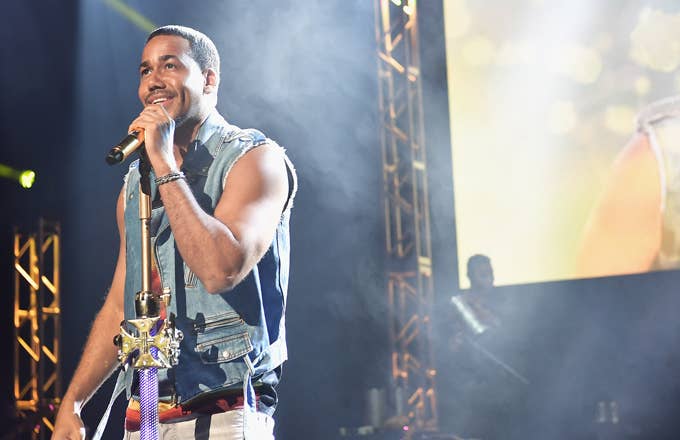 Getty
Image via Getty/Gustavo Caballero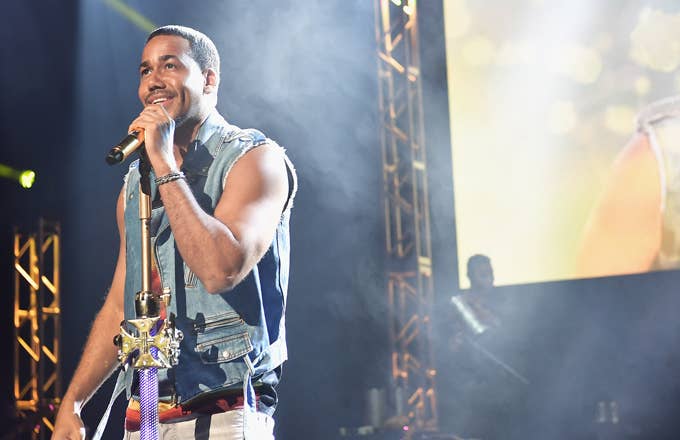 If any artist earns hyperbole, it's Romeo Santos. The self-proclaimed king of bachata is a one-man music empire who, as one of the most popular musical artists right now, subverts all preconceived notions about what a modern Latin artist needs to do to be successful. He doesn't believe in crossing over because once you hear his first two albums, Formula Vol. 1 and Vol. 2, and when you hear his latest masterpiece, Golden, your English-speaking butt will cross over to him.
The CEO of Roc Nation Latin isn't sweating genre or language limitations, but how to grow as an artist while collaborating with fellow perfectionists. Complex spoke to Santos about his persona, his collaborations, and those sexy live shows.
This interview has been edited for clarity and length.
Golden plays to your greatest strengths and shies away from what's expected of a popular Latin artist in 2017—you make your own rules. After the success of your first two solo records, where was your head with this album? What were hoping to accomplish?
When I begin working on a production I don't really think about my previous album or albums. I try to have a real creative process. This album, I wasn't really sure if it was going to be a continuation of Formula since I have Vol. 1 and Vol. 2. I didn't have too clear an idea of what direction I was going to take musically. I just went into the studio with a lot of melodies and ideas and themes and started creating music. When we were four records in I felt like that I had so many different sounds and so many different concepts that it was just shifting away from the Formula Vol. 1, Vol. 2 vibe. It just felt like it had its own character. This was different.
I had a lot of mature ideas, musically speaking. I wanted to touch things I'd never done before: bossa nova, a little bit of jazz, and it felt golden because of the first collaboration. When you have Julio Iglesias on a song, I think that's golden. I think the Golden concept comes from the artist that I have featured in the production: Juan Luis Guerra, Daddy Yankee, Nicky Jam.
How did the Julio Iglesias collaboration come to be? I think most Latinos grow up with his music. You definitely did.
Absolutely. Being able to feature him in a record, before even being able to listen to the music, it's a statement. He doesn't really do many collaborations—I think the last time he did a collaboration was over 30 years ago, and when he does, it's covers of his own songs that [are being] reproduced. This is a very special record to me. I don't know if at this point people know the theme of the record. I want people to appreciate it, to hear it and try to figure out what the song is about because it has a subliminal meaning. We're talking about this friend that we value and appreciate who can be influential and get us in trouble at times because I can tell you it's not really about what 95% of the people think it's about. I want to challenge people.
Will you tellme what it's about? Or are you going to leave it up for interpretation?
I'd rather not say. [Laughs.]
There's not enough mystery in pop music as is. Did you get to write with Julio? How did you facilitate that?
It's truly a blessing and an honor to say that all the artists on my album allowed me to pretty much write everything—the lyrics—with the exception of the Jessie Reyez record, "Un Vuelo A La," because she's a writer as well and I wanted to give her the opportunity to bring those elements and style of writing into that song. The reggaeton record with Daddy Yankee and Nicky Jam, I'm entering their world so why would I do a disservice to myself to write everything when I know these guys have such a great style? Every other record I wrote. The Julio Iglesias record I wrote and sent it to him and he loved it. I flew out to Spain, recorded his vocals in his home studio and it was an honor. We had an amazing time. He has an amazing sense of humor.
You brought up the Jessie Reyez track and the Daddy Yankee, Nicky Jam song—both of those stand out as the most different on your record, musically—especially the Reyez song. There's almost a doo-wop quality to it. Did you decide to explore those genres because it's what they wanted to do as a collaboration? How do you make them Romeo Santos songs?
I love music. I do proclaim myself king of bachata because I have to represent my genre. I have to always come out and put on the Superman cape. I'm pretty much representing my culture. I'm not going to change that. But I definitely don't want there to be a misconception where people are like, "the only thing he likes to do is bachata." It's what I mainly do, but I grew up listening to everything. I always want people to expect the unexpected, to hear me in records that have nothing to do with bachata. Golden is the golden opportunity for them to appreciate me on other records. Reggaeton is something I've had great success with when I collaborated with Don Omar, now, I have the opportunity to work with Daddy Yankee and Nicky Jam so this is going to be, in my opinion, a huge record.
Even with your huge success in Latin music and internationally, you never change to appease anyone. You're not leaning into the idea of crossover music. Is that intentional?
I've always had a theory, I've always told people, look: to be perfectly honest with you, I don't think Latin artists need to sing in English or do a complete pop record to crossover. I think that obviously we've seen a lot of great artists do it, like Shakira and Enrique Iglesias, and that's phenomenal. But the music industry in general has changed in a way that people just enjoy music. The perfect example would be "Despacito." You're listening to reggaeton with Justin Bieber participating and even though he's singing in English, he does spit a few lines in Spanish and it's still over a reggaeton beat. To me, that's amazing, because I've always tried to get people to understand that. I've done that with Usher, ["Promise"], I had the No. 1 song I don't know how many weeks on Billboard. I did it with Drake. I have a bachata record with Drake, ["Odio"], that was No. 1 for 13 consecutive weeks. To say that I sold out two Yankee Stadium [dates] and that I'm a bachata artist is a sign that we don't need to crossover in that way. We don't need to change our music format.
You've worked with Usher, with Drake,with Nicki Minaj but all your collaborations on this record are with Latin artists—with the exception of Swizz Beatz, but he's a producer.
I met Swizz—Jay-Z made the introduction and put in a great word, which I appreciate because he gave him the 411 on my status. To be able to work with Swizz and create this beautiful record—and again, you're talking about bachata, I could've done a lot of things. I could've done hip-hop. It's beautiful to see how we can do something productive and beautiful while we're learning [from each other] at the same time. I was seeing how this man operates, making beats and vice versa from what he's told me. That was a super dope session. There was just a great, great energy in that session.
You're the king of bachata, which is Dominican music, but you're also Puerto Rican. There's a song on Golden called "Ay Bendito," that starts with a recording of coquis, the small frog only indigenous to the island that sings every night—and there's a cuatro, a traditional stringed Puerto Rican instrument. Was that a little "I got you" to your boricua fans?
To be honest I didn't really try to go do this record to try and go get my Puerto Rican fans or do it intentionally—it's organic. I grew up on that type of music from Puerto Rico and thought, you know what? It has an interesting melody, and I thought about the fusion. I have a great musician in my group that grew up with that music and plays cuatro, shout out Alvin Medina. The record just pretty much evolved from there.
You're known for these super sexy live sets—there's an actual bed involved. You're a romantic performer. Does that come naturally?
I'm the type of artist to try to give what fans want. I have the responsibility of trying to go into this sexiness, if it feels organic. I don't want to just write a record that has a serious theme and try to be sexy with that. I think the best way to describe it is that everyone I have ever met, I have most likely written a record about your situation or your life. The erotic, sexual records are probably the ones that become the most popular because the reality is that sex sells. I wouldn't want people to have that concept of "Romeo is a sexy artist. Everything is sexy." I have sexy records, and on stage, I've created this character of Romeo Santos is a lot riskier than me, Anthony, the real person. I would say I'm a little bit of everything—secure, confident and sexy, but I'm a bit more conservative. If that's what people want and that's what people like, that's what I'll give them.
And they like fantasy, the Romeo Santos world.
It's definitely a world, yeah.
What's in store for the future? In the last couple years, you were featured in Furious 7, you voiced a bird in the Angry Birds Movie. Is more acting on the horizon?
I would like to get into the acting world but I really think you need to right situation and discipline. You need, more importantly, the time. You have to be able to give 100%. Right now I'm focused on my album. Golden is my No. 1 priority, but I would love to get involved. If someone calls me with something that's not that time consuming, like a cameo, I'd definitely be down if it makes sense.