This is part of Complex's The 1996 Project: Looking Back at the Year Hip-Hop Embraced Success.
1996 was a great year for hip-hop—that is, until the whole 2Pac getting murdered thing. Reasonable Doubt, It Was Written, ATLiens, and Muddy Waters are four of the classic rap albums to drop that year, none of which warranted a cover in VIBE magazine.
 In VIBE's defense, it was never just a rap mag. Quincy Jones' stated goal was to found "a Rolling Stone for the hip-hop generation," but the staff—which I joined at the magazine's launch, in 1993—aspired to create something closer to Vanity Fair.
With all due respect to The Source, Rap Pages, and Murder Dog, VIBE changed the game in hip-hop journalism. With backing from Time Inc., we had deeper pockets than most, and we served up some of the best journalism, photography, and cultural criticism hip-hop has ever seen. Yet our multiracial staff and corporate connects were always viewed with some suspicion by the hip-hop community. We had to earn respect by doing great work—and we did a lot of it, printed on large format heavy stock paper, left over in a warehouse after Life magazine folded.
VIBE was the first periodical to cover rap, R&B, rock, reggae, dance music, fashion, sports, and politics—all through the prism of what people were just beginning to call "urban culture," another way of describing what Steve Stoute would later dub The Tanning of America.
"At the time there was no Internet," says Keith Clinkscales, the magazine's founding president and CEO. "There were no text message updates. There was VIBE. The Source was an afterthought. As the president of VIBE, I was the commissioner of the culture. CNN, all those guys—when shit got real they were coming to VIBE. It wasn't just some rap magazine."
To be sure, there was nobody like Gilbert Rogin on the masthead at other hip-hop publications. An elderly, eccentric former managing editor of Sports Illustrated, Gil's title at VIBE was editorial director. He and his colleague Bob Miller, former publisher of SI, played decisive roles in getting the magazine green-lit in the corridors of power at Time Inc. before ultimately breaking off from the parent company to found the stand-alone business VIBE Ventures. Although Gil was rarely present in the office, he would occasionally kill stories from his home in Connecticut or fax extensive notes demanding rewrites. Sometimes his edits were journalistically valid, but his complete disconnect from hip-hop culture was a constant source of frustration.
Twenty years ago VIBE was three years old and still finding its way under its second editor-in-chief, Alan Light. The first EIC, Jonathan Van Meter, had either resigned or been forced out after a creative dispute with Quincy, who objected to the unbearable whiteness of JVM's cover choices. Q killed an ultra-expensive Madonna and Dennis Rodman shoot because the Beastie Boys had graced the previous issue's cover, and his vision presumably meant featuring people who wouldn't make the cover of Rolling Stone—more on that later.​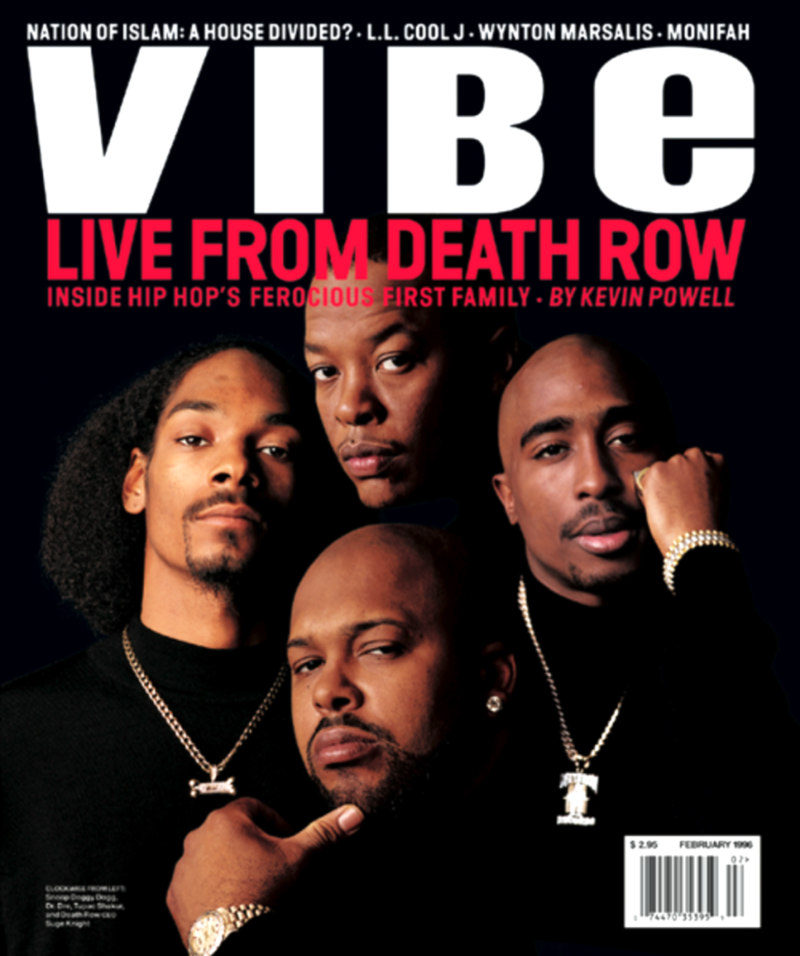 VIBE's cover choices in '96 reflect the magazine's wide-ranging mandate: Whitney Houston, Mariah Carey, R. Kelly, and the Olympic Basketball "Dream Team" on a gatefold cover (the worst seller of the year but still pretty awesome). With the exception of the Fugees (who earned their cover look on the strength of their certified-diamond sophomore album, The Score) and Bone Thugs-n-Harmony (whose Sacha Jenkins-penned cover story stands as one of the finest pieces of writing the magazine ever published), the '96 rap covers were pretty much part of one continuously horrific narrative: December 1995/January 1996: "Live From Death Row." September 1996: "East vs. West—Biggie and Puffy Break Their Silence." October 1996: "Free At Last—Dr. Dre is off Death Row and on a Mission to Rule the World." November 1996: "Tupac Amaru Shakur 1971-1996." (This cover was supposed to be about New Edition's reunion, but 'Pac's murder compelled us to staple a second memorial cover over top of the New Edition joint at the last minute.) Finally, to close out the year, December 1996/January 1997: "Snoop Dogg: Last Man Standing—Without Tupac and Dre Is Death Row Still America's Most Wanted?" Notice a theme here?
The narrative would come to a tragic conclusion the following year when Biggie was murdered, nine months after his former friend Tupac Shakur, just as he was leaving a VIBE magazine party in Los Angeles.
---
The first artist to be featured on VIBE's cover was almost Janet Jackson, but Van Meter declined the opportunity to run exclusive outtakes from the janet. album cover shoot, which her label was offering—sight unseen. After VIBE passed, Rolling Stone happily agreed to use the label's images, which became the iconic hands-over-boobs cover. The coincidence was ironic, given Quincy's mission statement. The mainstream media (which none of us really considered ourselves a part of, no matter how big VIBE got) was already catching the vapors.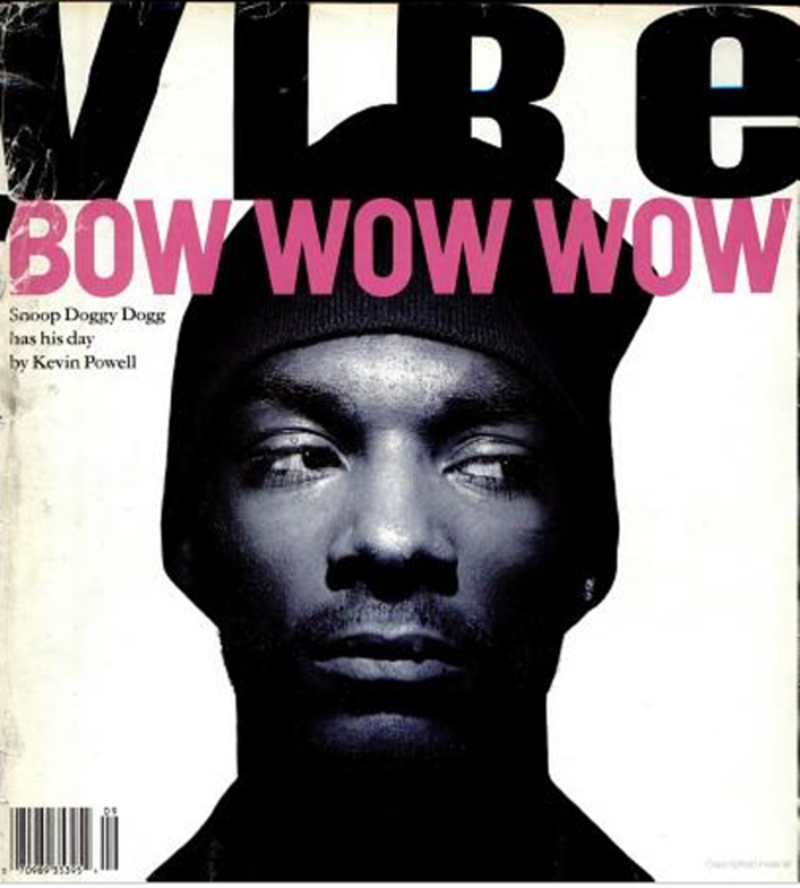 It's interesting to speculate how VIBE's future might have been different if Janet had been the first cover subject. Instead we decided to send staff writer Kevin Powell—a talented young journalist who had become famous from a stint on the first season of MTV's The Real World—out to Los Angeles to profile a new rapper named Snoop Doggy Dogg. It was the summer of 1993, and Dr. Dre's masterpiece, The Chronic, had set the world on fire, pushing uncut gangsta rap onto MTV (back when they played music videos) and into the pop charts. Profiling Snoop was the right call, and Dan Winters' photoshoot was so amazing that Death Row Records bought the outtakes to use for the CD booklet (remember those?) in Snoop's debut album, Doggystyle.
That same September 1993 issue contained Scott Poulson-Bryant's lengthy profile of Sean Combs, an A&R at Uptown Records who was responsible for the success of Mary J. Blige and Jodeci. I vividly remember Scott—the man who came up with the name VIBE when the much less compelling title Volume had to be changed at the last minute—explaining that the hip-hop generation was not just interested in the artists; they wanted to read about the inner workings of the industry and considered the young black execs behind the scenes to be celebrities in their own right. Van Meter had the good sense to trust Scott's instinct, and our piece on the A&R who was then known as "Puffy" was the first serious coverage he ever received. Of course it would not be the last: Just as the issue was going to press we learned that Puffy had been fired by his mentor, Andre Harrell, setting the stage for the phenomenal rise of Bad Boy Records.
---
Contrary to popular belief the tensions between the East Coast and West Coast were not created by the media. There were real hard feelings, real money on the table, and real blood spilled. To paraphrase De La Soul, stakes was high. But I'd be the first to admit that the press in general—and VIBE in particular—played a part in fanning the flames. Sometimes in ways that we could not have foreseen.
A byproduct of being one of the few reputable publications covering hip-hop was that anything we printed was taken very seriously by labels, managers, producers, artists, and their respective crews. It was not unheard of for rap journalists to get stepped to by mad rappers (literally and figuratively) for expressing critical viewpoints that were much less reckless than your average YouTube commenter in 2016. Oftentimes, the flashpoint was some innocuous thing that you never expected to cause trouble. 
My first inkling of the brewing East/West feud came when the manager of a certain NYC mixtape DJ, who had received what I considered a pretty nice writeup in VIBE's "Start" section, called my phone, outraged. "Y'all giving these West Coast motherfuckers all this love—now we gonna show you how New York niggas get down. Wait till we start kidnapping motherfuckers."
"CONTRARY TO POPULAR BELIEF THE TENSIONS BETWEEN THE EAST COAST AND WEST COAST WERE NOT CREATED BY THE MEDIA."
On subsequent calls he threatened to shoot up the lobby of the magazine's office, which had recently relocated from the Time-Life Building to Lexington Avenue, at the same address as Loud Records. When I reported these threats to Keith Clinkscales—who now works for Sean Combs as the CEO of REVOLT—he assured me that it was no big deal, that if there was any real trouble he would know about it before it happened. I thought the receptionist, at least, had a right to know, and I made sure to inform her of the threat. After some more tense phone calls I agreed to meet the DJ's manager, and we settled our issues like gentlemen. Years later I heard he was arrested for extorting an employee at Profile Records.
The next receptionist we had was a young man who took to keeping some security in the desk: a billiard ball in a sock and—perhaps the most ill-advised promo item in history—a VIBE boxcutter. The circulation department had them made as a gift for newsstand distributors so they could slice open boxes of issues, but they soon circulated through the office on the low, just in case.
There is an important distinction to be made between broad coastal rivalries of the sort mentioned above, and the beef that existed between Sean Combs and Suge Knight, the Piru-affiliated Compton native who was so memorably portrayed recently in the film Straight Outta Compton. Knight is currently behind bars for running his red pickup truck over two men, killing one of them, after being kicked off the set of that film.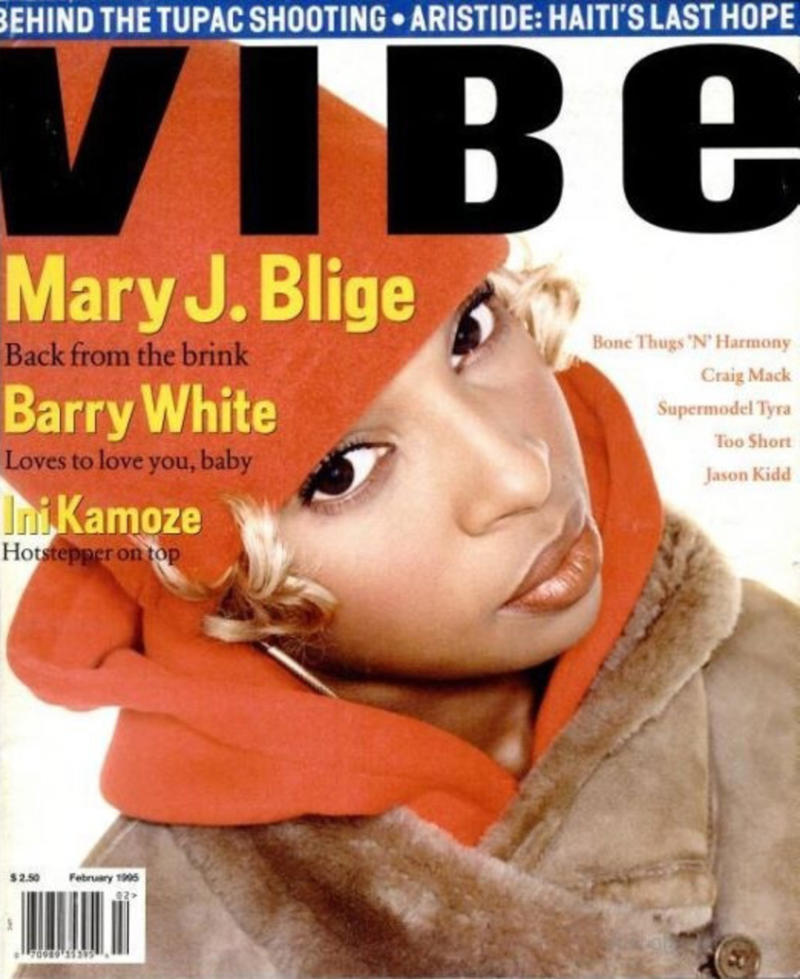 Not content to build his Death Row empire in Los Angeles, Knight had the whole music industry shook when he started laying the groundwork for Death Row East. Nobody in New York wanted to go on the record, but we all heard the rumors that Suge had strong-armed Andre Harrell into renegotiating Mary J. Blige and Jodeci's contracts at Uptown Records. In a February 1995 VIBE cover story on Mary, Puffy—who no longer worked at Uptown but was still closely aligned with Mary—tried to put a good face on things. "Me and Suge, we close," he told VIBE's Emil Wilbekin. "There were no problems or anything like that. He was like, 'Yo, Puff brother, if you need me, it's all good.' But no, he's not her manager."
The fatal shooting of "Big Jake" Robles, a close friend of Suge's, by Puff's bodyguard Anthony "Wolf" Jones outside an Atlanta nightclub in 1995 increased the tension considerably—as did Suge's taunting of Puff at the 1995 Source Awards and the New York crowd booing Snoop, who did not hesitate to let the audience know how he felt about the lack of love. Tha Dogg Pound's "New York, New York" video, with Snoop, Daz, and Kurupt kicking over Manhattan skyscrapers, arrived a few months later.
Word is that Biggie used to write lyrics while listening to Dr. Dre's The Chronic. There's a rare Bad Boy promo cassette of him rapping over Dre beats, but the King of New York always wanted to do it for real. According to DJ Premier, the day after the '95 Source Awards Biggie approached Suge Knight at the New Music Seminar to ask if Dre would give him beats for Life After Death. As the story goes, Suge said, "Yeah aight," and then walked away.
VIBE's impact on the mainstream media became obvious in January 1996 when The New York Times Magazine ran a cover story featuring Suge Knight, Snoop, and 2Pac. Celebrity journalist Lynn Hirschberg got crazy access for her piece "Does a Sugar Bear Bite?" At one point in the story Suge bragged that 2Pac had been intimate with Biggie's wife, Faith Evans, which did not help to ease the building tension.
When Biggie and Puffy attended the March 1996 Soul Train Awards to collect the "Song of the Year" trophy for B.I.G.'s "One More Chance" remix, 2Pac rolled up on him outside the venue in a dramatic scene that was recreated in the movie Notorious. By June 1996 'Pac dropped "Hit 'Em Up," one of the most scathing diss tracks in rap history, bringing things to a boiling point. That same month, Biggie tried to make light of the situation on "Brooklyn's Finest" off Jay Z's debut album, Reasonable Doubt, but there was no way to laugh off 'Pac's words of war.
When blame gets assigned for all the bloodshed and misery that followed, Beats By Dre billionaire Jimmy Iovine should not be left out. "Hit 'Em Up" was not a mixtape joint or an Internet leak; it was the B-side of 2Pac's official Death Row/Interscope single "How Do U Want It." As co-founder of Interscope Records, Iovine had to sign off on the release of a record on which 'Pac rapped about sleeping with Biggie's wife and closed out by saying, "Fuck Bad Boy as a staff, a record label, and as a motherfucking crew…. Die slow, motherfuckers. My .44 make sure all y'all kids don't grow!"
Mobb Deep caught a few stray shots on "Hit 'Em Up" as well, and the Infamous Queensbridge duo responded in kind a few months later with "Drop a Gem on 'Em," in which Havoc accused VIBE magazine of being "on some love shit" due to our extensive Tupac coverage. As a staff we had love for countless artists—Biggie was then, and remains, my favorite rapper of all time—but the fact that 'Pac was romantically involved with Quincy's daughter Kidada had nothing to do with our editorial decisions.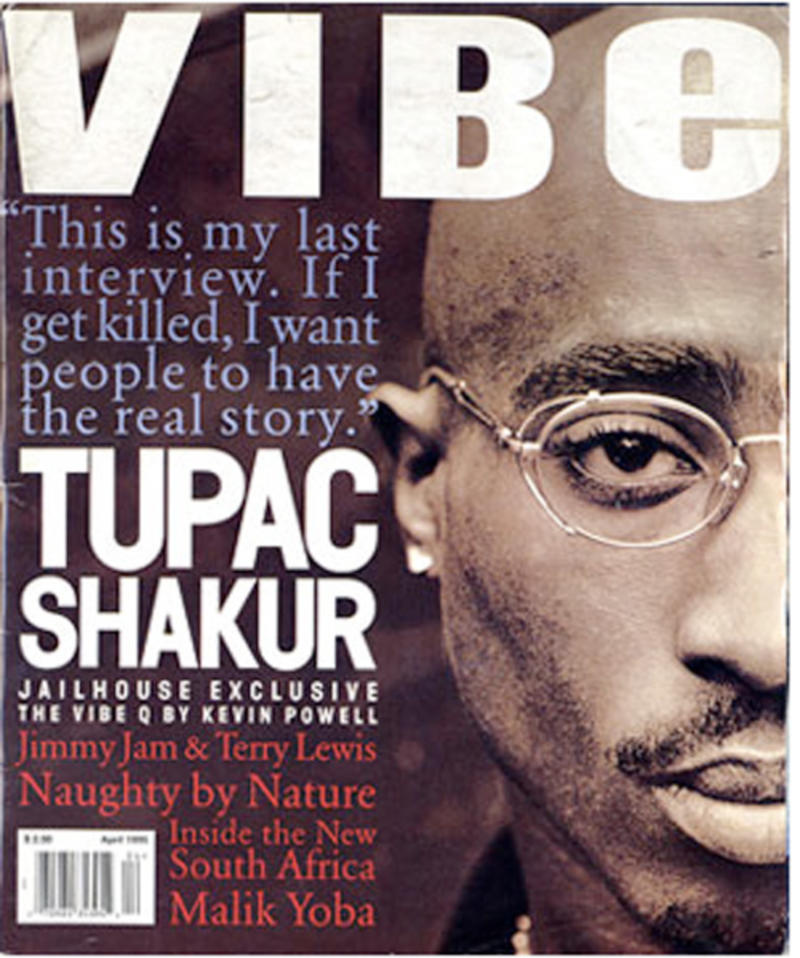 So why did Tupac appear on the cover more than most artists? Let's keep it real: He was a superstar who sold magazines. 'Pac didn't just make great records; even his interviews were classics. Though Jonathan Van Meter didn't quite understand him—I remember him pointing out the contradictions between "I Get Around" and "Keep Your Head Up," saying, "They should call him 2Face"—VIBE's readers were fascinated.
As the mag's readership grew, VIBE and its fledgling website became the main platform for the beef to unfold. Kevin Powell's explosive Rikers Island interview, in which Tupac insinuated that Biggie and Puffy had set him up to be robbed, beaten, and shot at Quad Studios in Manhattan's Times Square, marked the first time Biggie had any idea Tupac—who was formerly a close friend—had problems with him. Our decision to change the names of two of the people in the story, both because they were not public figures but rather "street dudes" and because we could not verify the things 2Pac was alleging about them, would come under fire in years to come. I corrected that error in judgment when I edited Cheo Hodari Coker's Biggie biography, Unbelievable, which was optioned for the film Notorious, with Coker co-writing the movie's screenplay.
---
For all its flaws, Notorious kicked in the door for hip-hop bio pics, paving the way for Straight Outta Compton and, without a doubt, many more to come in the future. The film also showed just how notorious VIBE's September 1996 "East vs. West" cover truly was. That issue, and particularly that cover line, has become the symbol of media hype that preceded the murders. When Fox Searchlight did the deal to option the book, they specifically requested the right to recreate that cover using the actors who played Big and Puff. Sitting in the theater, watching VIBE magazine slide across the big screen like the shark fin slicing through the water in Jaws, tears filled my eyes.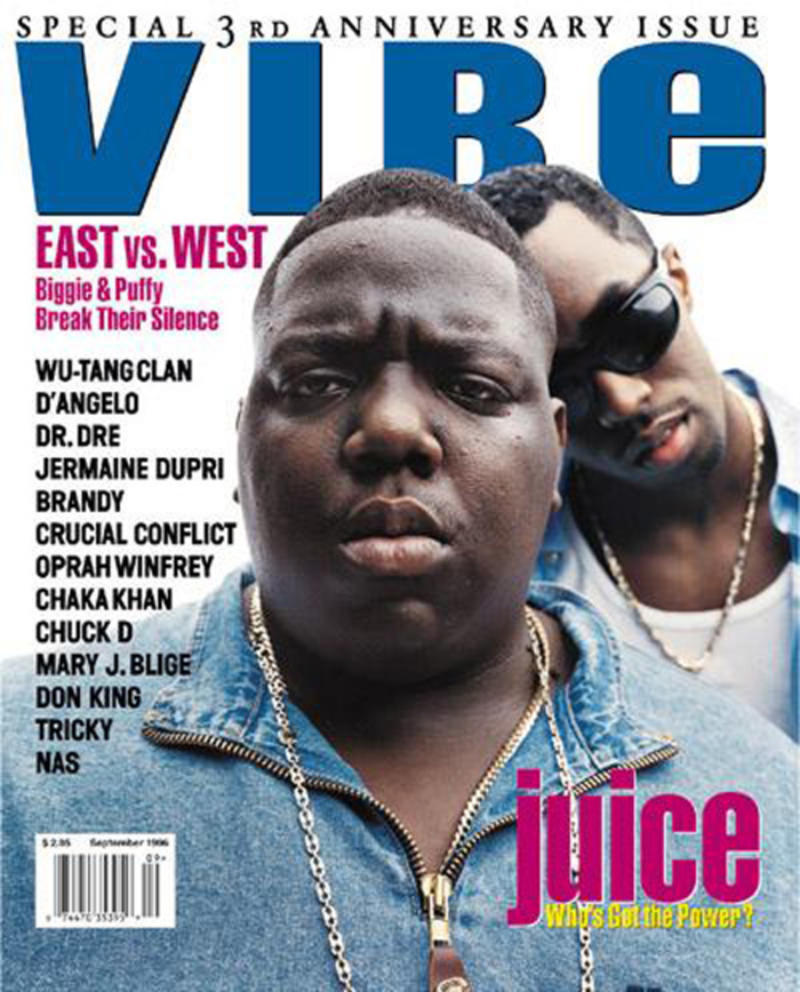 As features editor at VIBE I edited that article, along with my colleague Carter Harris. All of us were keenly aware how much was riding on this article. Larry "Blackspot" Hester, writing his first cover story, went up to Daddy's House to conduct an exclusive interview with Big and Puff. Throughout the interview, the artist was calm and reserved while the young exec was animated and forceful. Between the two of them, one major theme emerged: They wanted to squash this beef, as quickly and peacefully as possible. Whatever else they may have been doing in private, this was their public position—and VIBE had the privilege of printing their first words to the press since "Hit 'Em Up" dropped.
After we completed a painstaking editing process, I passed the final copy to Editor-in-Chief Alan Light, after which we discussed cover lines. Dana Lixenberg's photographs of Big and Puff were iconic. We almost didn't need any words. Issues were going to fly off the newsstand regardless of what coverline we chose. I made a point of stating that we must not use the phrase "East vs. West" on the cover, adding that the situation was so tense that if anything happened to anyone in the Death Row or Bad Boy camps we would have "blood on our hands." My suggested coverline was "Where's the Beef? Big and Puff Kill That East West Noise."
When the magazines came back from the printer with "East vs. West" on the cover, I was stunned and outraged. I burst into Light's office in a state of utter disbelief. He seemed stressed, perhaps because he knew exactly how I felt about the decision. Twenty years after the fact, I spoke to some of the players in the decision to find out what happened.
"The thing to remember is how far things had developed at that point," Light says now. "This is after 'Hit 'Em Up.' We talked to Biggie about that song in the piece. This is after the 'New York, New York' video with Tha Dogg Pound stomping on the skyline. We were doing good journalism. It wasn't something we were fabricating or initiating. This was what 100 percent of our readership was talking about. I don't think that in that context it was irresponsible to say, 'This is a story about the thing that you're all thinking about and talking about.' Obviously you look in retrospect and you look through a different lens. But the way that story gets told now is that that cover created the hostility, when the point of the story was that this hostility was fully in motion."
"people who say that the magazine somehow caused the deaths of 'Pac and Biggie either don't know the real DETAILS OR THEY'RE PLAYING FAST AND LOOSE WITH THE TRUTH." —CARTER HARRIS
"I hated that cover line and argued against it," Harris remarks. "But people who say that the line or the magazine somehow caused the deaths of 'Pac and Biggie either don't know the real details or they're playing fast and loose with the truth."
"We weren't the only ones," Blackspot concurs. "Everybody—rappers included—was in on this too. Everybody was doing records and making all kind of bank. But when it came to passing blame, we were the only ones that caught it. We were like the poster boys. Since the shit hit the fan, nobody else wanna own up to their part. This was one of the most defining parts of my life, B. That whole shit was crazy."
"It pains me that the cover may have made a bad situation worse in terms of the conflicts that were already brewing," says Harris.
"I've been feeling bad about it for years," Blackspot adds. "To the point where I've wanted to contact his mom and apologize to her for me being involved in it. What was said in the article was the truth. I truly believe that there was a rift between the East and the West. It had turned into that. My thing was to say, yes, it's there, but here's what Bad Boy is saying. Not to make an 'East vs. West' story. Which was one of the reasons why I was against that cover line."
"What that line did was to diminish our work," Harris continues. "It felt gratuitous, and it felt inconsistent and untrue to what the article was about. It diminished the journalism in general that we were doing—to be serious and responsible and careful and cautious about reporting that stuff. It made it seem like we were tabloid fodder, and that's not at all what was going on. We did a lot of important work at that time, and all people remember is 'East vs. West.'"
"There's always that question with cover lines and headlines," says Light. "Is it always a perfectly accurate representation of what's inside? God knows nowadays in a clickbait world, headlines are total head-fake, traffic-driving things. I think we were in uncharted territory. Number one, there was no precedent for a situation like this. Number two, to the extent that there had been dangerous situations or conflicts in the rap industry before, there wasn't an outlet that was doing this kind of coverage. So we were definitely out on the high-diving board with every decision that we made. The reason everybody was so concerned was that we knew we were in dangerous and risky territory."
"IT WAS A DECISION THAT WE MADE, AND I HAVE TO SAY THAT I STAND BY IT." —ALAN LIGHT
On the day when I first asked Alan Light why he decided to go with that line, he mentioned that Keith Clinkscales and Gilbert Rogin had pushed for "East vs. West." "What I remember is that we were all discussing and debating how we were gonna do it," Light says. "It was a decision that we made, and I have to say that I stand by it. I don't wanna back off that and say, 'He made us do it.' I don't think that's totally fair. We were listening to all sides and trying to figure out the right way to play it. I can say that those were voices in the room: Keith and Gil were the top of the chain, and they were both involved in that. Other editors were involved in that. I'm not gonna say that I know who's the one who made the decision. It was all being debated and discussed. These are collaborative enterprises. It's not a question of one person dictating what it's gonna be. But those are the people who would be making the decision."
Clinkscales remembers things differently. "I feel the cover was excellent," he says. "I feel the tag line was not what was instructed. It was something that I was overruled on because I was on a plane to the West Coast." As the company's president and CEO, Keith was spending a lot of time on the West Coast at the time, developing a VIBE TV show. He says he argued against the "East vs. West" cover and set a clear mandate that we should not be encouraging any form of conflict. "Was it on the cover? Yes. Did I approve it? No. But the reality of the situation is that I didn't approve the cover in most cases. The editor approves the covers. Because of the nature of that cover, it is quite natural that I would have been involved in it except for the fact that I was going to Los Angeles. Ultimately the mistake I made was not making sure I saw the final proof. I'm proud of the story. Proud of the job Blackspot did. Proud of the editing that was done. I'm not proud of that cover line. I wish I wasn't in L.A."
"In all honesty, on an editorial level we had more of a conscience about what was going on," Blackspot recalls. "But I think on an executive level that conscience was gone. It was difficult to hold back certain things, specifically that tagline East vs. West." He recalls a meeting where Keith Clinkscales pulled him and VIBE's columnist and consigliere Bonz Malone into a room to ask their opinion of the East vs. West cover line. The writers vehemently opposed it but left the meeting feeling that their objections would be overruled.
"No, no, no," says Clinkscales when told of Blackspot's account of the meeting. "It's funny how history works. What Larry may be remembering is a meeting we may have had after the cover came out."
"You man up and live with decisions that you were part of," says Light. "I'm trying to imagine a scenario in which a cover like that would've been switched up without his [Keith's] knowledge. I'm not gonna say that's not possible. I mean, it's possible, but that would surprise me."
---
Mobb Deep would not be the only one to point the finger at VIBE magazine. While chatting with the Huffington Post last year to promote his latest movie role, Method Man expressed his frustration with the hip-hop press, particularly VIBE. "With that East-West crap, VIBE should've got a bullet instead of 'Pac or Big," said Meth. "When they put that cover up with B.I.G. and Puff on there, when B.I.G. took that picture, he didn't take that picture thinking East vs. West. He took a picture thinking, 'I'm going to be on the cover of VIBE.' What came after is what solidified East-West beef for all the dumb motherfuckers around that don't know how to think for themselves. Maybe they just don't like West Coast people, maybe they just don't like East Coast people, but that fueled the fire.... 'Pac even said himself, 'You guys injected yourselves into a beef that was just between me and Bad Boy [Records].'"
I respectfully disagree with Meth that anybody at VIBE should have got a bullet. This was the biggest story of our time—one that movies are still being made about. We reported on the situation accurately and with extreme sensitivity to the gravity of the situation. But I will always regret having anything to do with that East vs. West cover line. VIBE was not the only media outlet or radio station who fanned the flames, but that cover would become the official scapegoat for all the media's misdeeds.
"VIBE WAS NOT THE ONLY MEDIA OUTLET OR RADIO STATION WHO FANNED THE FLAMES, BUT THAT COVER WOULD BECOME THE OFFICIAL SCAPEGOAT FOR ALL THE MEDIA'S MISDEEDS."
Nobody talks about the radio stations that spun the diss records or the executives who released them. Nobody talks about how that same month The Source ran a cover story on Suge Knight—posing in a red suit in front of a Rolls Royce with a cover line about how the Death Row boss "Rolls Over His Competition." Both covers were on stands the night Tupac was murdered in Las Vegas, shot at a red light while Suge drove him up the Las Vegas strip. Nine months later Biggie was dead too, and we all went through a period of soul searching. VIBE continued to pursue the story at least as hard as the Las Vegas and Los Angeles police. Our investigative reports during that time were second to none, always driven by a sincere desire to expose the truth and bring the killers to justice, but neither we nor the powers that be managed to solve either crime. (Former police officers with books to sell don't count.)
In the issue VIBE published after Biggie's death—bearing the cover line "When Will It End?"—Keith Clinkscales inserted a publisher's note which I was asked to edit. In it, he admonished the whole hip-hop industry to "increase the peace" or else we would "all have blood on our hands." The irony of hearing an echo of my own warning—after two of rap's greatest talents had died—was almost unbearable. When XXL magazine launched its preview issue, we all knew who they were talking about when they wrote, "We won't get your favorite rappers killed."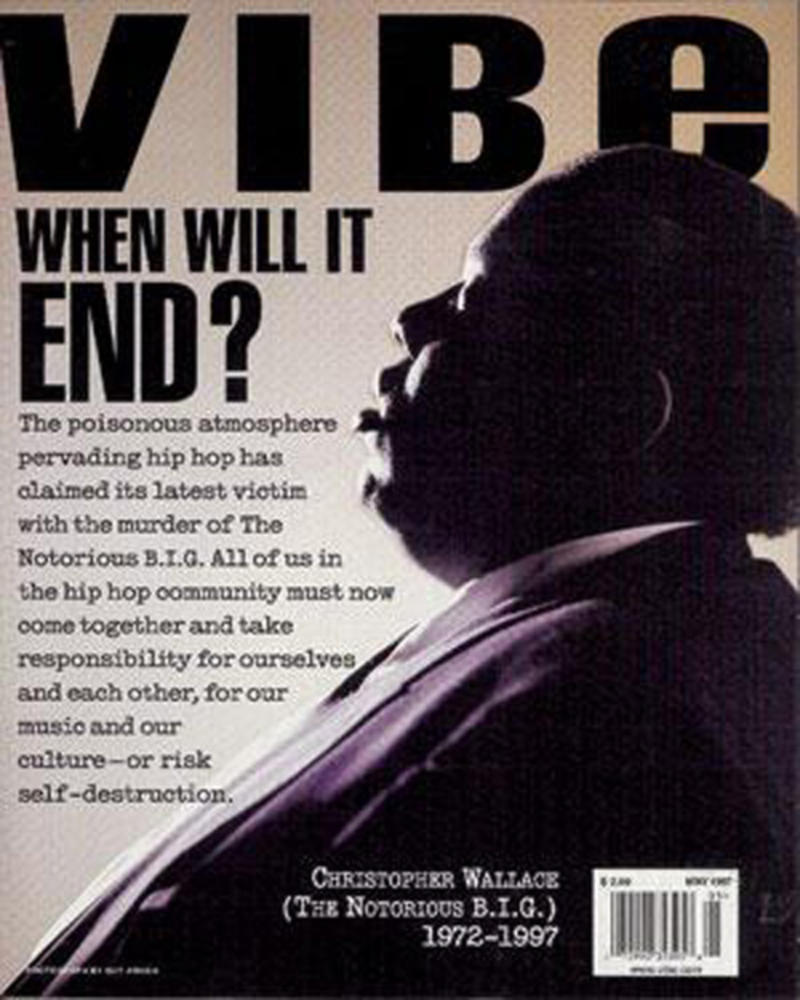 In 1997 Puffy appeared on the cover of Rolling Stone—one of the few hip-hop artists to get that coveted spot—and told the story of Biggie's death for the first time. He was getting on with his life, as we all had to do. Depending on how you look at it, that moment marked either the fulfillment of Quincy's mission or the beginning of the end of VIBE's relevance. The magazine's most profitable years still lay ahead, but hip-hop culture had been officially certified as mainstream pop culture.
After Biggie's death I changed my job description focusing my efforts on books like Unbelievable. I spent years on that Biggie biography out of respect for Christopher Wallace's life, his family, and his artistic legacy.
Would 'Pac and Biggie be alive today if VIBE had made different editorial decisions? I honestly don't know. The media didn't kill 2Pac and Biggie. But it still hurts to feel like I saw this tragedy coming a mile away and was powerless to stop it.
Want more from The 1996 Project? Visit the links below.
"Talkin' 'Bout Houston: Bun B and ESG Remember the Year the City Broke Out"
"Never Change: Is Jay Z the Same Rapper He Was 20 Years Ago?"
"The Best Rap Songs of 1996"