Lady Leshurr's slow burn to brilliance has kept her within painful proximity of breaking through for far too long. Releasing her bulletproof Queens Speech EP at the end of last year, the 27-year-old MC's long-deserved global popularity has finally popped off, allowing her to come through and claim her throne at the upper-echelon of rap royalty. Selling out shows from Brixton to The Gramercy Theater in NYC, Leshurr—née Melesha O'Garro—is the definitive 0121 empress who is proud to wholeheartedly represent her Birmingham endz. And she grafts 24/7, progressing her inimitable fast flow and impactful delivery to emulate her ultimate idol, Missy Elliott. Having disappeared from the scene for twelve months, to regroup and consider how to harness the level of attention her talents warrant, Lesh surrounded herself with the people she loves and respects; refocusing her values, grounding herself away from all of the hype. A deep believer in God, she patiently awaited her time and maintained faith that her genius on the mic would soon be acknowledged. And it's safe to say, that time is now.
Counting nine mixtapes and four EPs to date, her outstanding Lil Bit Of Lesh tape dropped in 2014 and was a click-and-download must. Now working on her official debut LP, high-profile collabs have been hinted at but Leshurr keeps the suspense pending, TBC'ing all the rumours. Trailed by kids up in Sainsbury's chanting brush your teeth, introducing grime to transatlantic audiences, she's spearheading a British rap resurgence flanked by heavyweights such as Stormzy, Skepta, Kano and Dizzee. Lesh is important for now—refusing to swear or contemplate drugs and violence on wax—and her intentions for the music is to present her elite lyrical prowess with a watertight finish, battle rap style, mixing comedy with current social phenomena to create a brand that invites followers to unite. Content releasing material outside of the control of major label dictatorship, Leshurr is non-conformist and a feminist in the face of rap's more sexually exploitative themes and content.
Major names like Timbaland, Erykah Badu and Chris Brown are all aboard the LL train, showing support and backing the emcee as a prolific talent who possesses the kind of power to change the face of new music for the better. She may be uncomfortable with name-dropping, however hers is currently the name carrying the greatest sovereignty. Complex caught up with the small, strong, and empowered young artist who understands the importance of remembering her roots. 
Having watched your journey for the last five, six years—watching you MC now, your flow and delivery is flawless and well-established. What processes pushed you forward from then to now?

I've definitely changed. I think I've become less technical because I'm really about my lyrical content, and the flow, and the technique. Now, it's easier for people to sing along with my lyrics. When I was younger, growing up, all I wanted to do was rap. But now, because I've been doing music for so long, I've realised what I need to do in or order for people to be able to understand and sing along to my music—and that's what makes a popular track. The formula now, is simple but effective. I'm not just gonna write a lyric without trying to reach the listener when I deliver it, so I've definitely progressed as far as thinking how to make a lyric and how I want to present it. 
Your lyrics are bulletproof—are people less likely to try and cuss you out since the Queen's Speech EP went viral?

You know what's funny? I get more hate now than I ever did before. I think it's because no one is actually doing what I am doing at the moment. Some hip-hop listeners might think my rhyming is more like nursery rhymes, but the Queen's Speech series is just a project to bring some comedy to rap. Some people don't get that and they think I'm being really serious about it all. 
To me, the Queen's SpeechEP is gateway music to audiences unfamiliar with British rap music, and it opens up the genre with an element of fun. 

Exactly! That's what I wanted to do. Just like the videos Eminem and Missy Elliott used to make—the crazy videos that you want to re-watch over and over again—that was my goal. I wanted to make the videos watchable in even a year's time. I watch a lot of battle raps and have always thought: "Why don't battle rappers do a battle rap on a song and make it a song with a chorus?" I've basically created full songs out of battle rap bars. I've seen a lot of comments saying that I'm putting down other girls, but it's not geared at any female or male in particular. It's just a concept—one that I knew would get attention, because nobody has ever done this before. The majority of the time, I'm just battling myself; what I would say to myself in the mirror. It's all just freestyle. 



I know you feel a sense of inequality when described as a "female artist" as opposed to being just a straight-up artist. Do you continue to find the industry discriminatory towards your sound compared to your male counterparts, and if so, how have you managed to overcome and confront those attitudes? 

I think it's always going to be segregated, no matter what we do. No matter what we say, we will always be boxed into, "she's good for a female." That's never gonna change. Up to this day, I still get YouTube comments saying "get in the kitchen." Who do you think I am, Jamie Oliver? It's so annoying! It will always be female this, female that, because there's so many ignorant people that can't see it for what it really is: pure talent, no matter the gender. In a female category, we're never going get the recognition or the respect we deserve and that's just how life is. A lot of people think women should be purely domestic. But I've found my lane now, and whoever wants to respect me will respect me. I've just gotta let the work do the talking. 
"Some hip-hop listeners might think my rhyming is more like nursery rhymes, but the 'Queen's Speech' series is just a project to bring some comedy to rap."
You're working on a debut album now, right? Is the material quite historical or recently collated?

I've always wanted to work on an album, but I didn't feel like I had enough people to hear my story at the time. So I waited until I had enough people watching me to share my story. I have a few ideas from years before that will be added to the album, but it will be a rollercoaster ride that takes you on a journey of my life up to now. It will have uplifting songs, but there will also be real, heartfelt songs that are relatable to everyone; the kind of content that people might not think an artist would go through. 
The Queen's Speech videos are powerful. Do you feel empowered backed by those 20 million view stats?

Not really. I don't look at views and feel better. I'm definitely proud. I just feel shocked when I see those stats; I don't understand how, like, 20 million people can be interested in what I'm doing. I have to almost be someone else to look at the videos and be objective about it all.
Violence, obscenities, and drugs do not pay a prominent role in your music. Is that a conscious decision, or are these things beyond your realms of experience at this point in your life?

That's just how I've always been. I don't feel like I need to put that in my music. I grew up on Eminem, who was violent and was controversial. People protest about violent lyrics in case people get influenced, but I can honestly say that I didn't get influenced by Eminem in that way. I have never once swore in my lyrics, and I choose not to promote drugs and violence because I do not live that life. A lot of parents message me and tell me that I'm one of the only artists they'll let their kids listen to because I don't swear, or promote drugs and violence. That makes me happy because it just reflects how it's paid off, me being raised in a good family. 
You've also done a bit of acting in your time, most notably in the 2009 Brit-flick 1 Day. Could you see yourself going back into film, to either write a soundtrack, act, or even script write? 

Definitely. I used to act and dance when I was young, but I had to pick one thing and focus on it. Now that I have music and its support sorted, acting could be an option and to work on films. I like comedy; I wouldn't mind working in that area because I think I'm a funny person [laughs]. I've got banter for days! Queen's Speech is just me catching joke on the mic.
"Chris Brown's a really nice guy. He said that he'd heard about me and that I was doing really great things. For me, that was the biggest compliment.

"
Are you a mentor to any younger MCs?

I used to work on a project called Lady Leshurr's Rap College, based between London and Birmingham, where I showed young people how I succeeded and shared some advice on how they can too. So I'd like to get back into that. The youth are the future, and the majority of them want to rap these days anyway. 
What are your thoughts on the state of lyricism in the UK right now? Who's on your Spotify playlist?

I think everyone's stepped their game up and working as hard as ever. The scene is very, very healthy at the minute and it's just great to see people blossoming and representing for the UK in a major way. Artists such as myself, Skepta, Krept & Konan, we're travelling across the pond and selling out shows in America so British music, such as grime, it's transcending around the world and people are finally starting to understand it. Who's on my Spotify playlist? [Laughs] I'm still getting the hang of Spotify. I still don't know how it works! I listen to a lot of SoundCloud, though, mainly Bryson Tiller's.
How would you define your brand?

There's a few angles on that since Queen's Speech. People think it's all about money and power, and me thinking I'm the queen of rap, but it's really just me feeling like a queen and knowing that I deserve to be treated like one; I wanna empower females to be empowered and confident in who they are. I have my merchandise, with all the lyrics branded on the clothes, so there's a lot of things that I can do there too. ​
You look really healthy, and your stomach is strong! How much work does a six-pack like that take to define?

Everyone says this and I laugh every time! I don't actually have time to go to the gym. I don't know why I have that little pack; my mum has a really good figure, and I guess she just passed it down to me and my sisters. 
You appeared on the BBC Proms back in 2013, backed by a full orchestra, and your BBC Radio 1 Live Lounge showcased you singing. Do you experiment with genres outside of rap, and how does it feel to be taken out of your comfort zone with such challenging experiences?

I like to experiment and, most of the time, none of it is planned. I grew up on rock and classical, just as much as I did on reggae and bashment. I like to explore with my voice. I work closely with a few producers, namely Show N Prove and Michael Angelo, mainly because they get what I'm doing and know what kind of thing suits my vocals.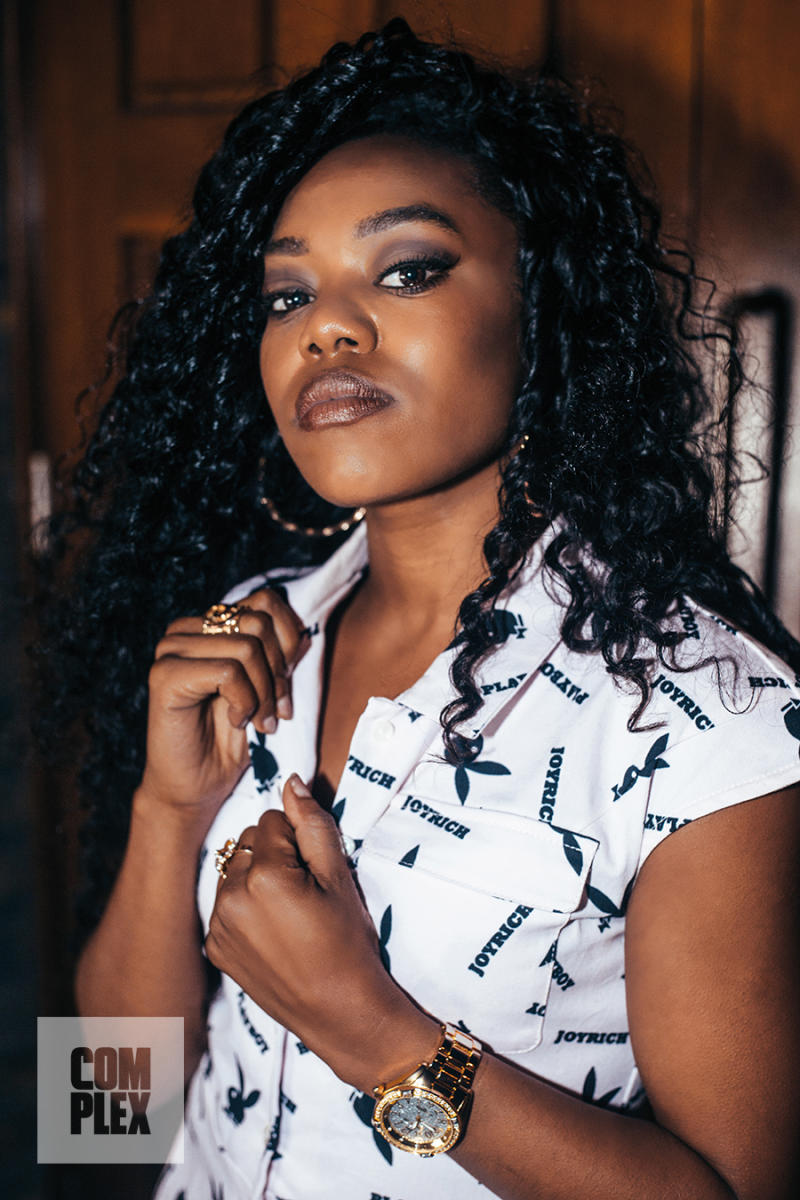 I've read up on some feeds that you spent some time partying with Chris Brown. What goes down at events that you are both attending? 

Yes I have! Nothing different from any normal event, really. I guess the one noticeable thing is the amount of screaming fans around him. Chris Brown's a really nice guy. He said that he'd heard about me and that I was doing really great things. For me, that was the biggest compliment coming from him.  
You've also spent time at Akon's house—do you have any plans to collaborate with him? 

I spent Christmas and New Year's with Akon and my manager. He's such a lovely guy; so, so humble. He gave me some really good advice when I was there and it would be great to work with him... I guess we'll have to wait and see. I actually ended up using his studio to record "Queen's Speech 5", and there's a lyric that I say, all blacked out like Akon—which was very awks [laughs]. The disrespect was real, but he laughed it off when he heard it so I was off the hook.  
Which US artists have been showing you the most support since the release of Queen's Speech?

Timbaland, Erykah Badu, Busta Rhymes, obviously Akon... I'm not gonna mention any others, because then it'll feel like I'm name-dropping [laughs].  
Outside of the UK, who would be your dream collaborations and why?

Firstly, it would have to be the bae: Lil Wayne. To be honest, he's the main reason I write the way that I do—and perform the way that I perform. It's crazy. Bryson Tiller would be another one; I love when he raps and his voice is so beautiful. He can sing me a lullaby any day [laughs]. A collab with Missy would be amazing, too, just because she's such a legend. Her style and crazy creativity in her videos inspire me to make the videos that I make. She opened the door for a lot females, as far as being a dark-skinned woman with a bit of meat on her. She did it the right way.
When you're surrounded by situations far removed from the reality of your day-to-day before the music got the recognition it deserved—what thoughts pass through your mind?

"Is this really happening to me?" And thoughts of gratefulness. I feel super, super blessed to be in the position that I'm in.
Make-up: Courtney Hunte
Art direction: Joseph 'JP' Patterson, Ashley Verse