Seemingly, every two or three years, the UK music industry births a new chanteuse with globe-worthy vocals. Of those similarly yoked: first it was Emeli Sandé, then Jessie J, and then Jessie Ware. Now, though, all eyes are on Sinead Harnett, with her effortlessly-cool demeanor and gospel-inflected tones. The singer-songwriter from North London entered the "crazy industry" in 2011, co-signed by one of the biggest names in grime and pop culture: Richard "Wiley" Cowie. After putting out a Twitter call for a singer to jump on his Chill Out Zone single, "Walk Away", Sinead's name kept on popping up and this left the emcee no choice but to hire the aspiring singer. With a handful of features and tours with the likes of Disclosure and Rudimental under her belt, Sinead Harnett is ready to go it alone with the help of her team at Virgin EMI. Complex sat down with her in a private members' club in London's Soho to discuss her past, present, and future plans for global domination.
It's good to finally meet you—I've been following your work for quite a while now. But how did it all begin for Sinead? I'm picturing you in a choir, of some sort; you've got a real gospel tone that I could see Kirk Franklin and Kim Burrell going crazy for. 

Wow! What a compliment. Thank you. Well, I grew up in north London with my mum and sister. My mum would pump Tina Turner and Michael Jackson, regularly. I've told this story before, but it's true even if it is cheesy: I used to perform Michael Jackson's "Bad" and "Thriller" and "Dirty Diana" to millions of people—in my head—​but actually, it was just an empty living room [laughs]. That's when I realised, even that young, I had to entertain in some sort of way and I loved Michael Jackson. Then, as I grew up, I got into the female diva/powerhouses like Etta James, Amy Winehouse, Lauryn Hill. What intrigued me the most about them, was just the soul and truth and often very sad moments that were coming out. I spent a lot of time on my own when I was growing up, because my mum was working and my sister went to uni. So that's what also helped me with the influence, to actually start doing it myself.
For me, singing is very therapeutic but I didn't sing in public until college days, so 16/17. My mum was quite traditional in her ways, though. She wanted me to do something academic so I wasn't encouraged to sing. But when I got to college they did talent shows every year and I was like "I'm gonna do it!" So I did that. Then I went to uni and did an acting degree, even though I was supposed to do psychology but I rebelled. It was a situation where, if I'm going to go and live somewhere and pay for three years of education, I'm going to do something that allows me to perform. So it was around that time of those teenage years where I was like, "I just love doing this. I don't know if it'll lead anywhere but I wanna do it." It was just like a hobby. I was also a singing waitress during uni. Literally, I'd put the food down and then sing to the customers [laughs]. It was like an American diner so we'd do two Motown tunes.
Wait. You sang there—live?

Yep! I also sung at Jewish weddings with a function band, and I had a little girl band in uni days as well. We were actually called Black Thai and our symbol was a black tie because she was black and I was Thai. I'm really telling you everything here! [Laughs] So yeah, it's just something that I always did.
You're half Thai, and half Irish. Growing up in those cultures, how did that hinder or help your creative process in becoming a future diva?

That is one of the best questions ever! You know what? Some people can't tell I'm Oriental now. Maybe as I've grown older... but back then, it was even more emphasised. I definitely looked like I was Chinese or something. People would take the piss a bit, though: "Haha! Your mum's Chinese," things like that. Growing up in north London, people wanted you to be one thing or the other. They'd be like, "Why are you mixed?" So the only way that my heritage could've hindered me is that maybe it was in my identity crisis. Because often mixed race children, whatever different races they have, it's like which box do we fit in? I always felt like a white girl trapped in a different body. I felt misunderstood. Also, my relationship with my mum was quite a complex one. My dad wasn't around, the Irish one, so I didn't really get the encouragement from him either. I think most kids are confused, whether it be race or how tall they are. I think now it's probably more of a help because I'm now more proud and comfortable in myself. Now, I'm just like: "Yeah, cool, I'm a Thai-rish gyal." 
So, when did it all get serious for you—how did you even get spotted?

I had made a YouTube account in my final year of uni, and then Wiley found a tune that I'd written that I was singing live. He was just tweeting away—I didn't really understand Twitter—and before I knew it, I was walking down High Street Ken with him after recording a chorus with him that had already been on 1Xtra before we met. That, in 2011, was when it was like: "Woah! There's a music industry. There are bosses. There are publishers. There are managers. There's a label!" This whole world was opened up to me by this dude who, to this day, is mentor to me... Y'know, people have a lot to say about Wiley, but my initial feelings will always carry through. 
He's a mental genius.

You're right. And he didn't have to help Dizzee or Skepta. He didn't have to do that. Even now, on his Instagram, he's always bigging up Stormzy and Skepta because he gives a shit about what he started. He definitely paved the way.
Were you into grime?

One million per cent! When I was like 12 to 15, me and my girls used to hang out with this group of boys. And when "Wot Do U Call It?" and "Pow" came out, I seriously thought I was a bad-boy MC.
Did you spit bars?

I actually wrote bars. I remember one of them distinctly...
Please!

I can't believe I'm about to do this... I remember it ended something like "I live at home with my baby cat / He's cute, yeah, but boy is he fat." [The interview descends into howls of laughter]. I haven't revisited that side of performance but maybe one day. And you've got the first taster, which I'm sure you'll be telling people to watch out for.
Bars for days and all that [laughs]. From working with Wiley, the feature offers started rolling in thick and fast: Disclosure, Rudimental, Snakehips, Ryan Hemsworth. But how has the transition been from feature to solo artist?

Before I came to meet you, I actually just saw Mercedes Benson at Adidas. Good girl. She's from north London, same as me. She said, "I'd heard a few rustlings of feature stuff, but I didn't hear you until now." I was explaining to her when I did meet Wiley, I had just graduated and I had no idea this could even be a thing. I didn't know if I was an artist. I didn't know if I was just a singer or just doing it as a hobby. I didn't really know. So from 2011, when I first met Wiley, to meeting Disclosure and Rudimental in 2012, I was still figuring it all out. In 2013, I wrote the album and toured with Rudimental for six months then, in 2014, it was a case of finding out what else I needed to do. But this year has really been about putting it out there, so it's definitely been a process.
The album's already written, you say?

I've had it for a while now, but you know how these things go. I kinda look at albums like unfinished paintings; I don't know how else to describe it, because who knows when it's finished? Part of this is "put something out, see how that's received, then you choose your next single." We progress as we go along. I've seen that of many people as well... Anyway, in answer to your question, I feel like being part of Disclosure and Rudimental's journey gave me an insight into tour life, gave me an insight into how succinct I want my album to be or how eclectic. And it was just a nice insight. I think everything, not just music-wise or life-wise, gets us to a certain point. I also had no confidence. So how am I going to be like [affects a chipper voice] "Hi, I'm Sinead! Come and listen!" I used to be really apologetic on-stage and it's only in the last year, getting to be with Rudi for six months on different stages around the world, that I've really been like "I need to just work on that." Otherwise, you're just gonna end up saying sorry for singing!
Where do you think your talents lie more: songwriting or singing?

That's a well hard question! I've never been asked that before. I find songwriting so...
Because you could write songs for the rest of your life, but singing, maybe…

Yeah, because a lot of careers last like two years. And then how do you stay current and relevant? I don't know... Who knows what makes a good artist? Someone's Stevie Wonder is another person's Vanilla Ice! I think I'd probably say writing, though, because all I have to offer is my truth. I guess with singing, I can always try and improve. I can do lessons and stuff. But with writing, I'm always going to have experiences to share. 
For you, what are the clear differences between penning an EP and writing an album?

With an EP, I think there's a lot less pressure and it can be more of one type of sound. Whereas, with an album, I look at it as if I was an onion; it's each layer being stripped back. I told MistaJam that live on air and he was like "don't ever tell me that again. That's the most boring thing anyone's ever said live on air." [Laughs] My first EP was quite chill, it had quite a summery feel to it, but I wouldn't want anyone to think it's just one thing. I want to tell a story. So I'd say the album is probably a little more challenging.
On the album, you've worked with Two Inch Punch (Jessie Ware), KOZ (Kendrick Lamar) and James Fauntleroy (Justin Timberlake, Rihanna), all of whom are pretty big deals. 

I really loved writing out in America with the last two. Everything that James came out with or that I got inspired by, I was like: "I could just sing this." In terms of other artists featuring on the album, it's very much TBC at the moment. The thing is, you can write something and then two minutes before it goes up it'll be like "well I was chilling with Drake last night and he's going to jump on it." When that will happen, I don't know. But I just followed him on Instagram, so we shall see [laughs].
Let's talk "She Ain't Me". You mentioned in a FADER interview that this was the first time you really spoke about your own relationships on wax. What was it that made you want to finally do that on this track, and why did you avoid it before?

I don't want to get too deep because, obviously, neither of us are counsellors [laughs]. But basically, I've always chosen the same sort of guy and they've always done the same thing. After a while, I know all women know this feeling, it's like how many times do you have to learn a lesson before you actually learn it? How many times do you have to get the lesson? It was a time where I just wanted to challenge myself because I had a body of work. I hadn't really spoken about when someone betrays you. But I loved the beat and the guys in the studio were pushing me, asking where my feisty bitch was at. In the end, I was like "Fine, okay... I've got a situation... Fuck it!" And it came out.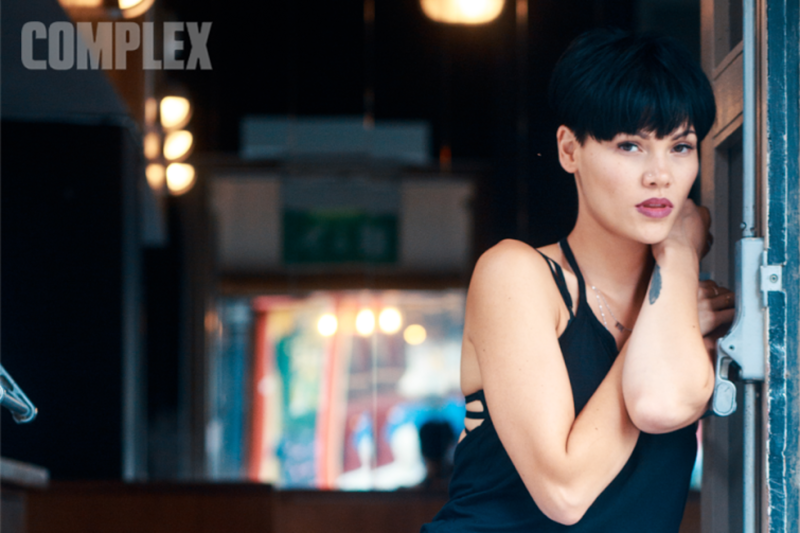 Did it take a lot for you to get to that stage?

Not really, you know. It was really easy. There's other songs on the album that were a lot harder to write which aren't about relationships. Well, they are about relationships but not with me and a man—but not with me and a girl either [laughs]. Family members. That's where real deep sadness is. But with guys, I protect my heart. They only really broke the top layer... So anyway, it came up rather easy. It was a bit of a middle finger to all of the guys who had done it to me and done it to my girlfriends. What's the point? If you're gonna be with someone, just be real.
Are there any other subjects you try and avoid when it comes to writing?

I never really want to write like "Oh, this is so great—you and me." Unless it's got the swagger of D'Angelo... I dunno, it's just got to have that swagger to it. It doesn't come naturally to write about really lovey-dovey stuff. Although, many people hear songs as love songs that actually might not be love songs. You know the Wretch 32 tune, "Don't Go"? Apparently, it's about music. It's about his love for being a musician. You'd think he's saying "don't go, I love you." I used to live in the same complex as him and we were standing at Reading Festival, me, him and MistaJam, and I was like: "Ah, man, we live together!" Mistajam was like: "Is there something you guys aren't telling me?" But no, I don't live there anymore. He missed his chance [laughs].
"Do It Anyway" is your newest single; it's strong, and you seem to be putting your foot down on a few things. Tell me about the story behind that track.

It's another song that came later in the album process, another song that took me out of my comfort zone. My early features stuff is very much my comfort; "Boiling", "Hide", those neo-soul, cheeky rim-shot hip-hop beats—it's so easy for me. That's where I'm from, what I love. With this song though, I was in the studio with Mojam and they played me the bass and I was in such a frustrated mood. I was kind of angry at a lot of things at that time. The most prominent feeling was I just don't want do what everyone's telling me that I should or what you think's right for this and this. And also just people around me, there was a lot of fakeness going on so I was just like "I'm going to embody this in this tune," and that came out.
You just mentioned fakeness; have the people around you been acting funny about the fame?

I don't look at myself in any way other than a working musician or artist. The same way that I'd look at a working teacher. We're all climbing a mountain, whatever sort of mountain it is. It's not like I'm doing a Drake [sings "I can't even leave the house"] I'm not saying that. I guess it's people around me that maybe think they know better or thought they knew better. It was more people in the same world as me, rather than people from home being like "who do you think you are now?" And also, it's a celebration of just owning your own path. Don't be ashamed. Be you! Be comfortable in your own skin. It's easier said than done, I know, but it's great when you get to that stage in life. 
What category would you put yourself under: "pop" or "urban"? The lines are so blurred these days—plus, to me, you've got a real American appeal, as opposed to someone like Jess Glynne whose sound is uniquely London.

I love Jess! She's actually a good friend of mine. Jess' sound definitely has a home feel to it, and she is absolutely smashing it right now. It's weird, though, because this American thing keeps coming up. It's like every artist I grew up with was American, apart from the Amys. Is it that influence or is it just how it comes out? That's just how I sing. I was never doing a Kate Nash with "moy foun-day-shun." That didn't come out. It just had a little twang. So, I guess I see myself as... Well, we all want to do well in what we love so I'd love to be a popular act that's got an urban flavour because that's just me. I'm not trying to trick anyone here. We spent £20 a week on food shopping. I ate rice every day. I'm not going to pretend I was [affects American valley girl accent] "born into money." No, no. I'm just real, and I love urban music. I mean, Wiley is my founder and my musical dad! Actually, I think he'd be offended if I said that; he's my musical uncle/bro/fam [laughs]. 
Are you currently focusing solely on Sinead Harnett: the artist? Say for instance Disclosure asked you to jump on another track, would you be obliged to or are you just continuing on your own personal path right now?

I think definitely each case has its own merit. Because I had a session the other day with Digital Farm Animals and I loved what we wrote together. Whereas, there'll be some sessions with other people that it didn't work. It really depends on the music. I'm not like "no, I'm not doing a feature." To be honest, in the grand scheme of things, I haven't done a feature that's a number one. I've always done things where I'm being me on someone else's journey. It's often been near the beginning. So for all Joe from Berkshire knows, I've never done a feature. I'd never say never, though.
Do you see yourself as a singles artist or an album artist?

Well, these days, everyone wants an album full of singles because people buying albums is just diminishing through our hands which is quite depressing. But instinctively, album. Just because I just love music that isn't all huge singles. When I buy albums, I don't always pump the biggest ones. With Kendrick's To Pimp A Butterfly, I always bang out the one that James [Fauntleroy] is on, "How Much A Dollar Costs", and I loved "The Recipe" from the last one too... I don't know if that was a single... And "Money Trees". So I'd say I'm an album artist because I wanna put out what I love and that's not always going to be a straight up radio tune.
What are your top five albums?

Amy Winehouse's Frank. Lauryn Hill's Miseducation... I don't know which Bob Marley one I'd pick; you know when you just feel great because Bob Marley's on? Justin Timberlake's Justified... Hmm. I've got one left, and I haven't said Prince or Stevie Wonder. But I don't know if I want to say one of them. My fifth one will be... See, this is so difficult because I just wanna say like N*E*R*D or Pharrell or Timbaland. So, just all of them for the fifth one!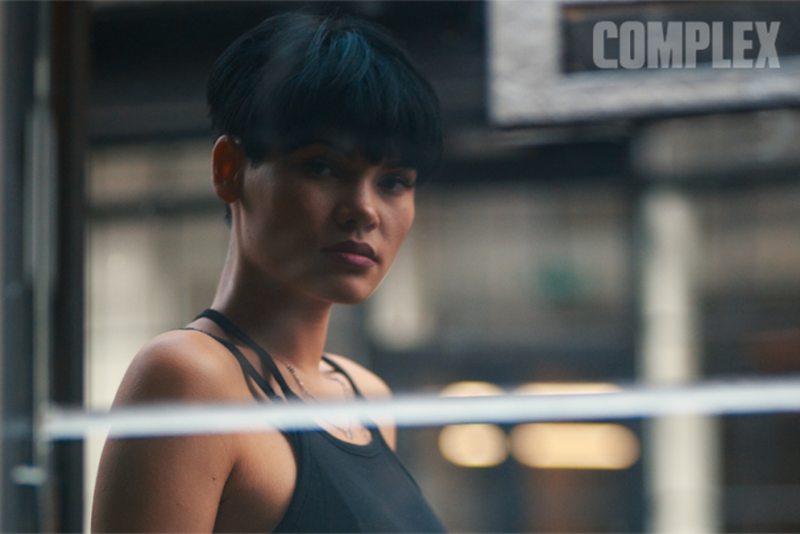 So what are your plans for the future? It's a cliché question, but where do you see yourself in five years, ten years? Mansion in LA?

Well, I'm not going to do anything but give you the ultimate of that impression. Because a girl can dream. I would like to have a plan of selling an album worldwide, be touring, meeting people along the way that have inspired me, e.g. the Pharrells and whatever, and write with them. And make just sick tunes with them. I'd really like for my friends and family to be happy and for me to be able to help them. I'd like to get a balance. Don't you think balance is the hardest thing to obtain and then maintain? It's like work-work-work-work! You can't go to friends' birthdays. They think you're a bitch, that you're stuck up. Actually, I'm just working! Often, people can think that it's glamorous. I'm not even at the Beyoncé level so I don't know but it's still a grind, as you know. And then I would love to write a second or third album.
Before we wrap this up, is there anything else that you want your fans and potential new fans to know? 

For those discovering, the first thing they hear might be "Do It Anyway" and I guess what I want to say is that there's more to the album than that. There's also stuff that you can move to but there's stuff that will make you think about a lot of different things in life.
Was writing this album therapeutic for you?

I think so but I think we can never run out of therapy. That's a blessing because hopefully I can write forever.
That's a gift in itself, being able to have a therapy session with your own self.

It really is. I guess I'd also want fans and future fans to know that the album's going to be eclectic and definitely truthful.
As a supporter of good music, that's all one could hope for.

Just trying to sell a few records out here! [Laughs] It's mad how saturated it is now, though. It feels like a "Hot! Right! Now!" generation.
The want for quality is lost.

Exactly! Did you ever see the Brits last year when the Arctic Monkeys won? He said something like "rock & roll will never die!" and he was clearly fucked. Hopefully good music will rise... Do you know Kwabs?
Talented guy.

I feel like he'll be doing this forever.
You and him both! You guys' music, it's not for the throwaway generation.

Fingers crossed, fingers crossed. I've just got to keep on writing.
Are you just continuously writing?

The only time to break from writing is when I'm touring or doing promo and shit like that. But I try and fit it in because you never know when you're going to write something epic.