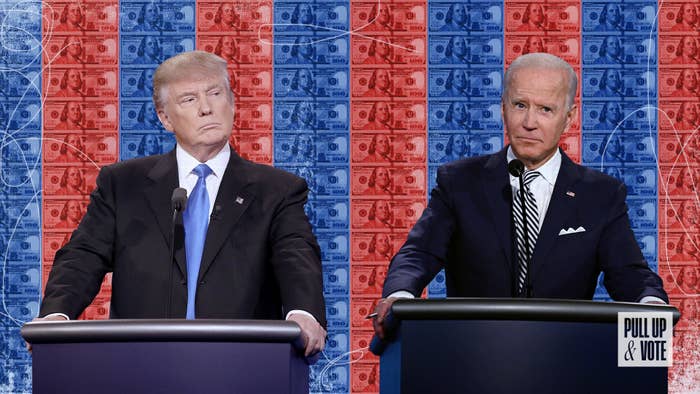 Even before the pandemic, millions of Americans were living under difficult financial circumstances, 69 percent of Americans had less than $1,000 in savings in 2019, and many others were struggling under the weight of slowing income and rising costs . That's a far cry from 2016 where the Federal Reserve's Survey of Consumer Finances painted a rosy picture that found the average American family had about $40,000 in savings spread across assets like bank accounts, stocks, and prepaid cards. Still, such wasn't the case for everybody, and the lingering pandemic and associated economic crisis continues to put an unbearable weight on countless already struggling Americans. With the extra $600 a week in unemployment becoming a fast fading memory and the uncertainty over passing a stimulus plan on uber-polarized Capital Hill, the future for many looks bleak.
Regardless, what is certain is that there will be an election on Tuesday, Nov. 3, 2020, and the outcome—like it or not—will have some effect on your bottom line. We combed the candidates' policy plans and records to get a better idea of how each candidate, if victorious, would affect the most important parts of Americans' finances.


Trump
For years, activists have pushed for an increase of the federal minimum wage to $15, especially in service industries where workers are often forced to work multiple jobs, sometimes at the current federal minimum wage of $7.25. President Trump, over the years, spoke somewhat positively about an increase, out of one side of his mouth, and sought to curtail it from the other. He's also said the move should be largely left up to the states, and in early 2020 tried to claim victory for a so-called "Blue Collar Boom" that was actually a rise in wages spearheaded by the states themselves. 
Biden
On his campaign website, former Vice President Joe Biden said "it's well past time we increase the federal minimum wage to $15 across the country." While he promises greater worker protections and penalties for those who fail to compensate workers under the law, the website is also thin on details about how Biden, if elected, would push such a measure across the finish line and make such plans and promises a reality. Such an achievement would likely require control of the Republican led Senate, which last year refused to take up a House bill increasing the minimum wage, to flip to the Democrats. 
Both candidates have called for changes to student loan repayments, in addition to relief, as the pandemic and its financial impact continue to shock parts of the economy. 
Trump
President Trump, in early August, extended repayment stoppage and interest rate relief, for at least some with student debt, until the end of this year. In addition to such measures, Trump proposed changing the shape of student loan repayments, including fixing income-based repayments at 12.5 percent interest, as well as canceling student loan forgiveness, limiting student loan amount totals, expanding Pell Grants, and reducing federal work-study programs by about $630 million.
Biden
Vice President Biden's plan includes free tuition at four year universities for families that earn less than $125,000 annually, two-year tuition grants for students who attend minority-serving institutes like Historically Black Colleges and Universities, and free community college tuition for first-time students. The education dollars continue to flow with the canceling of some student debts, a revision of income-based repayment to five percent of annual earnings, and a doubling of Pell Grants.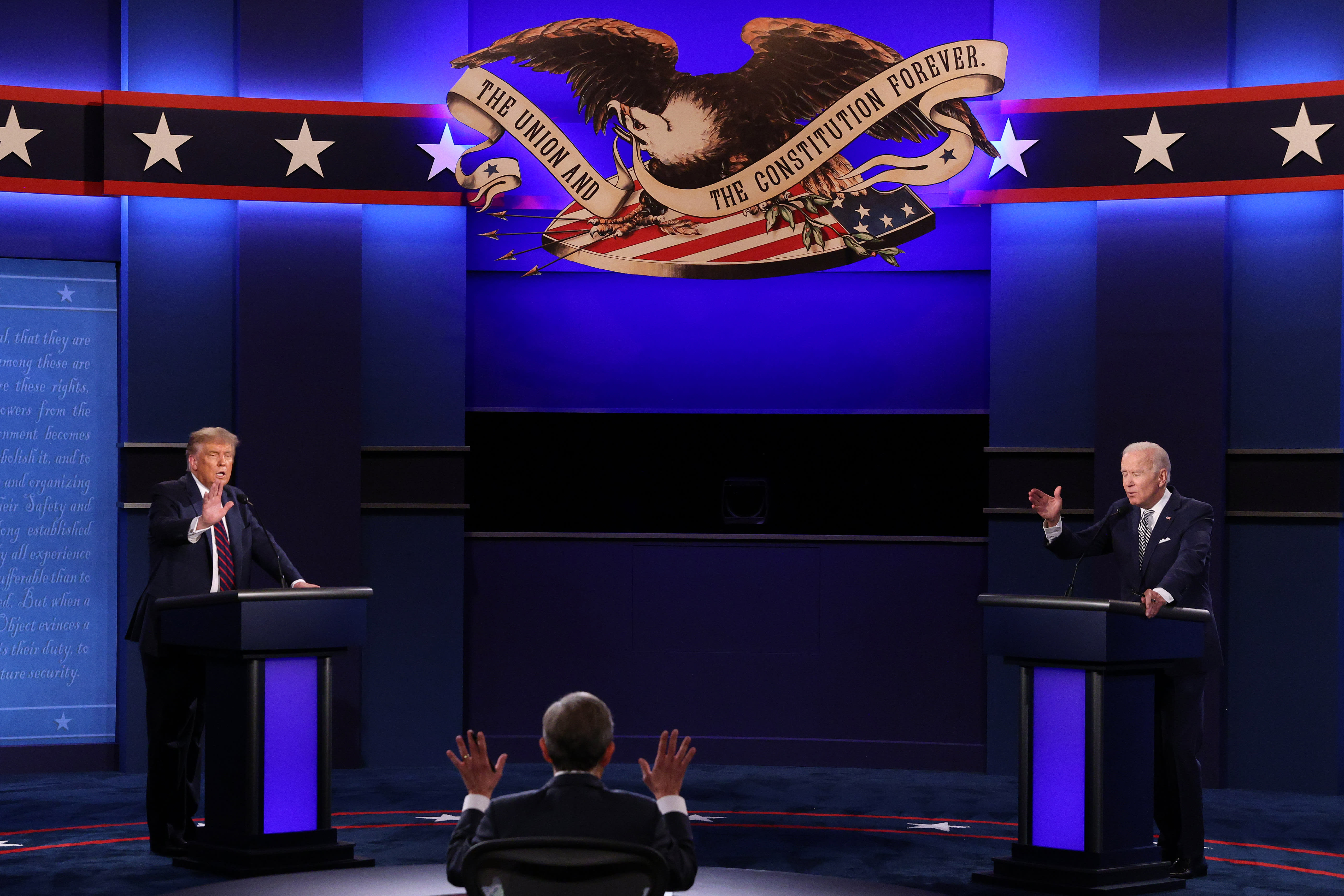 Trump
While Trump's tax cuts and agenda are framed as mostly being for the rich, a New York Times analysis of the president's 2017 tax plan found that nearly 65 percent of Americans received a tax cut including about 69 percent of households earning between $30,000 and $50,000 annually. Only 32.1 percent of those that brought in less than $30,000, however, received a tax cut. 
Although those cuts will soon expire, Trump's second term plans focus on broad efforts like jobs as well as "End Our Reliance on China." The majority of the plan includes tax cuts for businesses hoping to increase employment, in addition to middle class tax rate reductions that are being framed as cuts. 
Biden
Among the myriad changes under Vice President Biden's proposal is the aim to reform the tax code from one that rewards wealth to one that rewards work, according to the candidate's website. While Biden plans to reform the tax structure and increase levies on businesses and the ultra wealthy, in an effort to fund a variety of other programs, he has also proposed instituting tax credits for renters and first-time homebuyers, and an increase to the child and dependent care tax credit. A teacher and an electrician with a 7th grader and a newborn could receive an additional $2,600 bringing the total to $6,600, according to Biden's website, while A nurse and a grocery store clerk with a 2-year-old and a 5-year-old could see an additional $3,200—or $7,200 total.
Biden
Biden's advisors, in late August, told Axios the former veep's economic recovery plan could reach as much as $3 trillion and would be implemented as early as January 2021 should he win the November election. Yet the plan is also vague on promises of additional cash payments, whether in the form of a check similar to the $1,200 stimulus sent out earlier this year, or bolstered unemployment benefits.
While many hoped the addition of California Senator Kamala Harris to the ticket would mean additional money—due to her support of a $2,000 monthly stimulus check—it seems actual payments, if any, will be slower to arrive.
Trump
President Trump's executive order, issued in August ,extended extra benefits but reduced the amount to $400 a week with 75 percent coming from the Federal Emergency Management Association and the remaining quarter coming from states. Yet the current conditions of many states, who find themselves cash-strapped, in addition to other restrictions could reduce that amount to $300 and for some it could be a meager $100 or nothing at all. 
All policymakers, including the president himself, are in support of second, cash stimulus payment, however the president recently took the stimulus plan hostage, and told his representatives to halt negotiations for a plan until after the election.
Whichever way you lean it's important to take both candidates' campaign plans with a grain of salt. They make promises, but when, even with best intention, has a candidate actually been able to fulfill all of their promises? Even if the candidates aren't challenged with a divided congress, such a long list of massive undertakings will likely take months, if not years, to develop, refine, and roll out—betting on immediate relief is a dangerous plan.
With so many Americans on the brink it's hard to believe that lawmakers maintain their allegiance to pure divisiveness, but that's the reality. The good news is the federal government isn't the only potential source of relief, and while states and cities are more financially strapped than ever, they're also in a better position to help those in their community. Hence, it's even more important for voters to ensure they don't only pay attention to the names at the tops of their ballots, but also those down below who may be able to provide help. 
Don't forget that you can do your part by visiting Complex's Pull Up & Vote site—where you can double-check your registration, register to vote if you haven't, and request a mail-in ballot.