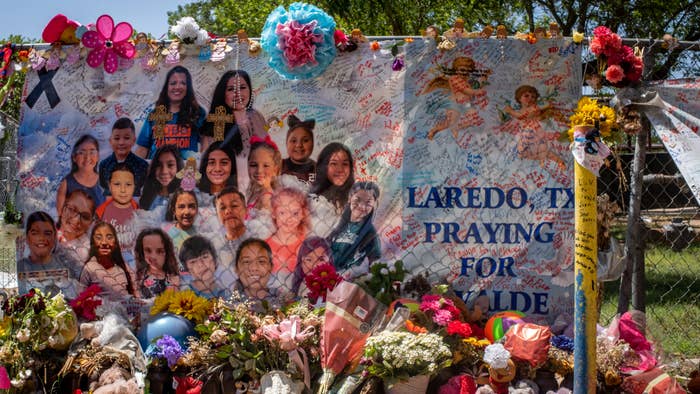 Robb Elementary School will be demolished, per Uvalde Mayor Don McLaughlin.
At a council meeting on Tuesday, per a report from Reuters, McLaughlin said it was his "understanding" that the school where 19 children and two teachers were killed last month would be torn down. He did not, however, elaborate further.
"My understanding—and I had this discussion with the superintendent—[is] that school will be demolished," McLaughlin said Tuesday, as seen in the video below. "You can never ask a child to go back, or a teacher to go back, to that school ever."
Complex has reached out to the office of Uvalde Mayor Don McLaughlin for additional comment and will update this post accordingly.
At the same meeting, McLaughlin also argued that Steve McCraw—who heads the Texas Department of Public Safety—"has an agenda." McCraw, as previously reported, said this week that the response to the May shooting marked an "abject failure" by law enforcement. Police involved in the response have been widely criticized over delayed action, with newly released details only strengthening that criticism in recent days.
"Col. McGraw has continued to whether you wanna call it lie, leak, mislead, or misstate information in order to distance his own troopers and rangers from the response," McLaughlin said Tuesday. "Every briefing he leaves out the number of his own officers and rangers that were on scene that day."
Uvalde parents and residents have also made repeated calls for accountability over the shooting. Specifically, many have argued that Uvalde CISD Police Chief Pete Arredondo should be fired. Wednesday morning, ABC News reported that the Uvalde City Council had denied Arredondo's request for a "leave of absence from future meetings."