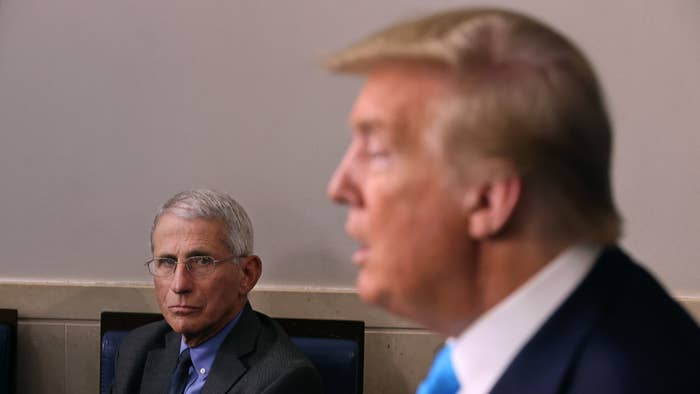 Following comments about the benefits of earlier COVID-19 containment efforts from Dr. Anthony Fauci, director of the National Institute of Allergy and Infectious Diseases, Trump took to his usual practice of ill-advised tweeting to defend the current White House administration.
In one tweeted action that's now the subject of a swath of headlines, Trump shared a post that called for the firing of Fauci, adding in his own commentary that he "banned China long before people spoke up."
In subsequent tweets, Trump pulled from his grab bag of media criticisms, claiming that he was "working hard to expose the corruption and dishonesty in the Lamestream Media." He also referred to a New York Times story—presumably this one about his team's virus response—as "fake."
On Sunday, Dr. Fauci conceded that taking a more serious approach to the novel coronavirus in the US earlier on could have saved additional lives. 
"Obviously, no one is going to deny that," he told CNN during an interview. "But what goes into those decisions is complicated. But you're right, I mean, obviously, if we had right from the very beginning shut everything down, it may have been a little bit different. But there was a lot of pushback about shutting things down back then."
He added that recommendations are made "from a pure health standpoint," though whether or not any recommendations are taken is not up to him or other health officials.
"This media chatter is ridiculous – President Trump is not firing Dr. Fauci," White House spokesman Hogan Gidley said in a statement on Monday, as reported by NPR.

For the latest updates on COVID-19, the total number of cases for which has surpassed 500K in the States, please consult the CDC site.