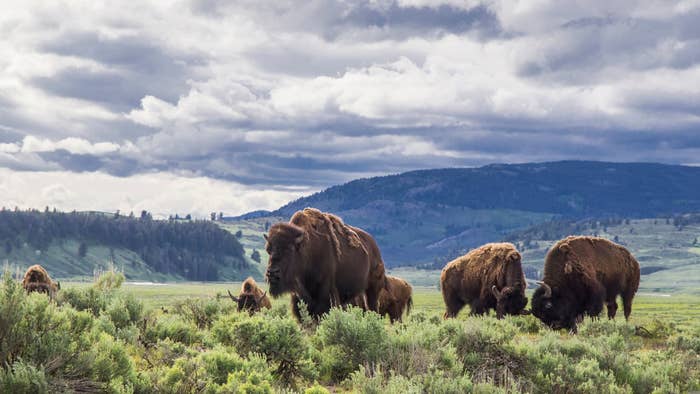 Do not—and I can't stress this enough—fuck with bison.
In a merciful act of inadvertent COVID-19 fear-pausing, a reporter for an NBC affiliate in Montana has racked up hundreds of thousands of well-earned likes after sharing a clip of a would-be Yellowstone National Park broadcast interrupted by a herd of bison.
"Oh my god, oh my god," reporter Deion Broxton says in the clip as he notices the bison off-camera making their way into the frame. "Oh, no. I ain't messin' with you. Oh no . . . I'm not messin' with you."
Later, Broxton shared footage of the bison in question that he captured once posted up from a safer locale:
Naturally, amid our current era of social distancing and general distrust of close contact with any living thing, Broxton's hilarious clip quickly started making the rounds in proper meme form. Even the official Yellowstone Twitter got in on the commentary:
In a subsequent interview with the Baltimore Sun, Broxton elaborated on what was going through his head during the near-bison encounter.
"They always say, 'Stay at least 25 yards away from mammals,'" he said in the Wednesday-published chat. "But that damn bison broke the 25-yard barrier and I was like, 'Uhhh, I'm not dealing with this!'"