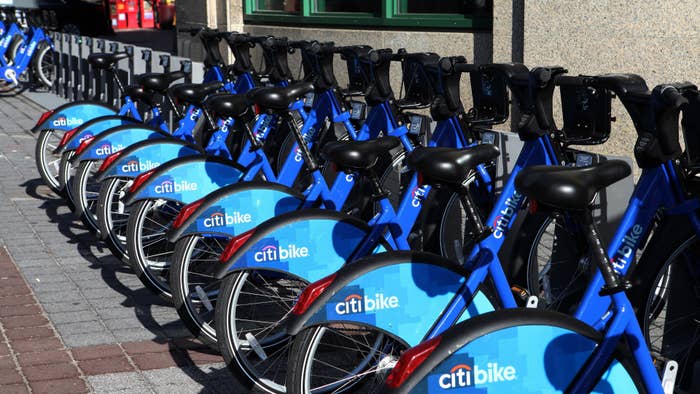 An NYC hospital has issued a statement in response to a viral video showing an employee of the facility attempting to take a Citi Bike from a young Black man.
The footage in question, which has been shared across multiple platforms in recent days, has been widely cited as showing a white woman repeatedly trying to take a Citi Bike from a young Black man who had already secured its rental on his account. The woman in the clip is wearing scrubs adorned with the NYC Health + Hospitals/Bellevue logo.
"We have recently become aware of an incident that occurred off campus over the weekend and appears to involve one of our employees," a hospital rep said in a publicly shared statement over the weekend. "We are sorry this happened and we are reviewing the incident. NYC Health + Hospitals/Bellevue is committed to providing the highest quality of care to all New Yorkers with dignity, cultural sensitivity, and compassion."
The clip, embedded above, sees the woman yelling out variations of "Help!" in an undeniably annoying tone as a young Black man notes that the bike has been rented on his account. As the woman continues to engage in shouting, a bystander (who appears to be another hospital employee) also gets involved. At other points in the clip, the woman appears to be seen trying to grab the young man's phone, as well as seemingly attempting to fake-cry.
For those not familiar, Citi Bikes offer an alternative way for those in the city to get around. Simply unlock a bike using the Citi Bike or Lyft apps by scanning the bike's QR code, then return it to a docking station when finished.
At the time of this writing, it wasn't clear who had captured the video, nor had anyone seen in the footage been officially identified.
Complex has reached out to NYC Health + Hospitals/Bellevue for additional comment. This story may be updated.