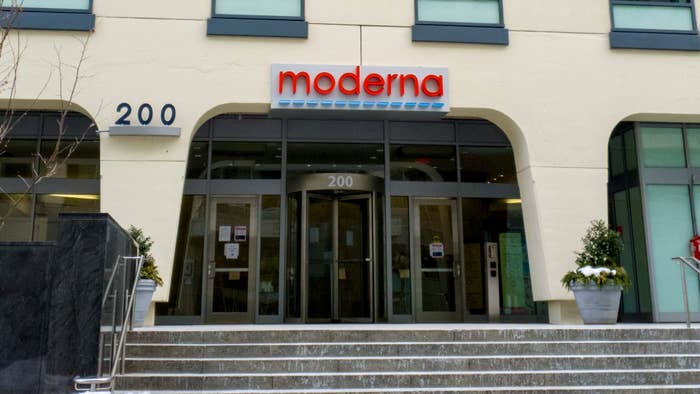 Moderna said Monday that the currently authorized booster dose of its COVID-19vaccine significantly increases neutralizing antibody levels against the widespread Omicron variant.
In a statement in which preliminary booster data and an update to its variant strategy were both detailed, the Massachusetts-based pharmaceutical company explained that the currently authorized booster of 50 micrograms of mRNA-1273 increased antibody levels against the variant by an estimated 37-fold when compared with pre-booster levels.
Moderna CEO Stéphane Bancel said the latest numbers mark a "reassuring" sign amid "concerning" news regarding Omicron. "To respond to this highly transmissible variant, Moderna will continue to rapidly advance an Omicron-specific booster candidate into clinical testing in case it becomes necessary in the future," Bancel said.
Also on Monday, Moderna noted that a 100 micrograms dose of mRNA-1273 (i.e. a double booster) increased neutralizing antibody levels by an estimated 83-fold when compared with pre-booster levels. This double-dose option, per the company's current data, has been "generally safe and well tolerated."
While Moderna noted that the booster currently remains the leading option for protection against Omicron, efforts will continue toward the development of a variant-focused vaccine option that could be the subject of clinical trails as soon as early next year.
Earlier this month, Pfizer and BioNTech shared their own update regarding Omicron. Per the cited data, a Pfizer booster provides "a similar level of neutralizing antibodies" against Omicron as has been seen after the initial two doses against "wild-type and other variants" that were spreading prior to Omicron. Also this month, a CDC advisory panel recommended Moderna and Pfizer's vaccines over the Johnson & Johnson option.
Still not vaccinated? Grow the hell up and get your shots. If you are vaccinated, that's wonderful news, but don't skip out on also getting a booster. It's up to all of us to pull through this together.