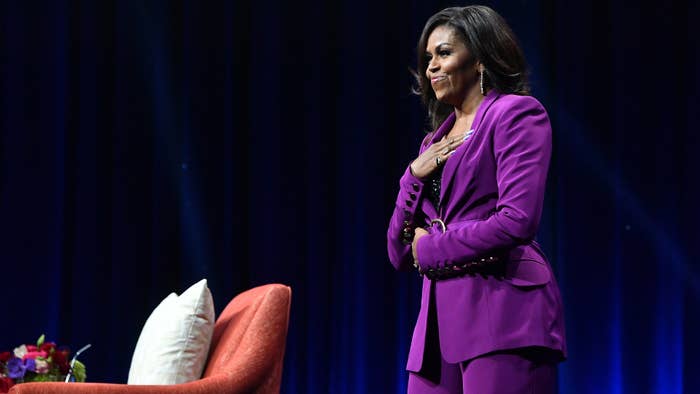 On Tuesday, Michelle Obama and other co-chairs of the When We All Vote organization dropped an open letter urging Americans to put their support behind the For the People Act. 
At the moment, 43 states across the country are considering an estimated 253 proposals that could dramatically limit voting rights and access to millions of people. The letter asks Americans to call, email, and tweet at their Senators about the For the People Act, described by the When We All Vote team as the "most critical Civil Rights legislation since the Civil Rights movement."
"What's happening is this: After more Americans than ever voted in the last presidential election, some state leaders believe that silencing them is the only way to maintain their grip on power," the letter, shared Tuesday, states. "They're hoping to choose their voters, rather than the other way around. And if we as Americans stand idly by—if we wait for others to act or we refuse to do so with anything other than clear purpose and full-hearted patriotism—they will succeed."
More than 60 notable voices—including When We All Vote co-chairs, ambassadors, and supporters—have contributed their name to the open letter. Among them are Janelle Monáe, Kerry Washington, Lin-Manuel Miranda, Selena Gomez, Tom Hanks, Rita Wilson, Tracee Ellis Ross, Amandla Stenberg, Ariana Grande, Billie Eilish, Stephen Curry, Ayesha Curry, Carmelo Anthony, Chrissy Teigen, John Legend, Common, DJ Khaled, Fat Joe, Issa Rae, Jada Pinkett Smith, Jennifer Lopez, Kal Penn, Keke Palmer, Laverne Cox, Leonardo DiCaprio, LL Cool J, Martin Lawrence, Regina King, Ryan Reynolds, Shaquille O'Neal, Taraji P. Henson, The Roots, Yara Shahidi, and many more.
Below, read the open letter in full:
The When We All Vote organization kicked off its For the People Act advocacy campaign earlier this month with an Action Call that saw thousands of volunteers signing up to participate. For more on the organization, created by former First Lady Michelle Obama, click here.