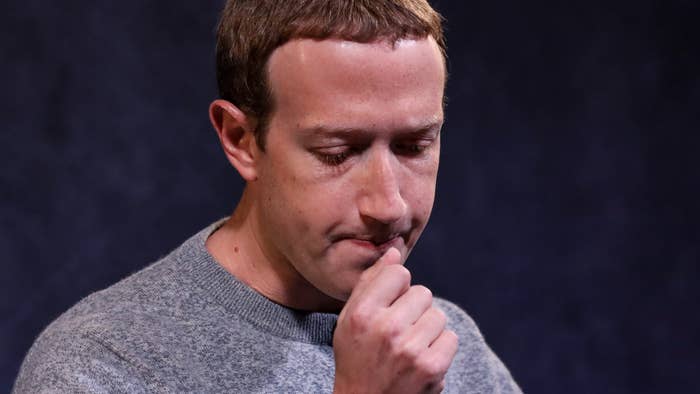 Mark Zuckerberg, who once allegedly served Twitter CEO Jack Dorsey a goat he personally killed, would like you to know that he's "sorry" for Monday's massive Facebook outage.
As you may or may not recall depending on your personal tolerance for Facebook and Facebook-adjacent services, the outage—which affected Facebook, Instagram, WhatsApp, and Messenger—lasted for hours and spurred a range of theories (and memes).
"Facebook, Instagram, WhatsApp, and Messenger are coming back online now," Zuckerberg said late Monday. "Sorry for the disruption today—I know how much you rely on our services to stay connected with the people you care about."
Amid the hoopla, Zuckerberg's net worth was reported to have dropped by billions, though many billions still remain. Facebook shares also saw a drop following the outage, which itself was preceded by a 60 Minutes feature on whistleblower Frances Haugen. 
In a separate statement shared with Complex overnight, a Facebook rep elaborated on that apology, saying the team appreciates everyone's "patience" as services returned to normal.
"To everyone who was affected by the outages on our platforms today: we're sorry," the Facebook rep said via email. "We know billions of people and businesses around the world depend on our products and services to stay connected. We appreciate your patience as we come back online."
As for an explanation, here's what the company's VP of engineering and infrastructure Santosh Janardhan said in a subsequent blog post:
"Our engineering teams have learned that configuration changes on the backbone routers that coordinate network traffic between our data centers caused issues that interrupted this communication. This disruption to network traffic had a cascading effect on the way our data centers communicate, bringing our services to a halt."
According to Janardhan, there is currently "no evidence" that user data was compromised in the outage.
Amid the outage-inspired jokes on Monday, Dorsey also got in on the action, using the opportunity to slyly promote the Signal app while sneaking in a timely mention of Kanye West's Donda track "Off the Grid."