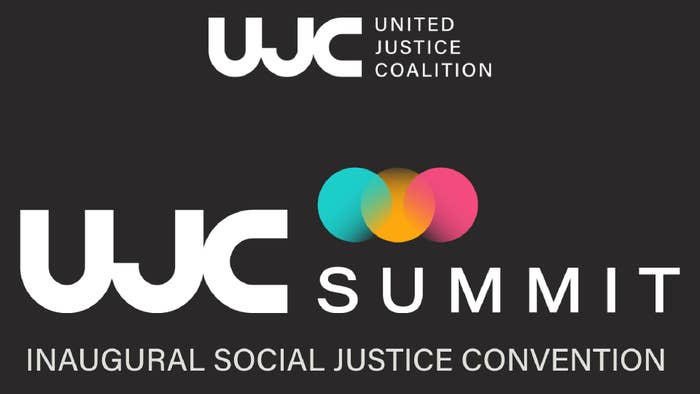 Jay-Z's Team ROC has announced details for the United Justice Coalition (UJC)'s inaugural social justice summit, which is set to take place in New York City on July 23.
The UJC charitable organization furthers the Team ROC push for widespread criminal justice reform by working "across disciplines" to boost awareness, including via a group of advisors. This summer's event, billed as the first of its kind, will see UJC voices speaking on a number of topics including criminal justice reform, public safety, mental health, and more.
"The United Justice Coalition started as an informal meeting of the minds, but it has quickly evolved into a more purposeful initiative to create change in our communities," Dania Diaz, Team ROC and UJC founding member, said in a press release this week. "Our goal for this summit is to spark discussion and collaboration and take a solution-oriented approach to reforming America's antiquated policies. At the end of the day, we are all bonded by one common goal—to eradicate injustice."
In addition to founding advisory board members including Roc Nation's philanthropic arm Team ROC, civil rights attorney Ben Crump, journalist Gayle King, TV and radio personality Charlamagne tha God, and more, the UJC also features involvement from families of victims of police brutality.
The UJC's social justice summit will be held at Center415 on July 23, with additional info—including guest speakers and other participants—still to be announced. For additional info, including how to register for attendance, click here.
Team ROC has remained a consistent presence in headlines as of late, including in connection with its push earlier this year for the Justice Department to take investigative action over the "depraved acts" of the Kansas City Police Department. Last September, the philanthropy-focused division of Roc Nation was reported to have filed a lawsuit against the department accusing it of refusing to provide documents related to internal investigations.
Check out the current lineup and list of panels below.
Invocation: 
Dr. Michael Eric Dyson (Professor, Georgetown University)
 Decriminalization of Mental Health (Panel):
Moderator: Charlamagne tha God (TV and media personality)
Panelist: Dr. Alfiee Breland Noble (Chief Mental Wellness Officer of Mental Wealth Alliance)
Panelist: Paul N. Samuels (Director & President, Legal Action Center)
Panelist: Shaka Senghor (TripActions Head of Sales and Success Culture)
Panelist: Letitia James (New York Attorney General)
 Family Matters: From Anger to Advocacy (Panel):
Moderator: Amna Nawaz (PBS NewsHour Anchor)
Panelist: Ben Crump (National Civil Rights Attorney)
Panelist: Dr. Tiffany Crutcher (Sister of Terence Crutcher)
Panelist: Allisa Findley (Sister of Botham Jean)
Panelist: Michelle Kenney (Mother of Antwon Rose II)
Panelist: Dr. Bernice A. King (CEO of The Martin Luther King, Jr. Center for Nonviolent Social Change)
Panelist: Gwen Carr (Mother of Eric Garner)
 Conditions of Confinement (Town Hall)
Moderator: Ari Melber (MSNBC TV personality)
Panelist: Yo Gotti (Musician, Entrepreneur Criminal Justice Reform Advocate)
Panelist: Cheryl Henderson (Mother of Chadarian Henderson)
Panelist: Craig Haney (Social Psychologist, Professor at UC Santa Cruz)
Panelist: Marcy Croft (Attorney)
Panelist: Daryl Norcott (Director of Community Partnerships at Amend at the University of California, San Francisco)
Panelist: Kim Rowley (Institution Security Manager, Oregon Department of Corrections & Amend)
 Transitions in and Out of the System (Town Hall)
Moderator: Maggie Freelang (Pulitzer Prize Winning Reporter & Producer)
Panelist: Topeka K. Sam (Founder & Executive Director, The Ladies of Hope Ministries)
Panelist: Chris Redlitz (Co-founder of The Last Mile)
Panelist: Rachael Rollins (U.S. Attorney for District of Massachusetts)
Panelist: Veronica Cunningham (Executive Director and CEO of the American Probation & Parole Association)
 Wrongful Conviction (Panel)
Moderator: Jason Flom (Founder of Lava Records)
Panelist: Taylor Riddick (Incoming J.D. Candidate at NYU School of Law | SEO Law Fellow at Skadden, Arps, Slate, Meagher & Flom LLP)
Panelist: Eric Riddick (Founder and CEO of ER Foundation and Legasee Teamoss)
Panelist: Jon-Adrian "JJ" Velasquez (NYS Program Director, The Frederick Douglass Project for Justice)
 Bridging the Divide: Policing in America (Panel)
Moderator: Dan Slepian (NBC Investigative Producer)
Panelist: Barry Friedman (Policing Project @ NYU Law School)
Panelist: Paul Butler (Georgetown Law Professor)
Panelist: Tricia Rojo Bushnell (Executive Director, Midwest Innocence Project)
Panelist: Barry Scheck (Innocence Project co-founder)
Panelist: Star Cooper (Kansas City, Kansas Community Member)
Panelist: Jerry Clayton (Washtenaw County Sheriff)