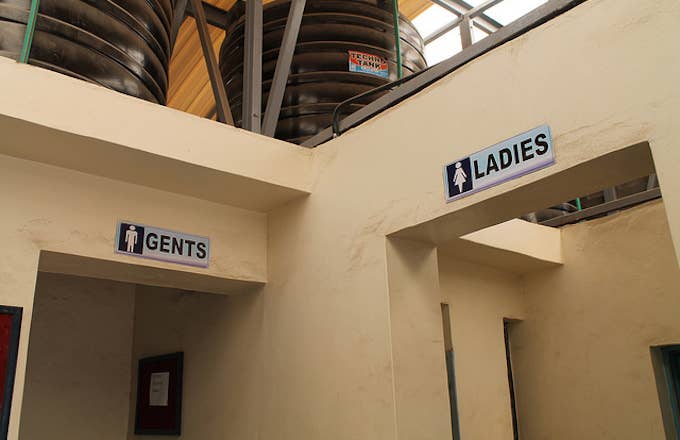 UPDATED May 25 4:35 p.m. ET: 11 states are suing the U.S. Department of Education, the U.S. Department of Justice and other federal agencies, saying they have overreached their authority in directing public schools to allow transgender students to use whatever bathroom they like. 
The lawsuit was filed in a North Texas Federal District Court and includes states such as Georgia, Louisiana, Texas, and Wisconsin. The charges state that the Obama administration "conspired to turn workplaces and educational settings across the country into laboratories for a massive social experiment, flouting the democratic process and running roughshod over common sense policies protecting children and basic privacy rights."
UPDATED 8:20 p.m. ET: Texas Sen. Ted Cruz has released a statement regarding Obama's directive, saying the order "makes no sense" and that schools and parents should disregard it.​
Utah Gov. Gary Herbert has also released a statement, insisting he, too, will fight the order:
UPDATED 3:55 p.m. ET: Mississippi Gov. Phil Bryant is calling for the state's Department of Education to ignore the nondiscrimination measures entirely. "The directive is nonbinding, and does not carry the force of law," Bryant said Friday:
UPDATED 2:45 p.m. ET: The Department of Health and Human Services announced the Nondiscrimination in Health Programs and Activities rule on Friday. It prohibits Obamacare providers from discriminating against transgender patients and requires them to provide medical services to them.
"A central goal of the Affordable Care Act is to help all Americans access quality, affordable health care. Today's announcement is a key step toward realizing equity within our health care system and reaffirms this Administration's commitment to giving every American access to the health care they deserve," Secretary of Health and Human Services Sylvia M. Burwell said in a statement.
UPDATED 9:14 a.m. ET: The U.S. Department of Justice and Department of Education released a letter Friday morning that urges schools to accommodate transgender students. It tells schools to treat students based on their self-described gender identities, not what's on their birth certificates. The department also says that schools receiving federal funding aren't allowed to discriminate on the basis of sex, which includes transgender status.
---
The White House is set to issue a letter Friday morning that asks public schools across the United States to let students use their bathrooms of choice, according to The New York Times. The pending announcement is a response to North Carolina's controverisal "bathroom bill," which prohibits people from using bathrooms that don't match the sex on their birth certificates. Similar bills are reportedly being considered in other states. 
U.S. President Barack Obama reportedly issued the directive in the form of a letter that will be sent to the country's school districts. A directive is not legally binding, but it suggests the government could sue or withhold funding from schools that fail to follow it. 
"A school may not require transgender students to use facilities inconsistent with their gender identity or to use individual-user facilities when other students are not required to do so," the letter, which was obtained by The New York Times, says. "As is consistently recognized in civil rights cases, the desire to accommodate others' discomfort cannot justify a policy that singles out and disadvantages a particular class of students."
"No student should ever have to go through the experience of feeling unwelcome at school or on a college campus," John B. King Jr., secretary of the Department of Education, told The New York Times. "We must ensure that our young people know that whoever they are or wherever they come from, they have the opportunity to get a great education in an environment free from discrimination, harassment, and violence."
This news comes less than two weeks after Vanita Gupta,  head of the Justice Department's Civil Rights Division, sent a letter to North Carolina Gov. Pat McCrory; it asked North Carolina's government to "not comply with or implement HB2."
John B. King, Jr. and Vanita Gupta did not immediately return Complex's request for comment.