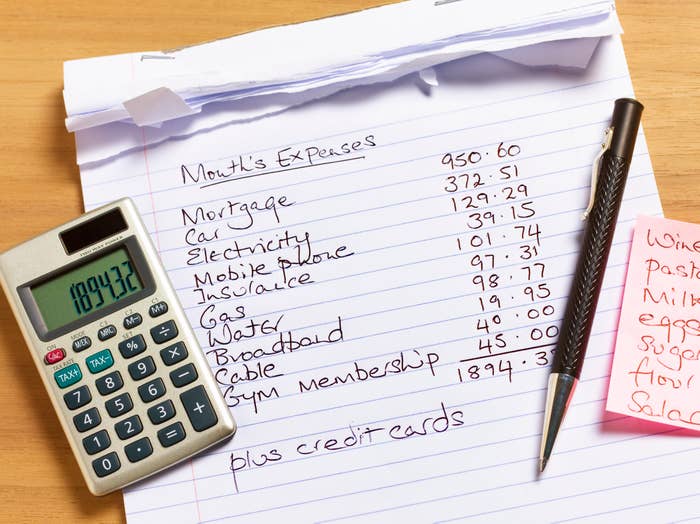 So you want to be rich, right? It's easier said than done. As I've discovered writing several books on personal finance and innovation, not many people have access to money, or know where to begin investing it. As an example, four in 10 folks say they can't handle a $400 emergency, and 61% lack the savings to cover even so much as a $1,000 emergency expense, according to research by Bankrate. Likewise, studies by NerdWallet suggest that seven in 10 American households have been negatively impacted by the pandemic, and nearly half say they're feeling less confident about personal finances due to COVID-19. 
As difficult as finding ways to save money seems, especially for the 78% of Americans living paycheck to paycheck, it pays to remember that anyone has the ability to do it. In fact, socking spare cash away for a rainy day and finding ways to grow it into a pile of loot doesn't have to be as challenging as you might suspect. The more you adopt the following money-saving and investment habits, the more cash you'll find yourself able to keep in your pocket every week, and the faster you'll be able to boost your bankroll.
Begin by defining a concrete goal, such as saving $500 to $1000 dollars, so you have a measurable target to hit. To motivate yourself and make your objective more attainable, break the money-saving process into smaller steps, e.g. putting away $100 by the last day of the month for the next six months. You can get started by creating a household budget that tracks where your money is going and provides visibility into where you can cut back (for instance, on dining out or entertainment). This exercise will help you get a handle on when and where money is coming in and going out, and where you have the potential to slash expenses and exert greater control over your finances. Managing these cash flows is crucial to ensure you've got enough funds on hand to meet your basic needs and avoid having to run up loans or lines of credit, which can greatly increase your expenses over time.



Likewise, starting a side hustle, taking a second or part-time job, or selling off unwanted spare household items can also help boost your income and bring in extra cash.
Don't forget, you're far likelier to reach your savings goal if you have a meaningful and well-defined objective behind it (say, buying a home or saving for college).  Likewise, by setting a personal goal to work towards—nixing credit card debt, taking the family on a vacation, laying student loans to rest, etc.—you'll be inspired to work harder and more consistently towards meeting your target. If you need added encouragement, ask friends and family to help keep you accountable to your financial objectives, and provide encouragement as you go.
Moving in with a roommate, sticking with a used car, and putting off unnecessary electronic upgrades all offer proven ways to cut back on your monthly burn. But if you're not looking to compromise your lifestyle, some simple and practical ways you can quickly save money also include automatically putting aside a portion of each paycheck into a savings account so you're not tempted to spend it; canceling unused subscriptions and services; negotiating better rates on your credit card (hint: these scripts can help); lowering costs on your cable bill, monthly cell phone plan, internet service, or preferred banking solution; and capitalizing on money-saving sites, coupon codes, and group-rate or employer discounts. You might also consider using eco-friendly services and solutions to reduce your gas, heating, cooling, energy bills, and transportation costs.
Likewise, starting a side hustle, taking a second or part-time job, or selling off unwanted spare household items can also help boost your income and bring in extra cash. Remote freelance websites such as Fiverr and Upwork provide a place to market your professional services; marketplaces like Etsy and Bonanza let you sell crafts, home accessories, or creative works; retailers Poshmark and Decluttr can help you get rid of unwanted clothes and electronics; and local matchmakers and online classifieds (see: Craigslist, OfferUp, and Facebook Marketplace) make it easy to get rid of everything from laptops to lawnmowers. From hosting online fitness classes to driving for ride-sharing services or walking dogs, there's no shortage of side-gigs you can find.
Who says you have to pay an arm and a leg for health, home, or auto insurance? There's no need to put yourself into shock to get a credit card or high-speed internet service. Be sure to shop around with providers competing for your business. With an array of payment plans and options, many retailers are willing to match competitors' lowest prices. Among the simplest ways to save on cell phone and internet costs are to cut back monthly usage, or switch to a pay-as-you-go, prepaid, or value-priced family or individual plan. Also make a point to consider where you may accidentally be doubling up on the same expense or overpaying for more features than you need. For example, many smartphones can double as WiFi hotspots, eliminating the need for home internet, and the monthly service and modem rental fees associated with it. 
Likewise, insurance policies may be covering more potential losses than you need—unless you've got a couple of Picassos hanging in your home—and adding up to greater expense. A few minutes reviewing programs and services can often help uncover areas for hidden savings and slash your monthly burn rate by hundreds of dollars.
When it comes to investing, your first objective should be to safeguard yourself against uncertainty and put away an emergency fund consisting of three to six months' worth of living expenses. Under no circumstance should you touch these funds unless it's for a special occasion, such as making a down payment on a home or vehicle, or a day-to-day setback, such as an unexpected fender-bender or flat tire. While traditional bank accounts can help insure your savings up to $250,000 in deposits, savings accounts (especially high-yield savings accounts) also pay interest that can help your money grow over time. As an alternative, money market accounts may offer higher interest rates, and more ready access to cash in a pinch, but might limit the number of withdrawals you can make and require a higher minimum monthly balance. 



Don't forget you have many options when it comes to investing. You can always mix and match financial vehicles to help meet your objective.
You might also consider placing spare funds in certificates of deposit (CDs)—time-based accounts that can pay better interest rates, provided you leave the money untouched for 30 days or more. Then again, you could also choose to open an investment account, and buy stocks and equities that can grow in value faster, but also come with higher risk. Last, but not least, a Roth Individual Retirement Account (IRA) or 401(k) account—a tax-advantaged account that lets you earn significant sums if you pick the right investments—can also prove a lucrative choice. However, if you take money out of an IRA or 401(k) before reaching the age of retirement, you may incur early withdrawal penalties and pay income taxes on any funds you take out. On the bright side, don't forget you have many options when it comes to investing. You can always mix and match financial vehicles to help meet your objective, for example placing some savings in a money market account, some in a 401(k), and some in a series of CDs whose payouts are staggered over a period of time.
As stated above, the first investment habit to adopt is knowing where you want to go financially and how much it takes to get there. Once you've set a target, you can work backwards to determine the right tactics and best investment vehicles (e.g. high-growth solutions such as stocks or predictable, fixed-income vehicles like bonds) that can help you bridge the gap. Next, you'll want to build an investment strategy that can help you achieve your goals. Consider working with a qualified financial adviser to craft your strategy, at least at first. 
Three main types of assets tend to make up a well-balanced portfolio: equities, fixed income vehicles, and real assets. Equities, like stocks, provide opportunities for both daily and long-term growth as they grow in value on the open markets. Bonds and other fixed-income vehicles (which typically take the form of loans to governments and corporations) provide you with predictable revenue on a recurring basis and a measure of stability. Real assets—think real estate and commodities—can help generate added income and safeguard you against rises in expenses due to inflation.
The third investment habit to get into is regularly reviewing and reconsidering where your money is invested and if your current investment strategy and approach still best meets your needs. In other words, don't invest on autopilot. Check on your portfolio on a regular basis—say, every 30 to 90 days—and make sure it's still in line with your financial objectives. After all, your goals may change over time as you move from being young and single to building a family or having to care for an elderly parent. 



Make a point to stick to your game plan over a long-term horizon, even in the face of unforeseen hiccups.
Fourth, make a point to stay well-diversified between asset types, companies, and the industries and geographic areas that you invest in, as a way to safeguard yourself against risk. Doing so helps you limit your exposure to market downswings and unexpected events. Similarly, it allows you to maintain some level of liquidity (the ability to turn investments into cash) if you suddenly find that you need dollars in hand. 
Finally, make a point to stick to your game plan over a long-term horizon, even in the face of unforeseen hiccups (for instance, COVID-19) and unexpected events (say, statewide returns to lockdown). Geopolitical and economic volatility may be on the rise globally, but historically, from an investor's viewpoint, this type of uncertainty doesn't always shake things up that much over an extended period of time. Noting this, you're often better served adopting a more stoic and unshakable perspective. In other words, it pays to play defense, noting that the single best investment habit you can get in is building and maintaining a well-balanced portfolio that helps you keep risk to a minimum and maximize opportunities to capitalize when market growth occurs.